The Salvation Army "Doing the Most Good" this holiday season
Hang on for a minute...we're trying to find some more stories you might like.
For the last 126 years, shoppers and patrons begin to see red Salvation Army kettles at public centers and stores this time of year. Donating into these buckets is just one of the many ways you can help people in your community this holiday season. This year, the #RedKettleReason fundraiser hopes to raise $2.5 million.
Many people that donate or choose not to donate to these buckets do not know where and how the money will be used. A chunk of the money is used to make Christmas possible for families that could not afford Christmas gifts if it wasn't for the work of Salvation Army.
The money raised by bell ringing is the group's main fundraiser for the year, so money also goes to many other important causes. The donations go to support children, adults, families as well as provide disaster relief when needed. Specifically, the money is used to fund programs, such as adult rehabilitation, veterans affairs services, missing persons, hunger relief, youth camps, and homeless services.
The Salvation Army is not only looking to collect donations; all year they collect clothing, household items, and furniture. If donating is not an option in your life and you can't find anything to donate, the Salvation Army is almost always looking for volunteers, especially during the holiday season. For more information about who to contact about volunteering visit their website http://www.salvationarmyusa.org/.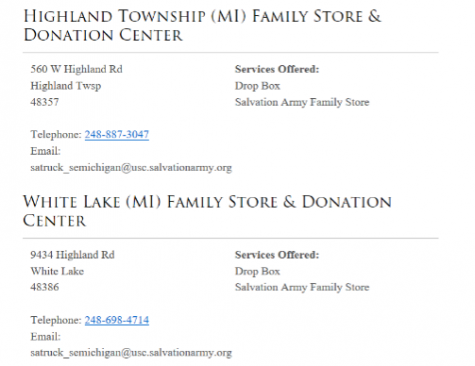 I have volunteered as a bell ringer, office helper and as a personal shopper for parents who come to the toy shop in our area, so they have gifts to give their children for the holidays. Some jobs may leave you feeling more fulfilled with your work because you feel like you really helped people. In the end, all volunteers no matter how they help, are making it so the wonderful programs function.
Standing next to the kettle and ring that bell for hours is definitely a life changing experience. Thinking about all the money you collected, you begin to understand how much your time is worth. Your hour that you spend smiling and saying Merry Christmas to people, could change the next few months for people in our community. Only about half of people put money in the kettle, but still you are making a difference. When I left, all I could think about was doing it again.
Last Christmas season, I spent a day helping parents shop for presents for their kids. The store is really well set up and  it will be maybe even better this year. Shopping with the parents was  fulfilling. They were so happy and I was so happy seeing them walk out the door with a cart full of Christmas gifts. It was so awesome. I would not trade my experience that day for anything.
Salvation Army is just one organization of many that are working to help people in need in our community. Helping the other organizations is wonderful as well.