Career center gains new facilitator
Believe it or not, Milford High School actually has a Career Center. Perhaps it is not well known because it is tucked away in the back of the Media Center, but it offers a variety of information and services pertaining to career options, such as job interview assistance and local openings, and information about colleges, armed services and even skilled trades.
Ms. Wagers, who started working at Milford this Valentine's Day, is now in charge of the Career Center. So far, Wagers enjoys her new job at Milford. "I love Milford," she stated. "It's really friendly." She believes that both the staff, students and just the general atmosphere here are welcoming. Her main goals for the Career Center are to help students figure out aspects of their future, such as what college or trade school a student wants to attend after high school, or perhaps offer alternative options.
She also aims to make the process more fun and engaging. However, there is one large obstacle that needs to be overcome in order for her job to be truly successful. "I don't think enough kids know what we have to offer down here," Wagers observed. She knows of many instances where students are asked where the Career Center is, and they have no clue. Wagers believes it is somewhat of a shame that not many people know where the Career Center is, as there are many useful resources inside. That's why she is encouraging teachers and counselors to share information about the Center's resources.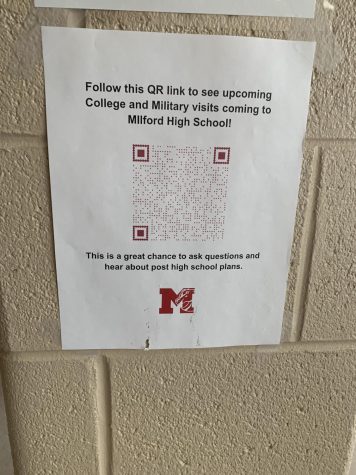 If you are intrigued, then there is some good news. There are several events happening in the Career Center in the next month. If you are interested in pursuing a career in the military, various branches including the Marines and Air Force will be coming to Milford during all lunches on particular days in the month of April. The Marines will be here on Tuesday, April 5, the Air Force will follow on Tuesday, April 12 and finally the Army will be present on Tuesday, April 19. Many colleges such as
Grand Valley, the University of Michigan, Oakland University and Western Michigan have already had visits earlier in the school year and are very likely to do it again next year. If the military is not the right fit for you, and you are looking for a college education, colleges are still sending representatives to Milford.
On Wednesday, April 20, Oakland University will be visiting the Career Center during seminar. The Career Center is open on
school days from 8-2:30 by appointment, with Ms. Wagers ready to assist you when the time comes. The easiest way to schedule an appointment is to scan the QR code for the Career Center in front of the Media Center, and then schedule it online. "I'm excited to help you guys figure out what to do, where you want to go to college, and celebrate your accomplishments," Wagers said.