Remembering the life and legacy of Prince Philip
Prince Philip, The Duke of Edinburgh, always stood two paces behind his wife. Serving as Consort to Her Majesty the Queen of England, Philip was Elizabeth's closest companion and supporter during her extraordinary 69-year reign. "He has, quite simply, been my strength and stay all these years," according to The Queen.
Following Prince Philip's death on April 9, The United Kingdom and the world mourned a devoted husband and royal. It is rare in this world that a husband stands behind his wife as she leads not only the family, but also an entire nation. Even rarer is someone as devoted as Prince Philip who served his beloved "Lilibet" and his country with duty and love.
Born Prince Philip of Greece and Denmark in 1921, Philip's childhood was marred by familial instability. Philp's father, Prince Andrew of Greece and Denmark, was sentenced to death, forcing Philip and his family to flee Greece. At the mere age of ten, Philip's family collapsed with his father moving to Germany, his sisters married and his mother in an asylum. It was while attending Gordonstoun, a private high school in Scotland, that Philip was introduced to one of his greatest passions: the sea, according to CNN.
His love for sailing was further cultivated at the Dartmouth Naval College in 1939, where, as fate would have it, he first met his future wife. The then 13-year-old Princess Elizabeth accompanied her father, King George VI, on a tour of the school, where she became quickly smitten with the tall, blond sailor. Their romance would blossom through letters exchanged over the course of WWII.
As a part of the Royal Navy, Prince Philip served as first lieutenant during the Second World War. Notably, Prince Philip served on the battleship Valiant and was second-in-command of the destroyer, Wallace.
Philip is attributed with saving countless lives during his time in the Navy. He successfully foiled an attack from a Luftwaffe bomber and aided in the destruction of Italian ships as the operator of a mid-ship searchlight. A sailor at heart, Prince Philip would serve in the Royal Navy until the coronation of Queen Elizabeth according to BBC.
Wed on Nov. 2, 1947, Elizabeth and Philip's love was a beacon for the war-torn England. The effects of World War II were so evident that Elizabeth's gown was even paid for using rationing coupons.
Elizabeth and Philip had six years of bliss, enjoying their lives together in Clarence House and the joy of their two young children, Prince Charles and Princess Anne. But upon the death of Elizabeth's father, King George VI, Philip was sequestered to a life of duty to his wife. A life where Philip was forever second-best.
As the Queen's Consort, Philip partook in thousands of royal engagements including international tours and ceremonies. He was devoted to his many patronages and philanthropic pursuits according to the Royal Palace.
Philip was not without faults either. His oft controversial quips raised eyebrows, and his relationship with his son, Prince Charles, was often rocky at best.
But as Prince Philip was laid to rest on April 17, he is remembered as a loyal husband and a man of honor and service. At his funeral, his coffin was situated in a specially-designed Land Rover hearse outfitted by the late Prince himself. The coffin was followed by Philip's children and grandchildren as they made their way to St. George's Chapel.
Due to COVID-19, the usual ceremonies were reduced, and only 30 guests attended the funeral in person. The Dean of Windsor led the solemn ceremony remembering Philip as "a fair pattern of valiant and true knighthood." As Philip's coffin was lowered into the Royal Vault, his family and the world said goodbye to the Prince for the last time, according to Vogue.
Perhaps the most touching sight on this melancholic day was a personal note that lay atop of Philip's coffin. The Queen sent one last handwritten letter to her husband, a beautiful reminder of their early courtship during the Second World War.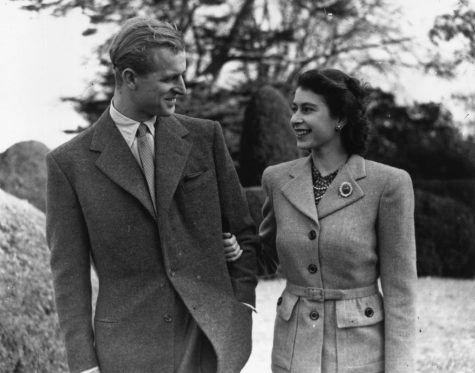 The Queen signed the letter as "Lilibet"– Philip's beloved nickname for his wife. The Queen sat alone in her pew, stooped in grief as she witnessed the final moments for Prince Philip, her husband of more than 70 years. The Duke of Edinburgh may have stood two steps behind The Queen, but Philip was always by his Lilibet's side.