Derek Chauvin found guilty for murder of George Floyd
On the afternoon of April 10, citizens nationwide tuned into news outlets, anxiously awaiting the verdict of former Minneapolis police officer Derek Chauvin.
Nearly a year ago, Chauvin was met with worldwide outrage after a video posted of him kneeling on the neck of George Floyd, which led to Floyd's death, went viral online. Ever since, the case has been closely watched, shedding a light on the prevalence of police brutality and systemic racism in America.
Police brutality against African Americans has been an issue for centuries, but Floyd's death renewed public protests demanding police reform, justice for Floyd, and equality for all, regardless of skin color.
Chauvin was found guilty of unintentional second-degree murder, third-degree murder, and second-degree manslaughter. Immediately after the court was adjourned, Chauvin was handcuffed and escorted to the Minnesota Correctional Facility in Oak Park Heights, where he will remain for up to two months before sentencing. He faces up to 40 years in prison for his convictions. Three other former officers who were present during Floyd's arrest are scheduled to be tried in August for aiding and abetting murder and manslaughter.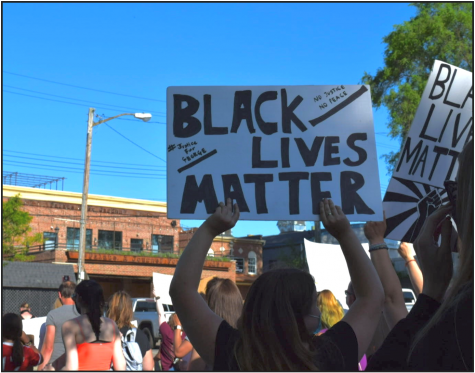 Chauvin's trial began on March 8, over a month before the verdict was announced; the verdict, however, was reached less than 24 hours after deliberation began.
Prosecutor Steve Schleicher fought relentlessly for Floyd during the trial, drawing attention to the horror that occured on the streets of Minneapolis on May 25 last year. "This case is exactly what you thought when you saw it first…You can believe your eyes. … It's what you felt in your gut. It's what you now know in your heart," exclaimed Schleicher at the podium. "This wasn't policing. This was murder."
The main debate of the defense was that Floyd died due to heart complications that were fostered from a drug addiction. This claim, however, was quickly rebutted., as forensic pathologists testified and clarified that his death was caused by asphyxia from the knee on his neck. "You were told … that Mr. Floyd died because his heart was too big," began prosecutor Jerry Blackwell. "The truth of the matter is that the reason George Floyd is dead is because Mr. Chauvin's heart was too small."
Defense attorneys frequently addressed the mindset of a "reasonable police officer" in order to justify Chauvin's actions. After describing how the officers struggled to get Floyd into a police car, Nelson exclaimed,  "A reasonable officer takes into consideration the safety of civilians." Prosecutors, however, refuted this argument, referencing how every person, young or old, knows that kneeling on a neck is dangerous. "A nine-year-old can tell you that," Blackwell explained. "You don't need a Ph.D., you don't need an M.D. to understand how fundamental breathing is to life."
One of the most noteworthy moments from the trial was the clarification of how long Chauvin was truly on Floyd's neck. It was previously thought that the knee was on his neck for seven to eight minutes, but a body cam video revealed that it was closer to nine minutes and 29 seconds.
This discovery, no matter how horrifying, made little impact on the trial itself. "He was obviously on there enough time to think about what he was doing," said Toshira Garraway, founder of Families Supporting Families Against Police Violence. "[It doesn't matter] if it was two minutes or if it was five minutes or if it was 10 minutes… Once he said, 'I cannot breathe' … he was supposed to remove his knee."
Several bystanders to the event testified in court, addressing the lasting trauma that came from seeing Floyd die on the sidewalk, feeling helpless as they questioned the authority of law enforcement.
By the end of the trial, it was difficult to defend Chauvin, but many still worried that he wouldn't be charged. Nevertheless, the evidence piled itself up against him. "While you've heard hours and hours and hours of discussions here in the closing, ultimately, it really isn't that complicated," Blackwell said to jurors. "[The case is] so simple a child can understand it. … In fact, a child did understand it, when the 9-year-old girl said, 'get off of him.' That's how simple it was. Get off of him. Common sense."
Once the verdict was announced, cheers erupted from outside the courthouse as advocates celebrated the victory for Floyd's legacy. People were seen tearfully embracing, thanking God, and raising their fists in solidarity. No acts of violence were demonstrated at the gathering.
While the result of the Chauvin trial was certainly a victory for advocates of police reform and anti-racism, it is only the first step in what will be a long journey toward equality for all. "[The verdict] is the beginning of justice, but there's still a long way to go," began Maurice Hall, a friend of Floyd's who witnessed the murder. "I'm still going to forever miss [Floyd], but this is the beginning for the future of black America."