USPS delivery delays spark national outrage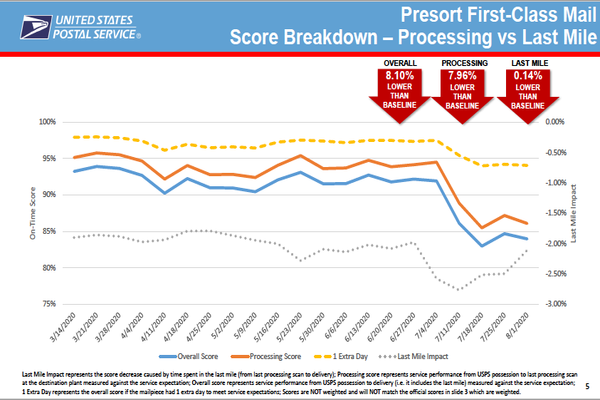 Amid a global pandemic, where post offices across the country are expected to receive almost ten times their usual amount of absentee ballots, the United States Postal Service is experiencing an unprecedented delay in its typical timely delivery. Since August, just two months after the appointment of Postmaster General Louis DeJoy, postal workers have been under extreme pressure to continue to deliver mail on-time despite new policies that limit their abilities to do so. "I've worked for the postal service for 26 years. In the past two months I have delayed more mail than in my entire career," explains anonymous postal worker A (USPS workers have been ordered to remain nameless). "Not because of an ice storm, a vehicle breakdown, or a dog attack, but because I was instructed to do so. I am absolutely dumbfounded by this."
In an attempt to "keep the USPS alive," DeJoy has implemented new methods of cutting costs, including eliminating overtime, enforcing a truck schedule, and preventing trucks from doing extra trips.
Another anonymous postal worker (Postal Worker B) has had their fair share of difficulty with the new policies surrounding truck schedules; "In the short time PMG DeJoy has been in place, I have had many occasions struggling in the evening trying to get the mail on the last truck due to the small window of opportunity that has been placed on us."
Postal worker A, on the other hand, has struggled more with the elimination of overtime; "In my position, I am paid by a salary, but receive hourly compensation for work over 8 hours. That additional compensation has ended. The work is still there, and so I am required to work for free."
Though it has been argued that the delay is due to COVID-19 complications, however, postal worker B disagrees; "When the virus first impacted the postal service, Postmaster General Brennan was still in charge; I recall parcels slowing due to manpower, but mail flow was holding up.  That is no longer the case." Additionally, like the common cold, COVID-19 cannot spread through paper or envelopes, eliminating claims that the postal service is being held up due to sanitation procedures. This brings attention to the idea that DeJoy, a Republica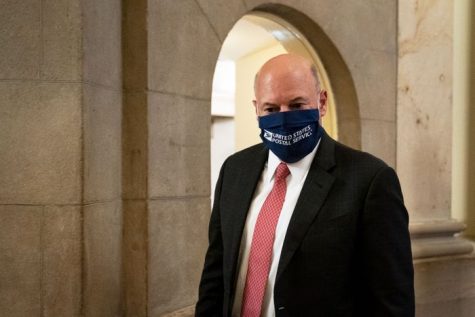 n Party fundraiser, has placed these measures on the USPS to prevent mail-in ballots from being delivered on time, preventing citizens from exercising their right to representation during one of the most controversial elections in American history.
Though it has been weeks since the initial public outcry against the delay, post offices and their workers have continued to suffer. Postal worker A's office has been getting back to normal, but they are still not being paid for working after-hours. Worker B's office, however, is getting worse; they have continued to see first-class mail taking 5-6 days to deliver versus the norm of 2-3.
Postal workers have been working to combat the policies and show their disapproval of DeJoy, but are still unsure as to when the delay will be over. "The only solution I see," began worker B, "is to have a PMG that has grown through ranks and understands what needs to be fixed and what must be left alone in order to get and keep us on track." DeJoy, a longtime businessman and political operative, seems to lack the criteria needed by postal service employees to become a trusted advisor. Worker A added, "I hope that the nation will not tolerate the postal service envisioned by this new general. I am amazed at the damage one person can do when put in a position of power."
This begs the question: How can the public help the postal service during its time of need? "I hate to say this, but until this election is over, I would go light on using the postal service," worker A advised. "Knowing the lengths we go to when delivering ballots, I've never doubted the service before, but as my superiors put it, this is a new era." Mail-in voters are also encouraged to send in their ballots early to ensure that they are counted.
When the election becomes a thing of the past, workers hope to revive the postal service and familiarize younger generations with the post office in a world where texting and emailing reigns supreme. Worker B explains, "A day does not go by when a customer will come in and say, 'How much is a stamp?  I haven't used the Post Office in years. It is so outdated.'" The USPS delivers 472.1 million pieces of mail daily–nearly fifty times more than FedEx— despite being a service that is commonly forgotten by the general public. It is a low-cost alternative to online communication, which requires an internet connection that rural citizens may not have and technology that low-income citizens cannot afford.
After the USPS mail delay began to be covered by national news, there has been an outreach of support from those who acknowledge the importance of the post office. It is simple acts like buying stamps and mailing letters that will keep the service alive for generations to come. "After the election, I encourage you to mail cards and personal letters," explained worker A. "Text and email are certainly efficient, but there is nothing like the thought involved in putting pen to paper."