Leadership students raise $15,000 for new entrance sign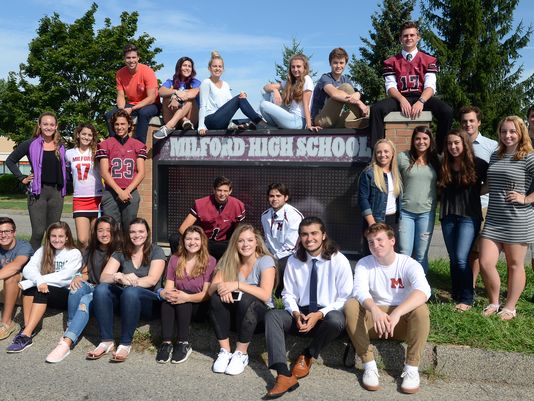 Elise Carr, Assistant Sports Editor
October 6, 2016
The MHS Leadership class is bringing on new and exciting changes, starting with raising money for a new entrance sign on Milford Road.
A new sign is projected to around $15,000, which the group has raised as of Oct. 6, but the group is continuing to fundraise to help fix the boulevard and other for other beautification projects.  $1,600 of the fundraising was donated by dentistry owners Bill and Anna Huszti. Adding to the efforts, the Hungry Howies in front of MHS ran a fundraiser is giving 25 percent of its sales to the fund on the first Wednesday of each month. This raised $1,000 in September, said Dave Gilbert, the Leadership teacher. 
"Last year I asked my kids what they wanted to change about the school, and one of the top ones was a new sign at the boulevard," Gilbert added. "I have to give the students a lot of credit for the legwork."
Senior Joe Bravo and Junior Aiden Warzecha were the two main students  involved in getting this fundraiser going.
Many students are thrilled about the new sign, which will be in place by the end of the fall.
"I'm very excited to see how the new sign looks," Senior Izzie Kenhard said. "I have wanted a new one since my sophomore year when it broke."
There are high hopes for this new sign, since the current one is an eyesore.
"That whole median could use some sprucing up," added Gilbert.
Many Leadership students were excited about how quickly the community pitched in to help their cause.
"It's bananas that we've raised so much money in such a short period of time," Senior Paulina Parr said
The extra money for the boulevard will go to several different projects. "We would like to do landscaping, put low maintenance bushes out there and the flags have been up for about five years could use replacing," said Gilbert.
Gilbert and his Leadership class have worked hard at the soon to be new Milford sign, which is going to add beauty to Milford's front entrance and hopefully bring additional changes to the school.