The True Spirit Of The Holiday Season
Milford Miracles raises over $10,000 for local families
As the holidays commence, it is easy to get wrapped up in the commercialization of the season. The twinkling of the lights, the mountain of gifts under the tree and the tradition of a family sitting around a roaring fire, is a normality in some households.
However, the joy and brightness of the "the most wonderful time of the year" lacks its luster for a lot of people. It's hard to think about piles of presents in decorative wrapping paper when you don't even have a coat, socks and shoes to put on your feet.
It often goes unnoticed, but for many, December is a time filled with apprehension and stress, as families struggle to afford basic necessities to be comfortable throughout the winter. Because of this issue, once every year Milford Miracles inspires MHS students, parents and the community to join together to make sure that those families can have a more enjoyable holiday season.
Milford Miracles starts in November, with its emphasis on donations and advertising throughout the school and community. The Milford Leadership class spearheads this endeavor, creating strategies to bring in revenue.
However, the money received this year was falling short by a substantial amount, off track from the usual skyrocketing numbers. "We were heading into the last few days of the fundraiser and we only had a mere $3,000 and needed to come up with a strategy to raise more awareness," explained Senior Reese Hefke, one of leadership's students. "As a result, we decided to place more fliers with the Milford Miracles Venmo on them all around the community. We also had a student, Ashley Murray, set up a table downtown at the 'big [store front] reveal.' That really helped reach out and gain the support of the community and we were able to raise $6,000 to add to the previous total," Hefke said.
Revenue also came pouring in from the MHS theater company's show, "White Christmas," as Megan Weeks the theater director graciously donated $500 of the proceeds made off concessions to the cause. The community of Milfo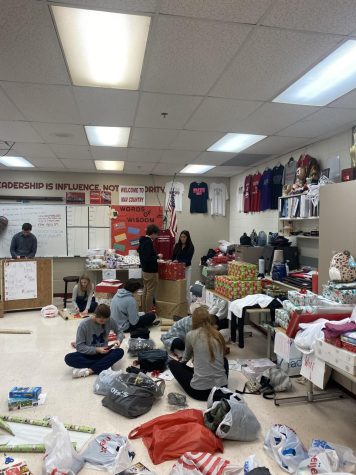 rd and local businesses also brought in another $2,468 and Milford alumni and the Powder Buff volleyball game another $653.
At school, Leadership also held two "hat days," where students could wear a hat if they donated $1 to Milford Miracles, which raised over $300. In addition, the annual classroom competition between 3rd hours raised a total of $5,856, with the top three classes receiving Holden's breakfast pizza, donuts and ice cream respectively. This year, Heather Lutz's class placed 1st, with $1,069 collected, while Carrie Pishek's (Profe's) students took second ($768.22) and Amy Prescott third ($689.72).
"It was quite challenging to get students and classes to donate," Hefke said. "Part of that might have been lack of social media advertising and the other might have been that the teachers who normally raised extensive amounts had been struggling this year."
Regardless, because of the generosity and support of MHS and the community, Milford raised a grand total of $10,406.
Milford Miracles was founded by the Spanish Club at Milford over 30 years ago, according to the Leadership teacher David Gilbert. "[Milford Miracles] was kind of going to die with that, so I was like, this is too good of a thing to lose. So I want to say we [MHS Leadership] took it over probably within the last five to seven years," Gilbert said.
Since then, Leadership students have used the money raised to shop for their families each year. With more than $10,000, Milford raised enough to support a total of 17 families, with two of those having over 6 people to shop for.
On Dec. 9, the classes drove into Novi and the surrounding areas to shop for their family. "It's one of the best days of the year in Leadership," Senior Jack Stander said. "It's great to give back and shop for families who may not be as fortunate."
For the students, it's one of the most anticipated days of the year, but also always an eye-opening experience. After gathering all of the gifts, Leadership wraps and delivers the packages to the families, or leaves them at a designated area (usually one of the Huron Valley Schools).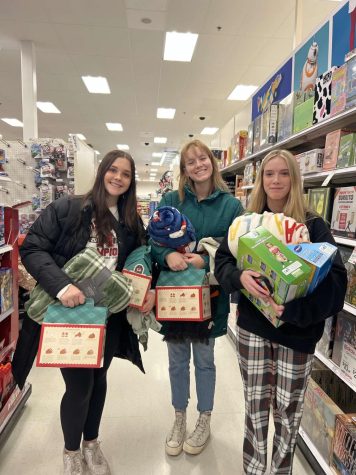 "I delivered it in person last year," Senior Avery Mrozinski said. "It was such a heartwarming moment to see the mom crying when we gave her the gifts. It just shows how much of an impact Milford and the community can make."
Each year, Milford Miracles brings the community together to make the holidays "merry and bright," for many families who need some holiday spirit. "I just think it's a great opportunity to give back- for students to understand a new perspective," Gilbert said, "Oftentimes, we only know what we know, in realizing that we have a lot of families in our area that have a lot of needs and kind of open our eyes to the world around us and our community."
This year, with all of the fundraising, compassion and charitable acts exhibited by Milford, more people can enjoy the twinkling of lights and the warmth and happiness that so many have grown accustomed to.
"Thank you for any and all the gifts given to my family," a family member said. "We are so grateful for your help. I can't begin to express how grateful we are for your generosity for any gifts we are receiving. God Bless and we hope you all have a great holiday season. Merry Christmas!"