It's Pancake Day!
How teacher's are using Stanley Hudson's philosophy for happier students
One of the most popular TV shows of all time is the critically acclaimed series, The Office. An episode that is always a fan favorite (as well as one of the most memorable moments), is "Pretzel Day" at Dunder Mifflin.
All of the employees are ecstatic and rush down to the front lobby, just to get their hands on a free pretzel. As Michael Scott loads his with an assortment of icings and syrup, Stanley Hudson is practically jumping up and down as he waits in the long line. Normally a grumpy, tired and heart attack-prone salesman, Hudson's productivity skyrockets one day of the year because of his free food.
At Milford, instead of pretzels, we have pancakes. Before holiday breaks, tests or exams, more teachers have begun to fill their classes with the smell of the golden brown breakfast food.
Why? Because pancakes are the median between education and social engagement: a time when students can come together and laugh over food, but also get work done in a more fun, exciting way.
Robert Vosk, the AP Biology and Chemistry teacher, has made pancakes for his students since 2005. "Initially I said if everybody got a 'B' or better on a test we would do pancake days," Vosk explained. "So one or two of my classes really wanted pancake day so they studied, came in after school to get help. They all brought their grades up and that was the start of pancake day."
The long-lasting trend in room 206 has continued today. Now it's used not only as a method for motivation but more so as a way to enjoy school before a break and relax.
Kelly Hemmerling, one of the math teachers at MHS, has also been doing pancake breakfasts for a number of years. This year, she continued her tradition with her AP Calculus students the day before Thanksgiving break.
"What made me so proud was that the students took over… everyone was being careful with the food preparation and it always works out better if it's student-led, rather than the teacher just standing the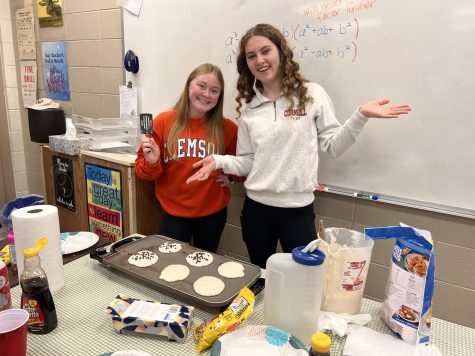 re," Hemmerling said.
Now, as the holiday season is upon us, more and more griddles are being brought in and the syrup is being poured. Vosk's simple act of making a snack for his students has spiraled into something more.
Senior Hailey Yen expressed her admiration for the trend. "It allows us to relax and have a day off (typical classroom activities), plus Mr. Vosk makes really good pancakes," she said. "We also do work in our small groups when we eat, so it makes it more enjoyable and social than just a regular lecture."
Teachers also partake in pancake making not only before major holidays, but also before AP exams, end-of-the-year finals and important tests.
Many teachers, including Vosk, and science teachers Stephanie Crow and Lori Gleason, have held pancake breakfasts in the past as an attempt to have one last hurrah before the ever-dreaded AP exams taken the following day.
"I try to do that to get you guys in here before the AP test in case you're rushing at the last minute," Vosk explained. "It puts you in a good mood so you do good on the test!"
This year, we hope to see even more griddles and pancake mixes out and ready to serve the hungry students of Milford. Like Stanley on his favorite day of the year: It's pancake day.