Reflecting on core memories from summer
Summer vacation looks different for everyone. For some students, it involves relaxing around their hometown, sleeping in, hanging out around local pools or attending activities such as concerts, festivals and sporting events. For others, it might be jumping in a car or an RV and heading north for boating, hiking and kayaking. It may be as simple as early morning training sessions for sports, working full or part-time for cash or simply enjoying a break from homework. Here's some insight into four Milford student's summers .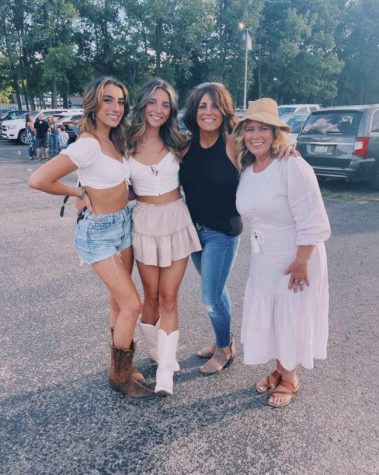 For Milford High Junior Kailani Rutz, the highlight of her summer was the Zac Brown Band concert at Pine Knob music theater. She attended this concert with her family and enjoyed a fun-filled evening of hanging out and listening to great country music. Rutz said her favorite part of the night was, "Singing 'Knee Deep' with my sister." Rutz then said that the overall takeaway was that "spending time with family is valuable."
While Rutz' highlights occurred locally, other students enjoyed their summer thousands of miles away.
Senior Angelia Maruskin spent a portion of her summer break abroad. Maruskin, along with her mother, traveled to Paris, France. Making the most of their time in this enchanting city, Maruskin and her mom hit all of the highlights including scenic boat tours, The Louvre and of course, the magical Eiffel Tower.
At the top of her list, Maruskin cited her visit to the famous Moulin Rouge. For the majority of their trip, the Maruskin girls resided in an AirBnB and then spent their final evening in a beautiful hotel. But if all that wasn't enough, Maruskin said, "The food was some of the best food I've ever eaten in my whole life!" It's safe to say Maruskin had the experience of a lifetime.
Meanwhile back in Michigan, Senior Brooke Koshkarian made the most of her free time at her family cottage in Lewiston, Michigan on West Twin Lake, which is located about a three-hour drive north of Milford. This family cottage has been an important part of Koshkarian's summers since she was little.
"My favorite thing to do when I go up north is going out on the lake and spend quality time with my family," Koshkarian said. This quality time includes taking the boat out to the sandbar and enjoying a relaxing lunch in the sun. Koshkarian also likes to compete against her sister while wake surfing and concludes most evenings with activities around the campfire.
Some students had much less time to relax because of intense physical conditioning.
For junior Ted Ross, training at STS was a huge part of his summer. "Training at STS is fun but definitely challenging," Ross said. He noted that the team loved to push each other and that helped get them through the challenging times.
He enjoyed STS because he got to bond with his teammates and it fit into his schedule. When Ross wasn't at practice or training at STS, he loved spending time with friends, which consisted of swimming, fishing, campfires and just enjoying the summer evenings.
While no two students at Milford High School shared the same summer experience, it's pretty safe to say that all students were out creating memories that will last a lifetime.
Spending time with family and friends seems to be a common theme of lunch table chatter when students are asked "What have you been up to these past few months?" No matter how you choose to spend this summer, hold on to your favorite memories and get ready to create even better ones this school year.