Meet the office: behind the scenes of our office staff

Every day, students come into the MHS offices with different obstacles, new ideas and unanswered questions. Our wonderful office staff is there to help anybody when they need it, and tend to invariably know the solutions to our problems — even when no one else does.
But how much do we know about them? While there are many familiar people throughout the office, this year is no exception to the new faces there to help you when you need it.
Often, students may feel intimidated when coming into the office. Possibly they are scared that they don't know who to go to, what to say or even that they may get on the nerves of our office staff. Getting to know more about these ladies, (and remember that they're always here to help), may just make your next trip easier.
Office Para Maureen Hoye is typically the first face you will see when coming into the main office. She was the manager of Karen's School of Dance for 22 years before coming to Milford. "I just wanted to change it up," Hoye said. "Just ready for a change." Being one of the main components in the inner workings of the building is a big job, and as one can imagine, has lots of obstacles.
"The hardest part of starting something new is always getting to know people, getting to understand the routine of how Milford High School works from the inside," Hoye said. Even though she, her husband and her kids all went to school at Milford, she perceives a very different feeling on the administration side of things. But any troubles are always made up by the most enjoyable part of her job – the students. "Dealing with the kids," Hoye said. "Yeah, I love to deal with kids. I'm very friendly, approachable and always willing to help."
Right behind Hoye's desk, you will find another new member of our office. Secretary to the Principal Holly Miller started here in June and takes care of an interminable list of jobs daily. "I am in charge of getting substitutes for the teachers, and I also answer some of the phones and doors sometimes," Miller said. "Payroll, and anything Mr. McKenna needs from me" are also included in her job description. She also agrees that the best part of the job is "the staff and kids! Just dealing with everybody."
Miller explained that the office staff is ready to help everyone.  "We're to help them [the students]. You know, not to be afraid, come in, and don't be shy," Miller explained. She would like the students to know that "if you need anything, I'm here for you."
Student Services Secretary Shannon Thompson has been at Milford for three years, after previously working at Muir Middle School for four, and Apollo three years before that. She loves working with students, as she says the best part of her job is "I love, love, love all the students," Thompson explained. "That's my favorite part of this job, to be with you guys and help you, to hear what's going on. Celebrating the happy things and overcoming those difficult obstacles and seeing that growth. It makes me so happy."
She says that every day in the office is different, and typically very busy. Her biggest tip to any students coming into Student Services is "to wait their turn. Because if there's more than one person, you have to be polite," Thompson says. "Also, you should not be on your phone! Talk to other students and develop relationships because the more people you know, the more friendships you're going to grow."
Wise words! Take them to heart, students. Lastly, one thing that she would like the kids here to know about her is that, "I love happy people, and being around happy people makes me happy."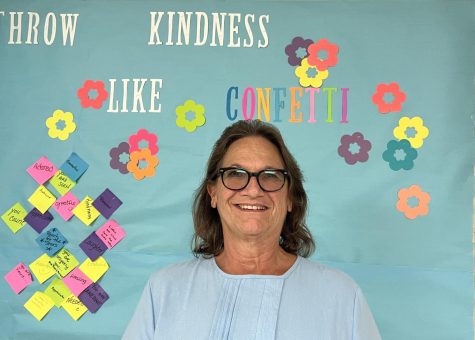 Last, but certainly not least, is Attendance Secretary Colleen Darnall, who has worked at Milford for five years at the front desk. This year is her first time in the attendance office. Darnall explains how she feels about her new position, saying, "Sometimes it's overwhelming, but I'm still learning. I'm still new at it."
The hardest part of her job has been keeping up with the phone calls and all the dossiers. "I didn't realize that there was a lot of paperwork," Darnall said. When asked about the best part of her job she said, "I get to interact more with the kids. I mean, I did at the front desk, but here I get to see them more. I like the kids," she explained.
Her tips for coming into the attendance office are "when you're sick, just tell me you're sick. If I'm busy, just sit down and wait for me," Darnall said. "Just be patient and always be kind!" Something to know about Darnall is how important family is. "Family is very important to spend time with, yeah, that's the biggest thing people have to remember."
What other position at MHS would each of these lovely ladies do for the day if they could?
"I say driving the bus," Hoye stated.
"I would do the cafeteria," Miller said.
"I would wanna be the pottery teacher because I would want to be artsy!" Thompson explained.
"I think I would want to be the social worker for the day! Only because I think I am a good listener," Darnall said.
Now that students have some insight into some of our office staff, maybe it won't be as intimidating to come in from now on. Feel free to stop by the office students, and say hello to our newest and some of our favorite staff!