Hurricane Ian devastates Florida Gulf Coast
As far as Florida is from the small town of Milford, many residents were glued to the coverage of the tragedy and destruction that swept across the state in September. Hurricane Ian came in as a Category 4 hurricane when it hit the Gulf Coast on Wednesday, Sept. 8th. The devastating 155-mph winds and up to 12-foot storm surge destroyed many people's homes, businesses and belongings. At least 127 people were killed and an estimated $75 billion in property damage were caused by the storm, according to ABC News.
Viewers watched images of rescuers searching through uninhabitable neighborhoods and ruins in Lee County and surrounding areas. This tragedy is devastating to those who are impacted in states and countries that were hit. Over 3.4 million people lost power across the United States, according to the Washington Post. For the people that were fortunate enough to still have a roof over their heads, they may not even have running water and electricity.
Kate Mackie, a student at Estero High School and resident of Lee County, FL, explained how this has impacted her and her friends. "This is the first impactful natural disaster I have experienced firsthand since moving to Florida," Mackie said, as she had lived in Michigan for 14 years before moving to Fort Myers. "A lot of us were just in genuine shock with the outcome of the hurricane and everything it destroyed and it is genuinely more frustrating than anything for kids my age because we don't have our normal every day routine like going to school, then going to work or practice, then going home to rest. A few of my friends don't even know where to live, so school is really the last thing on their minds," Mackie said.
Fort Myers Beach and Sanibel Island are familiar places for Milford students to visit during spring break, but much of these areas are now in ruins. Though it is a vacation spot to many, it is also home to many more people.
"It's heartbreaking and hard to comprehend that it's not there anymore and I've spent the last seven years there for spring break," said Junior Anna Uphoff. The beautiful beaches and towns surrounding are all washed up and most buildings are completely gone.
"The beach is the main place where people from school go to hang out after school and on the weekends, "said Ansley Mancini, a senior at Estero High School. "We play beach volleyball, go swimming and just chill with everyone. It is such a fun and busy atmosphere and to see the beach and all of the local shops destroyed makes me miss it even more."
With time, the beautiful towns and beaches in Florida will be restored. To help support these people in need you can donate to funds like American Red Cross, Feeding Florida, Florida Disaster Fund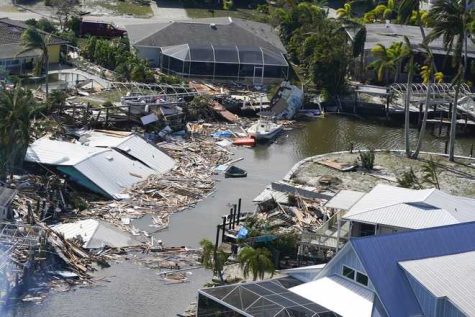 and Farm Share. These fundraisers collect money to provide supplies and food to families affected by this tragedy.
It will take a community to come together to help others with basic necessities and other support.