Former teacher creates new murals within Milford
Former Huron Valley Schools teacher Austin Fabinski has taken on a new role in HVS by creating murals in both Oxbow Elementary and Milford High School. Fabinski graduated from Lakeland High School in 2008 then returned to teach  art for Spring Mills Elementary and Johnson Elementary. However, he was ready for a change, so he quit teaching and took to social media to focus full time on writing books and creating art.
Beginning in 2020, Fabinski took to writing how-to books in a series called 100 Days 100 Drawings that shared prompts on different ideas to draw every day. In this nine-book series, Fabinski inspired others to explore their love for art in a structured way that helps them to improve their drawing skills.
Fabinski's unique journey of art began with woodburning, but soon expanded into many different art forms, such as creating murals. One of his more notable murals includes a mural painted inside the restaurant Chile Tequila in Cozumel, Mexico. Recently, he painted the first interactive mural in Milford at Milford Nutrition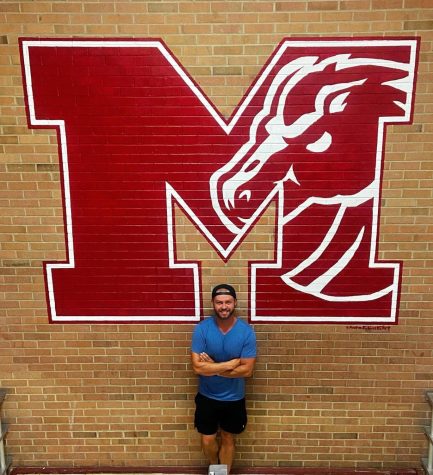 When MHS parents saw the art that Fabinski created they immediately thought it would be an incredible addition to Milford High School. When they approached Fabinski with the interest in having him create a mural, he jumped at the opportunity and got to work creating a design to paint. Over the summer, Fabinski worked in Milford's building to create the classic "M" mural located on the brick wall of the staircase next to the library.
His journey has come full circle by inspiring and building futures for current students just as HVS did for himself.
"It literally represents my journey in HVS," Fabinski said. "I grew up in HVS, went to their schools, came back and taught for the district. Then I left teaching and got hired as a full-time artist even after I quit."
This idea of inspiring and building futures for current students can be seen in his second HVS mural of the Oxbow Owl at Oxbow Elementary. Principal Justine Greenleaf was thrilled to bring this mural into their school because of the colorful and inviting atmosphere it brought to the previously bare hallway. "We think it is wonderful that Austin is able to give back to the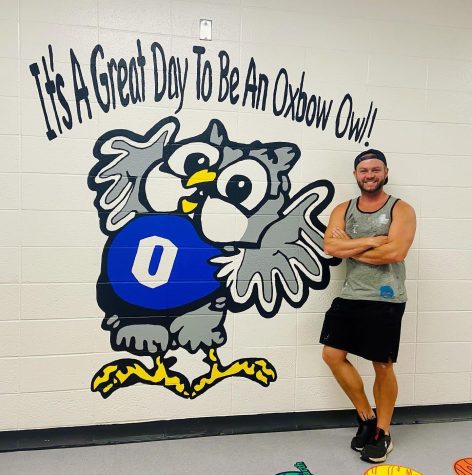 community he grew up in by creating a wonderful addition to the community of Oxbow Elementary," Greenleaf said.
Additionally, the students at Oxbow Elementary were very excited to return to the new addition within their school. Fifth-grade students Olivia and Madison shared, "It was fun seeing the mascot when I came to school," and "It's a good reminder to have a great day being an Oxbow Owl." In the future, they would like to have more murals within their school, specifically a design of the owl playing basketball or volleyball in the gym and motivational sayings in the multipurpose room.
Fabinski hopes to continue to paint more of these murals within the Huron Valley School District and all of Milford to continue to inspire and excite more students.
To see more of Fabinski's murals or other types of art he creates, you can find him on TikTok & Instagram @austinfabinskiart or on Facebook @AustinFabinski_ART.