Take the opportunity to visit a state park this summer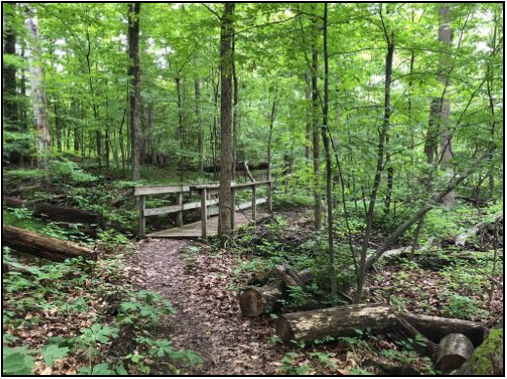 Summer vacation often becomes stagnant halfway through, with nothing left to do but play video games or watch movies. People often overlook the opportunity to be active and explore Michigan's great outdoors, whether on family trips up north, or day activities with friends.
While our home state's unpredictable weather is often complained about, these conditions create gorgeous seasonal scenery. The best places to experience this are at Michigan's 101 State Parks and five National Parks. This summer, instead of sitting on the couch for weeks, think about finding something new outdoors at one of them.
The most popular of Michigan's parks are generally out of reach for a Milford student to take a quick trip to, however. The beautiful hiking trails of Tahquamenon Falls and the kayak trips around Pictured Rocks are too difficult both in terms of distance and finance for the average high schooler.
But nearby, there are several state parks with plenty to offer. While they may not sport such spectacular vistas, waterfalls, or sand dunes, local state parks are a great place to spend time outdoors this summer. They offer opportunities for hiking, camping, fishing, boating, horseback riding, mountain biking, and many more activities.
In White Lake, Highland Recreation Area boasts all of these features. The park is a 5,900 acre forest that has remained undisturbed for dozens of years. The woods cover all of Michigan's characteristic scenes, with more than 17 miles of hiking trails through mixed hardwood forests and marshland trees. This time of year, the woods are blooming with late spring wildflowers, budding trees, and abundant wildlife.
Junior Grace Harkenrider said, "Whenever I go… it's usually for a run, and it's always nice to be reminded of the beauty of our local areas." 15 miles of mountain biking trails and an additional 12 miles of equestrian trails also crisscross the park. Highland Recreation also has boating and fishing access to four different lakes, and a 30-site camping ground where one can stay and enjoy local flora and fauna.
Proud Lake Recreation Area in Commerce is a 4,700 acre park along the scenic Huron River. This pine forest holds 20 miles of hiking and skiing trails that run along the river and around a marsh. Proud Lake also has access to multiple boat launches, canoe and kayak rentals, and a 130-site camping ground with a few cabins and electrical amenities.
Finally, the beautiful Island Lake Recreation Area is a 4,000 acre forest with an up-north vibe less than 30 minutes away from home. With trails through hardwood forests and open meadows, and features such as a playground, shooting range, and metal detecting area, Island Lake is a great place to spend a summer day. The park also has a paddle-in camping site and a beautiful dog-friendly swimming area.
IA Junior Kayla Pletzer says that Island Lake is "probably my favorite state park because the dogs can go swimming with us, and the water is so pretty!" This park should definitely be on your to-do list this summer.
Seeing Michigan's natural beauty doesn't have to mean driving for hours to see a majestic sunset over Lake Superior or the Sleeping Bear Dunes. When it's right in your backyard, it can be easy to take for granted. This summer, take the opportunity to experience local nature at one of your favorite state parks!