Senior Kenna Morgan shows passion for school and science
For Milford senior Kenna Morgan, her high school experience involved an impressive list of academic accomplishments, extracurriculars, and memories. As one of the top 10 of the senior class of 2022, Morgan concluded her senior year with one of the highest GPAs. "There's so many things that you can do, so I would say try new things, but don't overload yourself," Morgan said. "Let yourself breathe a little bit."
Morgan plans on attending Michigan State University in the fall where she will be a part of the Honors College and the Lyman Briggs Residential College. With a major in biology, Morgan is interested in a career in the biological sciences that is human-centered. Morgan's love for science was partly encouraged by her AP Biology teacher Robert  Vosk.
"I just loved his class so much, and he's super passionate," Morgan said. "I already loved biology, but to have [Mr. Vosk] always giving me new information, and I was always so curious and I asked him questions like every other day…. It was just fantastic."
Vosk attests to Morgan's inquisitive nature. "Kenna is one of the best problem solvers," Vosk said. "She always wanted to learn and asked questions, so Kenna always understood the reasoning or the 'why.' Every day she brought a positive attitude."
Morgan's love for science was evident, as she was heavily involved in the HOT robotics team throughout her high school career. As the leader of the electrical team and pit crew member, Morgan was responsible for leading the robotic electrical repairs after each match. Morgan did repairs during competition, but during the build season, she was more involved with the building of the actual robot. This commitment to the challenging concepts of robotic engineering is indicative of Morgan's devotion and hard work in all aspects of her life.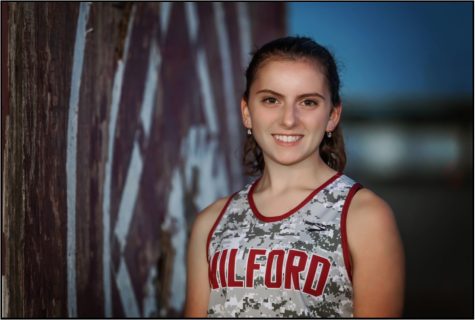 Morgan's extracurricular activities also include National Honor Society, Cross Country, and Track and Field.
In addition to her passion for science, Morgan has excelled in all facets of school. Morgan was recently awarded Milford's Department Key Award for English.
Intrinsic to the success of a student is the ability to learn from new experiences. "I would say definitely branch out a little bit," Morgan said. "You'll have these opportunities that will come at you all the time. Just take one and run with it. Just go try something else. Try something new. Something that you don't think you might like necessarily or that you think won't mean a whole lot to you but it might end up being like, the best thing in the world or everything you could have hoped. You could find something that you want to do for the rest of your life, or just find your friend group."
A love of learning and natural curiosity was key to Morgan's extraordinary academic success at Milford. "I like school," Morgan said, "I like being here. I like learning new things. And I always put my full effort into everything because I don't want to give anything less."