Senior Grace Carey excels academically and athletically
As a stellar athlete and student, Grace Carey is the pinnacle of an accomplished high school senior. Carey was recognized as one of the top 10 students of the class of 2022. "I attribute my self-determination to my academic success," Carey said. "Growing up, my parents were never strict about my grades—they just told me to do my best. I took this to heart, always giving every assignment the best effort I possibly could."
After high school, Carey will be attending Ball State University in Indiana to study Pre-Medicine and Biology. Carey plans on becoming a doctor, possibly with a specialty in
anesthesiology.
Carey's accolades extend outside of Milford as she was recently awarded the Certificate of Merit for excellency in math and science by the Detroit section of the Society of Women Engineers.
Carey's passion for science is highlighted by her success in classes like AP Biology and AP Chemistry. "I tried to challenge myself in high school by taking many AP and honors classes, and I found the subjects interesting enough where I wanted to learn more and do well on exams," Carey said.
Carey's AP Chemistry teacher Maya Kempff was a great influence to her high school success. "She taught me some very useful skills that will be necessary in college," Carey said. "She taught me to learn rather than worrying about the grade on paper."
Carey was also one of the best math students in the school.
"Grace is a top achiever in class," AP Calculus teacher Kelly Hemmerling said. "Even though she is quiet, she always knew what she was doing."
When reflecting upon her academic achievements, Carey noted the importance of a well-organized study system.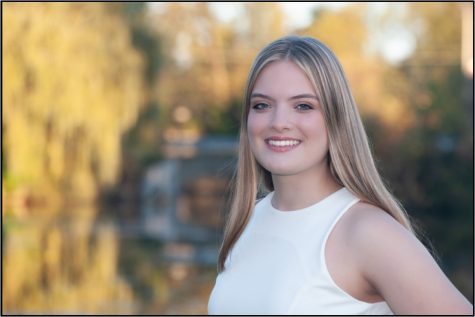 "A very valuable lesson that I have learned while in high school is to avoid getting overwhelmed by doing the homework when it is assigned," Carey said. "Instead of procrastinating for days about a long assignment or a paper, it's far less stressful to spend a little time each day working on it. Another piece of advice that I have is to find a way of doing homework and studying that works, and stick to it. Learning how to actually study so you remember the information is essential, and will also be necessary in college."
While Carey had a strong aptitude for academics, she also was involved in both varsity track and field as well as Spanish club. Carey was a varsity thrower, participating in both shot put and discus.
Carey competed at both the Lakes Valley Conference and MHSAA Regional meets this season.
Carey was recently awarded Milford's Department Key Award for world languages. Spanish teacher Carrie Pishek attests to Carey's exceptional talent in class. "Grace is one of those people you know you can count on," Pishek said. "She is dedicated, kind and interested in what she is learning. She's invested in her educational experience and fun to teach."
Carey's compassion and work ethic will continue to aid her in all her pursuits in life. Congratulations!