DECA district competition reimagined as virtual event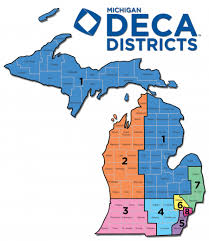 On Dec. 11, 2020, Milford DECA chapter members showcased their business knowledge by competing in the first virtual district-level event. In past years, students attended Lawrence Technological University to present in roleplay scenario events in front of judges, and receive feedback about their performance within the afternoon. Due to COVID, however, the competitors used Doxy, an online conference software, which allowed them to recreate the traditional situation from home. Of the 52 MHS members to participate, 24 moved on to the state competition in March. Students nationwide have had to adapt to the challenges brought on by the pandemic, and this is yet another example of the students' resilience. 
The typical competition hierarchy allows participants to first face opponents from within their district (Milford is part of District 6), then move onto the state competition with all districts represented, and then to the international-level competition in one of four major cities. Each level offers new experiences and opportunities for personal and professional advancement, but all contribute to a young adult's real-world experience in potential career fields nonetheless; the virtual format did not change this goal. "It was a learning experience that I truly believe will be an asset to students in the upcoming business/school careers," said MHS DECA advisor Kaye Sommer. "From what I am being told by students that have graduated and are in college or the business world, this is exactly how internship and employment interviews are being conducted.  Many have contacted me to say they received internship/job offers because they were so comfortable with the format of the interview." DECA continues to serve students well beyond their high school years, as the lessons learned in professionalism and business composure contribute to success in any future endeavors. 
Regardless, many students struggled with the virtual format for a variety of reasons, including technology issues, miscommunication (or lacking) with the judge over a screen, and increased anxiety due to the unknown circumstances. Senior and new DECA member Josh Raya shared, "I feel like it can be awkward at times, but it also helps you to be more confident in what you're talking about and how you compete." He, like many students, was grateful for the chance to present at all in an attempt to maximize their adaptability for future online communications. Some returning members felt disheartened by the differences in the virtual format, as ultimately, going online took much of the enjoyment away from the networking aspect of the program. "It was pretty sad not competing in person this year. I really missed going to districts and talking to real people," shared Senior and DECA officer Helena Wilson. "When we compete all together in districts, it's always fun because we feel like a community. This year felt lonely." Speaking with the judge was also troublesome for students; between connectivity issues and lagging software to inexperienced critiquors, many faced less than ideal conversation conditions: "In-person competition is more social, and on [Doxy] this year, it was harder to connect with your judge," explained Senior and DECA officer Zoe Dagenhardt. 
One benefit of the virtual competition was the pace in which it moved, and the independence required of competitors. At an in-person event, an adult escorts students to their holding and preparation rooms, as well as to their judges, and students had little time-management responsibilities. This year, "The students were totally in control of their own time management and organizational skills on the day of the competition," explained Sommer. "When all students had completed their interviews without any assistance, I was extremely proud of what they had all stepped up to accomplish." Competitors were privately sent login information and were required to check in and compete without guidance.
As a result, just under half of MHS' participants accepted finalist metals, and nine alternates may have the chance to compete as well; fewer members were involved than in past years, but all who chose to partake in this opportunity gained meaningful insight into how technology will contribute to their careers moving forward. Both the state and international competitions will be virtual events as well for the safety of all who would normally be required to travel in order to attend. 
Overall, the newly structured event has proven to students and business-minded individuals that the younger generation is capable of excellence under pressure, that they are motivated goal-setters and achievers, and that DECA in any capacity is crucial in aiding the formation of necessary workforce skills to be the best candidate for future ventures. Sommer hopes that students found the experience worthwhile and empowering, and that they may take opportunities moving forward to learn with the help of others. "I have been told so many times by current and former students that by competing in DECA, they understood the importance of their other classes and how they all connected to their future careers–no matter what their chosen path," Sommer said. "The skills you acquire and practice while competing in DECA will surely be an asset for you the rest of your life."