Student Council and NHS unite to help Motor City Mitten Mission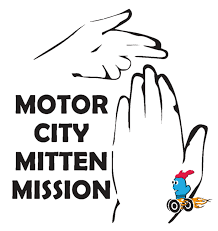 The Motor City Mitten Mission has been and continues to be a light among darkness in the Detroit area. As more individuals face hardships amidst the pandemic and accompanying challenges, organizations that provide for those in need demonstrate the utmost compassion toward those who can be helped. Milford's Student Council and NHS groups unified this year to contribute aid to the nonprofit's efforts in a wide variety of ways; as it is Student Council's second year working on the project, the group had previous experience preparing food and delivering it, and plarning mats (crocheting plastic bags together to make a waterproof device)–the original goal of the event was to provide one meal per month to provide to the homeless. Nonetheless, the process began in the summer of 2019 with Paraprofessional Darlene Garrison introducing Student Council Advisor Daniel Reschke to Motor City Mitten Mission's Executive Director and co-founder Gail Marlow. This fall, NHS paired with Student Council to expand its charitable capabilities, as well as initiate complementary service projects that were COVID-friendly, including hygiene kits (Student Council) and a donation collection (NHS). 
Many of the Student Council members originally involved with the Motor City Mitten Mission are also NHS members and could use their previous experience to extend the efforts of the event. Senior Kristen Schang, the vice president of the senior Student Council, appreciated the value of service, but immediately recognized this organization's individuality upon meeting Marlow: "I learned that the actions and donations given to this organization help real people," she shared. "Gail Marlow was able to tell us the names of the people she sees and what she gives to each person. This organization is able to put to use every donation in the best possible way." Senior and Student Council President Joe Antrim aided the initiation of NHS' progression with the Motor City Mitten Mission as well after seeing the success Student Council had. "Last year, Julia Salvati and I led one of the first food preparations for the mission and helped figure out the best procedures so the rest of the council could repeat the process more effectively," Antrim explained. "This year, I connected back with my contact at the mission and spearheaded NHS' drop off of goods using my knowledge from Student Council last year." 
After approving the fall service project, NHS determined that working with the Motor City Mitten Mission would be a worthwhile and rewarding experience, and would offer opportunities to stay safe while volunteering during the pandemic. "We knew that actively handing out meals was not an option for us due to COVID-19, but we still wanted to help! We adapted and had members individually promote the project and do doorstep collections," NHS Advisor Jennifer Hittle stated. "Any donations were then delivered to the MCMM headquarters by a small group of NHS members that volunteered to do so.  They all were required to follow social distancing protocols and wear masks, as did the MCMM staff." Under Senior and NHS President Sammy Knapp's leadership, the group's fall project was largely successful; dozens of students posted flyers on social media, some collected donations at their homes, and both carloads of necessities as well as monetary donations were dropped off at the non-profit organization in early December. "Working with this organization has been such a great experience, especially during such difficult times," Knapp said. "Giving back to those who are less fortunate is always such a great feeling. Getting to talk to the founder and other organization workers first-hand made me grateful we were able to help."
Student Council's previous efforts of distributing meals in-person cannot occur as of now due to the pandemic-induced restrictions, but those involved have found other ways to contribute nonetheless; the group plans to donate 30 mats by March, as well as package hygiene kits for the homeless in Detroit. The Motor City Mitten Mission's location only adds to the students' urge to help; as explained by President of Student Council's senior class Julia Salvati, "I think there is something to be said knowing that the effort you put in will be received by someone who lives near you. For me, it serves as a reminder that people share so much more in common than we do in differences." Committing oneself to serve in the community he/she resides in magnifies the hardships that people around the world–whether they are down the street or across the globe–face. For many, volunteering during their youth makes a long-term impact, setting the foundation in which they will continue to build their disposition to serve. "I have always loved to be a part of the leadership in my previous schools, but this was the first time that students can truly make a full initiative and be uninhibited by age and maturity restrictions," Antrim said. "It proved to me that I want to continue leadership throughout my career. I also love knowing that my work has the potential to make a difference on a larger scale than just my own life." 
The Motor City Mitten Mission, in particular, stands out not only for its proximity to MHS and neighboring communities and the efforts it makes to help those in need every single day, but because of the level of dedication it has to expanding its reach. "Working with the Motor City Mitten Mission is a worthwhile cause because if there is one thing that Milford is great at, it's supporting the community and helping those in need. Our Student Council representatives wanted to reach outside of the Milford bubble to help and to support those who desperately need it and to let the people of Detroit know that Milford supports and cares for them," Reschke explained. "My favorite part of working with the organization is seeing our students excited about giving back to the community. I am proud of Student Council and all of its efforts, and I especially enjoy watching students bring joy to people who are less fortunate."  Now more than ever, nonprofits need the help of their communities to continue their methods of donation and outreach, but ultimately, acts of service are a crucial way in which people can show kindness toward one another, with or without a pandemic and the limitations it may bring. "We are able to positively impact people in our region who struggle the most–not just during the pandemic, but every year," Hittle expressed. "It is nice to be able to do work in our communities to improve others' lives."
If you are interested in helping the Motor City Mitten Mission make a difference, visit https://www.motorcitymittenmission.org/ or contact a member or advisor of Student Council/NHS.