Volunteering for the holidays: how you can help!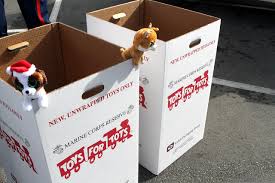 For many Americans, no time of the year is as happy as the holidays, so everyone should do his/her part by helping spread more joy! Volunteering is a great way to lift spirits while helping others. During the holiday season, there are countless volunteer opportunities in which to participate, such as food pantries, soup kitchens, Salvation Army, gift and toy drives, and even adopting a family! 
Adopting a family consists of shopping and trying to fulfill the family members' wish lists! This is a great activity to do in a group of people; you can even make it more fun by splitting up into groups and each group shops for a different family member. Milford High School is still carrying out their tradition of Milford Miracles this year. Mr. Gilbert and leadership know it will be a challenge to pull off this year considering everything is virtual but they say they are feeling very passionate about pulling it off. Another way to collect gifts for kids in need on Christmas is with toy drives. 
Normally during the holiday season, there is gift, can, toy, food, etc. drives everywhere, which you can easily find one to donate to. Toys for Tots, Salvation Army, Angel Tree are all great donation centers that will accept just about anything during the holiday season. Toys for Tots is especially special around the holiday season because their mission is to make sure every kid across America has a present to open on Christmas. You can even easily organize your own. The first thing to do is pick a date and time; normally food drives are open for about a week, but it can be as long as you are willing to run it for. Then, you need to advertise–that is the most important part, but it's also one of the easiest parts. With social media,  all it takes is a few posts to Instagram, Facebook, Twitter and Snapchat, and the word is out! Make sure the drop-off location is an easily accessible location. After that, you are ready to just collect, collect, and collect! It will then be your responsibility to redistribute the items to those in need. 
Another great way to get involved is helping out at a food pantry. Milford senior Ashley Riggs volunteered at a food pantry in Walled Lake, MI last year and had an unbeatable experience. "When volunteering at the Hospitality House I would get a rush of joy," she said. "Being able to help people in need and put a smile on their face was an accomplishment and something I want to continue to do." There  are normally multiple volunteering options available. You can work directly with people and be their guide in shopping, or if working with others isn't your thing, you can always just help by stocking shelves and doing inventory. In the MHS community, we have a food pantry just down the road — Community Sharing in Highland, which is always in need of donations and volunteers. Visit https://www.community-sharing.org/ for more information. 
Now that executive orders are being put into place and people are being asked to "Stay home, stay safe" there are ways to help out without leaving the comfort of your own home. Right now, hospitals are under stress treating COVID patients and the average everyday citizen can not just walk in and start treating patients to help first responders. But, you can give materialistic and monetary donations to help best prepare our first responders for the battle. A great way to donate PPE is by going on https://getusppe.org/give/. The website will show the closest dropoff locations to your and/ or guide you in shipping the materials to a healthcare facility. PPE such as masks, gloves, wipes, disinfectant, etc are the greatest gift you can give a first responder right now.
Just remember: there are volunteer opportunities everywhere, and no matter how little you do, you are still helping others. I highly recommend being a part of your community and helping spread love–this holiday season, we all need it more than ever.