Baker's of Milford enters 22nd year of Sunday car shows
Roars of historic cars rumble through air every Sunday in Milford.  Cruising through town, the sounds of loud exhausts bounce off the walls of Main Street. Usually, these ancient beauties are going to Baker's of Milford for the Sunday Cruise. Starting in June every year, older cars cruise to the restaurant parking lot, displaying both their hard work and the culture surrounding the cars.
The car show dates all the way back to 1998. "My dad started the car shows at Baker's of Milford," expressed Chris Baker, host of the Sunday Cruise. "A disc jockey with a trailer in the shape of a jukebox approached my dad about providing music in the parking lot." With that in place, and Baker's father knowing several classic car owners, he was heavily assisted in the promotion of the newly-founded event.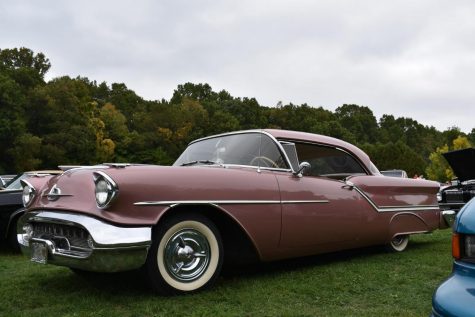 Many years of memories have been made at this event, but Baker's most special memory? "The Sunday at Baker's following my dad's death," he said. "Nearly 2,000 cars came to pay tribute. Lynch and Sons Funeral Home drove their hearse carrying my dad's casket though the car show. It was certainly a touching moment for everyone there."
"Baker's attracts all kinds of vehicles, whether it's a recent 'barn find' with all the years of decay on it, or a rare one-of-a-kind automobile that just 'shows up' on a Sunday afternoon," stated James Bergin, owner of a 1955 Porsche Continental Cabriolet Convertible.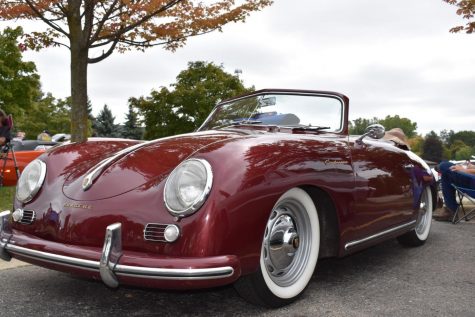 Although the show is predominantly filled with middle-aged guests, it's nice to see some younger faces as well. Given his 1977 Ford Maverick as a graduation gift in April 2020, Milford Graduate, Sam Allen states, "Sundays at Baker's [are] when I can most definitely get my friends to meet up, hang out, and talk about all things cars." At the car show, people most oftenly see exotics, old race cars, classics, and, on occasion, home-built cars. "There's one Sunday that sticks out to me the most," expressed Brenden Londeau, owner of a 1987 Pontiac Firebird Trans Am. "I saw a DeTomaso Pantera, a legendary mid-engine car. That car is so rare nowadays; seeing one will stick with me for a very long time."
Many people are baffled by how well-preserved these classic cars are. The Sunday Cruise at Baker's is an amazing representation of such vehicles, as well as other cars that show their ages. Tommy McLelland, owner of a 1973 Ford Maverick, says his favorite experience was "being mind-blown by the wide variety of cars people have brought from far and wide."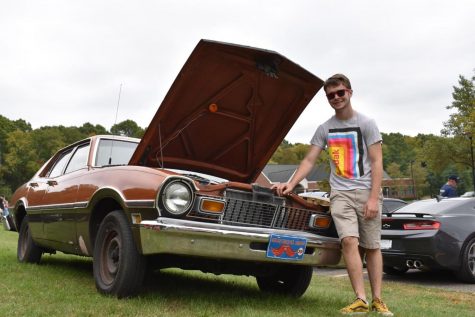 Although Chris Baker doesn't have a classic car himself, his favorite part is "talking to the car owners and listening to the stories of their car. The owners of these cars put an incredible amount of work into them, providing an environment to let them share their history." Londeau says that "Baker's is a great way to meet people who love what you love, and even get inspiration to keep working on my own project."
The Baker's Car Show has had the amazing opportunity to display a very special car, a 1955 Porsche Continental. This car only has ten left in the world, one owned by a local resident, James Bergin. "With some research, I believe mine is the second oldest to survive," said Bergin. "It was used as a race car on the SCCA circuit many years ago— it was pretty rusty and beaten up. It took me almost 40 years to restore it to its current condition." Given that there are only eight of these cars in the United States, it's unfathomable that Milford, MI proudly holds this car in the Sunday shows. "These cars have jumped in value significantly in the last ten years," Bergin said. "In December 2018, they sold a one nine serial number newer than mine at auction for $385,000." With this being said, Bergins car is 40 out of 200 made.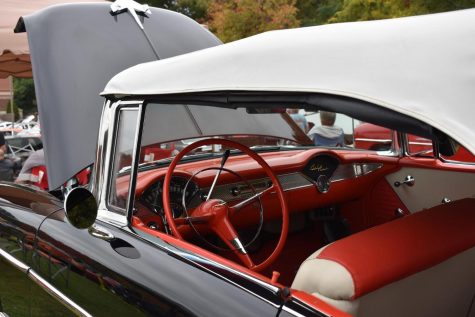 Baker exclaimed, "I can't tell you how many times I am out of town and mention I'm from Milford. I repeatedly hear, 'That's the town they have a huge car show [in]!' It makes me proud to assist in putting our town on the map." The Baker's Sunday Cruise is known as the largest weekly car show in America. It proudly averages 500 cars each week, making it incredibly unique. "I am extremely proud to follow in my dad's footsteps and carry on the tradition of America's largest weekly car show at Baker's of Milford. Unfortunately, my Dad passed away before The Comeback Inn opened, but he would be extremely proud to see the addition of the car show at that establishment," said Baker.