The Great Lakes are 34 inches above their usual averages
Those who went to an eroded Great Lakes beach this summer may have noticed there was little to nothing left. The Great Lakes water levels are at their highest since 1918. It's normal for all five of the lakes, along with Lake St. Clair, to occasionally rise, then fall, but not to this level. In September 2019, Lake Michigan and Lake Huron were both over their averages by five inches. Since then, the lakes have risen even higher, and an additional four inches were added as of July 2020. Putting this into perspective, an extra nine inches to already high waters may not seem like much, but that's an additional 3.2 trillion gallons of water. 
Reports from the U.S. Army Corps of Engineers state that Lake Michigan and Lake Huron were each 34 inches above their long-term monthly averages for July. With the water levels in Lake Michigan dropping two inches from August 4th, 2020, that's still an additional five inches over. Given that winter is coming, and freezing of the lakes can hopefully slow down the adding of inches to water levels, the USACE predicts that by October 4th, 2020, some lake levels may drop instead of rise. That being said, Lake St. Clair, Lake Ontario, and Lake Erie are all predicted to lose five inches from their current levels in September.
Not only have lakefront homes and small towns like Leland, Michigan been affected, but commercial and recreational boaters have also been adversely affected by this issue. With this year's COVID-19 outbreak, boating has been an activity people participate in because it allows for social distancing, along with enjoyment of the water and the outdoors. Due to this, marinas have been packed, but it's been extremely difficult with the high water levels. There has been struggles with flooded boat launches, ruined electrical wiring throughout the docks, as well as sunken docks. Being prepared for the worst, "In spring of 2019, we invested $1.5 million in the upgrade of our marina," stated American Institute of Certified Planners for Suttons Bay Marina, Rob Larrea. "We added docks that have the electrical built inside so when the water fluctuates, the electrical moves with it, keeping it dry." Many marinas are still struggling to construct solutions and manage complications from the high water levels, which could negatively affect their docks and electrical, along with their wallets. "Beaver Island and Mackinac Island had no power for much of the summer," expressed Retired Captain Kevin Clark. "Their electrical outlets were below the waterline and could not get any electricity." If marinas don't solve this issue soon, the high levels could create more destructive damage in the winter. Larrea expressed, "We will be utilizing bubblers in our marinas to keep the water from freezing." These expensive devices keep water flowing in marinas, preventing any ice damage and making them an essential, especially with the higher water levels.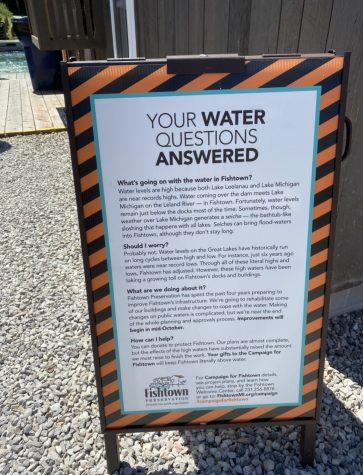 These high levels have caused extensive damage to more than marinas. To reduce the flooding of parking lots and streets, cities and towns have been sandbag beaches, parking lots, sidewalks, etc. This helps to prevent flooding from reaching farther inland, which would cause serious damage. Due to the water levels being so high, strong winds are not a good sign on the Great Lakes. Duluth, Minnesota learned that the hard way; water was crashing over rock walls, sandbags, and the surrounding land was flooded much more than ever before. With this came not only material damage, but erosion to beaches as well. As many tourists and locals have noticed, erosion is becoming much more of a common factor this year. "While out on Lake Michigan fishing, the erosion from the cliffs and bluffs of the Leelanau Peninsula, as well as the Manitou Islands, was easily noticeable," stated Captain Tony Radjenovich. "Due to the erosion, there was much debris floating on the water, mostly large pieces of driftwood." Beaches are being torn and eroded apart, almost to the point where break walls- a constructed barrier, rock, or concrete protecting a marina or shoreline– will have to be pushed back further, just to allow natural sand to be washed ashore. Clark said, "Statewide, the high waters have caused dams to collapse, like in Stanford. Some of the sand dunes have washed away as well, creating deeper waters for channels and navigations."
"High water over the dock makes it slippery for guests to walk on the boardwalk. Swift water makes navigation in the Leland river difficult," stated Captain Radjenovich. This can be an extreme danger to tourists as well as boaters, making navigation a difficult process. In addition, Clark expressed, "The navigation day markers are the same, but you know the water is deeper than indicated on the charts, due to the high water levels. The dock at Apache Trout Grill (in Traverse City, Michigan) used to be 120 feet out from the shore line, but this year it's only 30 feet out. There is still plenty of water to get a boat that drafts four feet of water in and docked."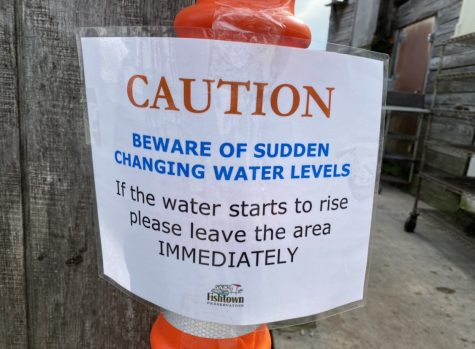 There's one positive to the high levels— Michigan has the most freshwater right now than it has in the last 102 years. Around five to ten years ago, when the levels were dropping, "people complained how foreign freighters took our freshwater in empty cargo spaces; now we're wishing they could take more!" Expressed Clark. Much scenery has been taken away from these high levels, and boaters now experience difficulty engaging in what they love to do. "The St. Mary's River, the St. Clair River, and the Detroit River have such high water and lots of sandbagged property. When we transit, we have to travel at a reduced speed," expressed Jason Boyer, Mate at VanEnkevort Tug Barge. It's gotten further than tearing down lakefronts, boats, beaches, etc. It's gotten to the point where, in Clark's words, "Last year I drove my car through a marina parking lot, and the water was so deep, it flooded my engine and totaled the car with about $45,000 of damage." Many marinas have experienced this nightmare of an activity, totaled vehicles, rocky boat launching, and failed breakwalls. "From a physical perspective, the high water has undermined the cement launch platforms." stated Larrea. "When the sand is washed away from underneath the platform, it can no longer handle the weight of the vehicle and/or boat, causing a break and thousands of dollars in damage." 
With the struggles that come with these high waters, boaters hope to see them level out soon. "As recently as 2013, we had recorded low water levels, so it's hard to predict where to go from here," expressed Clark. "During the low water event, I was involved in a dredging operation that was used in many marinas to remove sand and, ditto, make deeper water for boaters." With records from '100 Year Highs,' as well with water mainly draining in from Canada, the Great Lakes are anticipating higher than average levels for the next few years, but aiming to lower some monthly highs.