MHS DECA explores Detroit at State competition
On Thursday, March 5, 59 MHS DECA members boarded buses to attend the state conference in Detroit at the TCF Center. Over the course of three days, thousands of competitors from across the state attended the conference to present students' understanding of modern business and problem-solving. The first two days, March 5 and 6, were planned for participants to compete in written and roleplay events for dozens of different events. The trip also gave students opportunities to explore with friends outside of competition times. "[DECA lets them] get out of their comfort zone and learn how to communicate face-to-face effectively and prepare for interviews," DECA chapter advisor Kaye Sommer explained. "It is amazing to watch kids bloom and grow."
On Thursday, MHS groups presented their written event projects to judges stationed between long rows of sectioned rooms. Written events write papers varying in length to analyze and create solutions for objectives in marketing, finance, hospitality, management, and entrepreneurship; roleplays range in topics that also explore DECA's principles of business. Junior Bryce Siterlet, for example, competed with Juniors Shane Siterlet and Noah Morris in the start-up business plan event: "It is a very competitive and interesting event to compete in, seeing all the business innovation people come up with," he said. Another group, Freshmen Ava Fischer and Gigi Gondoly, competed in the Integrated Marketing Campaign Event; their topic was centered around Juniors Caleb Holmes-McGahan and Riley Coesens' project for their Community Giving Event. As a freshman, Fischer was thrilled to experience both a roleplay and written event through DECA: "Experimentation is great, because having it as a learning experience was amazing for my growth as a DECA member," she said. Holmes-McGahan, who had also previously only done roleplays, did a written event for states. "It was very cool to be in an event that spread awareness and raised money for a good cause," he stated. All written competitors present on the first day of the event, before the opening ceremony. Later in the evening at the ceremony, DECA chapters gather, pre-determined awards are announced, and potential new state officers address the audience with individual speeches in an attempt to gain support for each person's cause.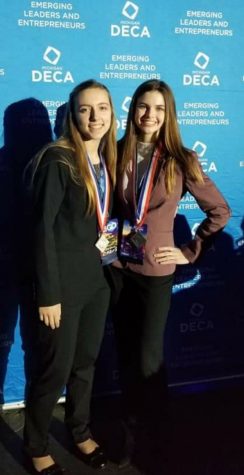 One group honored as finalists during opening night to move onto the international competition was composed of seniors Brenden Coesens, Coby Hutter, and Steven Grigereit. They entered the Stock Market Game event and faced thousands of groups to create the best portfolio of valuable stocks. To move forward in the event, they had to be in the top 25. "[It was] very rewarding [to go on stage] since it was my first time out of three years," said Hutter. At Internationals, Coesens and Hutter plan to represent the group for a presentation of the portfolio and choices made throughout the process, and will have the opportunity to win a $1,000 scholarship.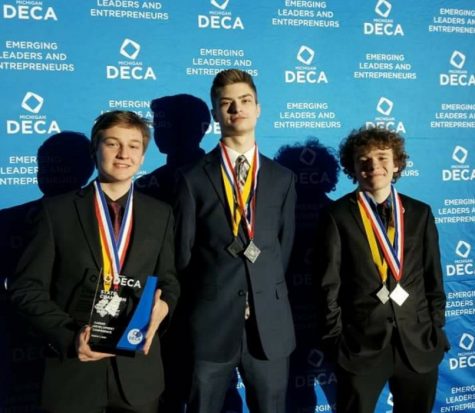 On day two of the trip, many MHS students competed in individual and team roleplay events. Seniors Alexis Camilleri and Anna Fischer performed a Sports and Entertainment Team Decision Making (STDM) roleplay; last year, they also went to Internationals together for this event. "Competing in the STDM event is always fun for Lexi and me," Fischer explained. "We enjoy bringing our female perspective to a male-dominated event." They also enjoy the versatility of the event, and the opportunities it reveals. Junior Sadie Guffy, on the other hand, participated in an individual roleplay event. As a first-year DECA member, she chose the Principles of Hospitality and Tourism event. "It's so much fun, and I wish I would've started sooner, but it's also nerve-wrecking," she said. "You also meet a lot of new friends and you get to have a lot of very cool experiences." After the day's events were complete, MHS students spent time together at the Renaissance Center, bonding with peers and networking with other chapters. 
In between trips to TCF for testing, educational seminars, and events, students could roam around Detroit with friends. Many DECA students find this time the most valuable, bonding with and making new friends while touring a city with numerous possibilities for fun. To get from one area to another, students are granted "people-mover" passes to board the train as they please. The most popular destination on its tracks is Greektown; here, dozens of unique cuisines line the narrow streets, leading into busier shopping parts of town. Other sights include Nojo Kicks and Wahlburgers. Other than walking around Detroit, many chose to have down-time at the hotel; this involved playing card games, eating, having an "elevator party" on the 70th floor, and relaxing before bed. 
More than 4,000 Michigan DECA members filed into the awards ceremony Saturday morning. Milford DECA's Senior Matt Cawthorne brought home DECA glass to commemorate his success in the Quick Serve Restaurant Management event, qualifying him as a contestant for Internationals. As a competitor in Orlando in 2019, Cawthorne values the commitment needed to be at the top in the program: "DECA–it truly is you get out what you put in. Hard work is required for success," he explained. "It's a really good feeling to know you are one of the best in the state at your event, and that your work was worth it." In addition to Cawthorne's win, Seniors Austin Maiberger and Danny Fenrich were finalists in the Start-Up Business Plan event; Senior Micalah Suser was a finalist in the Human Resources Management event, and Fischer and Gongoly were finalists in their written event. These individuals placed second in their events, achieving honors as some of the best in the state. Finally, Camilleri, Fischer, and Senior Max Poser won yellow role play medals for their competitions. 
Though MHS is excited by this year's success, future chapter members are already looking ahead to next year. The primary aspect within the program that members want to reform is in test-taking. By practicing with model test materials and sample questions, as well as in-person role play and written presentation trials, underclassmen hope to have their turn to compete at Internationals. Sommer elaborated on this in saying, "[I'd like us to improve on] learning business/marketing vocabulary and test-taking skills… [my goal is] to help students grow and develop their skills–I do love winning, too!"
DECA provides young adults with meaningful experiences that are both entertaining and helpful for future endeavors. At a higher talent level, emerging leaders prevail and gain knowledge to further benefit themselves. As summarized by Fischer, "You should do DECA if you like challenging yourself, gaining experience that can be used in almost any future career and aspect of your life, and making great new friends."