Dr. Coratti leaves HVS after 43 years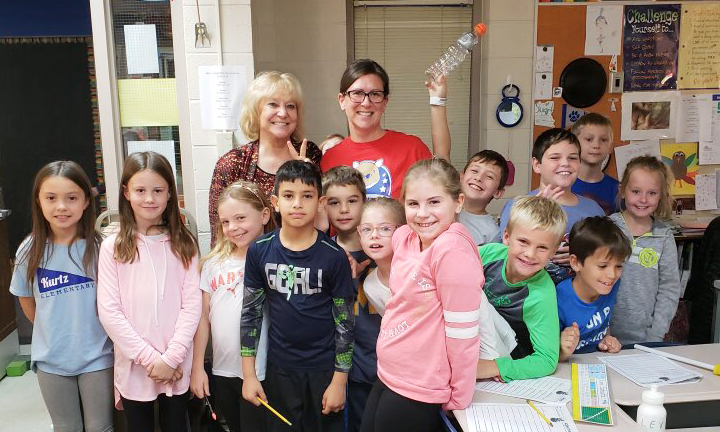 Saying goodbye is a hard thing to do, but Nancy Coratti has said it a couple of times. This time it's the final one as Dr. Coratti is set to retire for the second time at the end of 2018. After working at HVS for 43 years, including the last 2.5 as the Superintendent, Coratti has said it's time to move on to another chapter of her life and wishes HVS the best of luck.
"I would like to do some traveling and enjoy my grandchildren," Coratti said about her plans for retirement. But leaving won't be as easy as it sounds for Coratti after building such a strong connection to HVS. " I will miss the people, the students, the staff, the parents and the community," she said. "I think because I worked in the district for 43 years, I've made a lot of friends, and I have a lot of positive relationships with the people."
A common theme during the interview was Coratti's fond reflection on how her career turned out  with lots of memories and accomplishments. "As a teacher it was seeing students excited about learning, as a principal, it was opening Country Oaks, and as central office, opening junior kindergarten has been a joy in starting that program." But that's just some of her accomplishments. What she most enjoys is,"Fostering a culture of collaboration, trust, with an emphasis on what is best for the kids. I think that all students have the academic social and emotional skills to live joyful and productive lives."
Although Coratti is leaving she looks forward to the future for HVS under the leadership of  Dr.Paul Salah, who she believesis a great choice for HVS. " I feel very good about Dr. Salah. I feel he will be a nice addition to Huron Valley's community and I look forward to seeing how he will move the district forward. I would say he's bright, dedicated, and he is an educator."  Coratti said, but no good career is without reflection and growth. Coratti said the key to success is to, " Always have a growth mindset with a sense of grit, because I believe in lifelong learning and that you should be better tomorrow than you are today." But even as her retirement approaches, Coratti still thinks about HVS and the way she can help the community and their needs.
"I want to bring out the best in everyone for the benefit of students, and one thing that I have particularly enjoyed was mentoring the young administrators; it's my mission statement to make everyone better, working with administrators, administrators work with teachers and teachers work with students. " As Coratti leaves she hopes Huron Valley continues its progress about inspiring and building futures one student at a time. "I think the future is bright, if i could go back and change one thing it would be school funding because Huron Valley deserves more funding from the state.
As Coratti moves on Milford High School principal Kevin Mckenna comments on her accomplished career.  He will remember Coratti and her lasting impact on Huron Valley, " I think she was a mentor and colleague to so many, teachers and students, with her experiences in education as a teacher and principal she really knew what works. Her core value in life was to go after what she wanted, and inspire others to do the same; she believed in finding the good in anything and anyone no matter what; she's tough sometimes, but she did it with grace, because anyone who spends 43 years in one place has a lasting impact."
Dr. Coratti has changed the Huron Valley culture forever, as a teacher, principal, and an administrator, and her energy and commitment to the community will be missed but not forgotten.