Michigan and Michigan State battle for the Paul Bunyan Trophy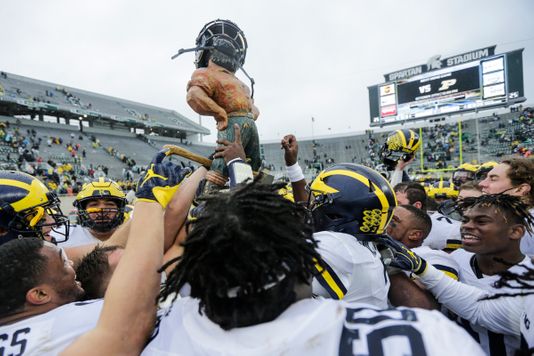 Hang on for a minute...we're trying to find some more stories you might like.
Rivalries make America the greatest country in the world: USA vs Russia, Ford vs Chevy, and Michigan vs Michigan State. Since The first meeting in 1898, and the introduction of the "Paul Bunyan" trophy in 1953 when Michigan State joined the Big 10, the Wolverines and Spartans have battled with heated fans on either side.  This year, Michigan came to Lansing with a chip on its shoulder after last year's loss (and losing eight of the last 10), and Michigan State looked to defend their home turf and keep championship hopes alive.
Michigan Coach Jim Harbaugh came in with a  terrible record on the road against ranked teams (0-17),  this game looked to be another great installment in the storied rivalry. The Spartans playoff hopes have already been severely hurt after losing to Northwestern and Arizona State and coming into the game ranked at 24, State needed a win against their in-state rival.
The game included plenty of pre-game drama.  Michigan Linebacker Devin Bush Jr stomped the Spartan logo after the Spartans marched through the Wolverine warm up. The teams looked ready to battle, but the Spartans didn't seem to show up when it counted.
The Wolverines dominated the Spartans,21-7 and held the Spartan offense to just 94 total yards, the third lowest in school history. While not totally shut out, State scored on the "Philly Special" where quarterback Brian Lewerke caught the ball from wide receiver Darrell Stewart Jr, after Michigan fumbled on their own seven-yard line and took advantage of Michigan's offensive mistake.
The offense couldn't produce with any other opportunity. Lewerke went 5-25 for 66 yards, and LJ Scott had 10 carries for 25 yards. The Spartans went 0-12 on 3rd downs and only had the ball for 18 minutes compared to Michigan's 41. Michigan had four sacks total, and the pressure was obviously felt as Lewerke did not look comfortable in the pocket.
 State's Defense did their part  and held Michigan to a respectable 21.  Michigan's offense moved the ball much better than MSU, gaining (put in total yards here), but  many points were left on the board after a missed Quinn Nordin field goal and two lost fumbles.. Shea Patterson went 14-25 for 212 yards and two throwing touchdowns, the first of which went to Nico Collins, the first throwing touchdown for the Wolverines at Lansing since 2011. Karan Higdon has 33 carries for 144 yards, and Donovan Peoples-Jones had 1 reception for 79 yards and a TD.
"Peoples-Jones made a lot of big plays this season, including the 79-yard TD against Michigan State to turn the momentum in Michigan's favor," said senior Jayson Julian, a Michigan fan. Julian said Michigan needs to keep the same energy going forward if they want to keep their playoff hopes alive. "They have a good chance at making the playoffs as long as they keep the same energy for the rest of the year; the deciding games will be Ohio State and Penn State."
Another Wolverine fan juiced up about the win is Senior Andrew Minton.
"Dominating performance, lights out defense, Shea Patterson is the real deal and can deliver Michigan a national championship," he said.
Even though Michigan State didn't win, they still showed sparks of what the team could be.
"Michigan State's defense played well, but it didn't help Lewerke went 5-25," said senior Tyler Knapp, "State played well overall and had some good plays such as Connor Hayward's one handed snag."
Other Michigan State fans shared their disappointment.
"I was disappointed with State, but Michigan obviously played better," said senior Dylan Riggs "I think State should be able to win the next couple of games except Ohio State, but if they do beat Ohio State and go to a bowl game the season would be much better," said Riggs.
Michigan came to play against State and brought the Paul Bunyan trophy this year. Every year, the rivalry gets more intense and the fans get more excited for their team; rivalries always bring a different sort of competition and the Spartans and Wolverines will battle it out next year October 16 in the "Big House."