Wednesday Night Lights
Another successful powderpuff game is in the books!
Back by popular demand, the 2018 Milford High School powderpuff game was held on Wednesday, Sept. 19th. Powderpuff is an all-girls flag football game played during Homecoming week to raise money for student council. Teachers and varsity football players take the role of coaches while courageous boy cheerleaders root on the sidelines. The annual tradition was revived last year after three years without the event. Once again, the feedback was amazing.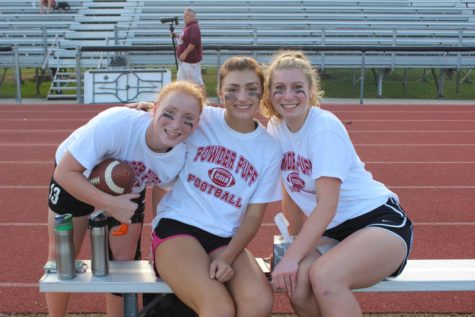 Although the game ended in a 0-0 tie, it was clear there were more important components of the game on the girls' minds.
Senior star wide receiver Izzy Quane had many positive comments about the experience and noted, "My favorite part was how close I became with my teammates in such a short amount of time. It was really cool to meet new people. There was definitely a competitive aspect, but the game was so much fun."
Unable to play last year because of an ACL injury, Quane was extra appreciative that she could participate. "It was actually a lot harder than I thought it would be, but I was glad I got to be on the field this year," Quane admitted.
Early on in the game, an impressive interception was caught by Alejandra Sesma, a sophomore on the white team. Sesma is an exchange student from Spain and had a unique perspective on the experience.
"We don't have football in Spain, so I didn't know anything about powderpuff before playing," Sesma explained.
Sesma joined the JV cheerleading team at Milford High School and has met many friends through the sport, but she said powderpuff gave her the opportunity to meet more people as well. Additionally, practices for the event allowed her to learn more about how the game is played, which has translated over into her understanding of football while she cheers on the sidelines for the JV football team.
Some other standout players of the night were Sammy Knapp, a sophomore on the white team, and Harper Zondlak, a junior on the red team, who both played the running back position and had several great runs for their respective teams.
Junior Kayla Pennebaker, a returning powderpuff player, highlighted a few beneficial changes from last year. "This year we had a much better plan. Last year Aiden Warzecha (a former powderpuff coach and MHS alum) just kind of threw us out there, but this year we had seven set plays that we knew we were going to run," Pennebaker stated. Pennebaker was also in agreement with Quane and Sesma on the friendliness aspect of the game.
"I liked having my friends as coaches and I think everyone was mostly focused on just having fun," Pennebaker added.
The game would not have been possible without the hard work of student council.
The junior class predominantly ran the event because the money raised would go toward funding their senior prom.
Student council vice president Sophia Huszti was a key leader in organizing the event.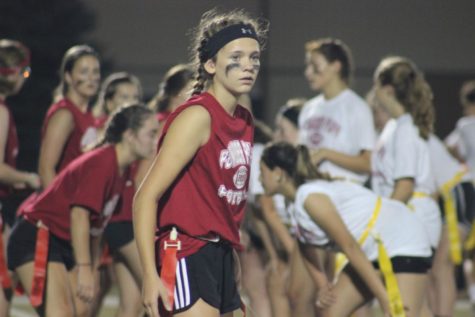 "We started talking about powderpuff before school even started because of how early Homecoming fell this year. We had a lot of success starting it up again last year, so we followed the same basic template of planning. Once we got the word out, the rest really just took care of itself," Huszti explained.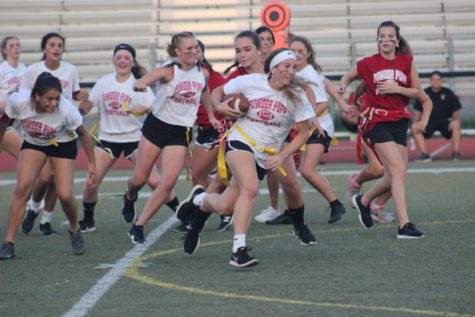 The event raised about $1,000 when it was all said and done. Student council advisor Dan Reschke expressed his gratitude for all the volunteers and the work that the junior student council members put into the event.
"The students organized everything and did all the work for it, so I'm really proud of those kids for bringing back the event," Reschke remarked.
Reschke also emphasized, "Not to criticize the event and the way it was run last year, but I just felt like it was a little more organized this year and I hope that next year it's even better, and even better the year after that. I think we're heading in the right direction. We're ironing out all the wrinkles and I think it will continue to get better each year."