Milford teachers dive into the new school year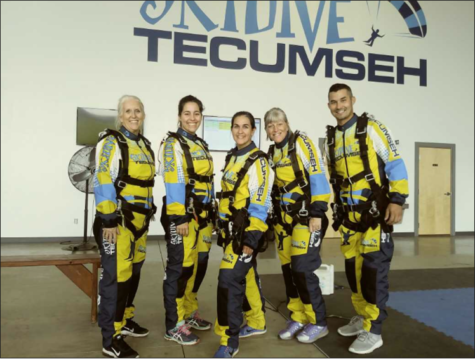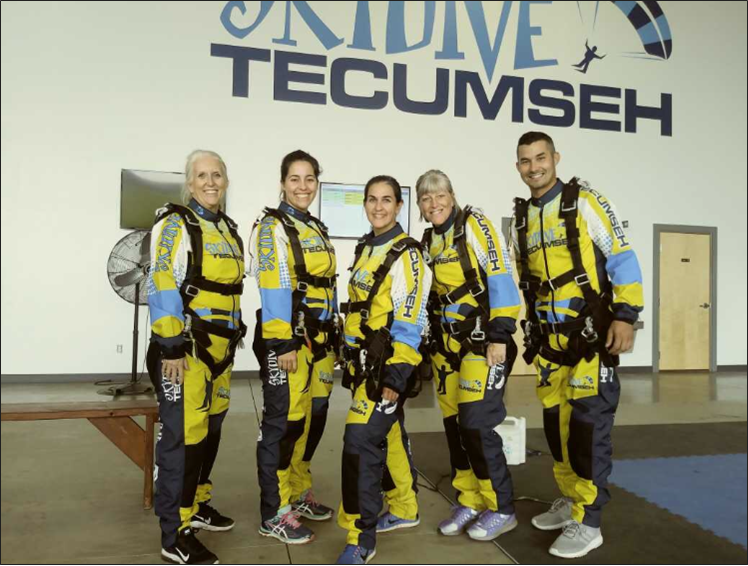 At the end of a long week, most teachers will go home and enjoy some time with family or friends. Others may attend a Milford athletic event, such as the football game. But some teachers may jump into their weekend in a bit more unusual fashion.
According to the United States Parachute Association, about 500,000 people skydive each year in the US. On Friday, Sept. 7, five of Milford's favorite teachers, Jennifer Hittle, Carrie Pishek, Kaye Sommer, Daniel Reschke, and Jeanne Geraci, were a part of that number.
"[It was] a completely life-changing experience," said Carrie Pishek, a Spanish teacher more commonly known as "Profe," who has been teaching at Milford for 16 years. "Afterwards, I just felt completely like there was no reason to be afraid or nervous about anything in life anymore."
This crazy idea came from Mrs. Sommer and Mr. Reschke when they were chatting about what was on their bucket lists. "Reschke and I were talking about things we wanted to do but just hadn't done, and both of us had skydiving on our bucket list. He said, 'Why don't we do it?' and I said 'well okay!' "exclaimed Mrs. Sommer, a marketing teacher who has been at Milford for 22 years.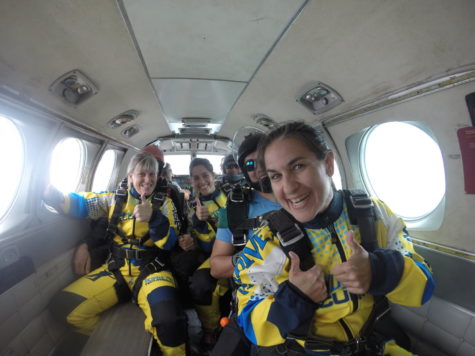 After school that Friday, the teachers got in the cars and went straight to Skydive Tecumseh in Jackson, Mich., where they would cross a dream off their bucket lists. Each teacher jumped with a tandem, a highly-experienced instructor, who was responsible for the operation of all the equipment.
"Before, I was very nervous," said Mrs. Sommer. "I imagined it being like when you crash while skiing, but it is totally different. It's like exploding in the air."
Unlike Mrs. Sommer, Profe and Mrs. Hittle weren't nervous at all. "I felt super confident," said Profe while referring to her tandem. "He has jumped 4,000 times, and speaks both of my languages. I wasn't afraid at all."
As for Mrs. Hittle, this was not her first time skydiving; she spent a senior skip day in high school crossing this off her bucket list.
"I have been skydiving once before, so I wasn't nervous, I was super excited the whole time." The first time Mrs. Hittle went skydiving the parachute got tangled and they had to use the emergency parachute.
"I thought, well, the odds of that happening are terrible, and the odds of that happening again are even worse."
After going through their safety procedures, around 5 p.m., the teachers were 14,400 feet above the ground and ready to jump to reach the speed of 120 mph. After making the jump, they dropped through the first 6,000 feet in one to two minutes, then after the parachutes opened, they spent the rest of the 10-15 minutes floating down.
Mrs. Sommer described it as what you would see if you were inside of a snow globe.
"You can really see how round the Earth is," she said.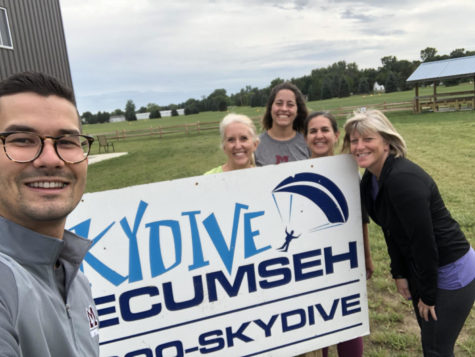 On her way down, Sommer and her tandem, Amanda, were able to get to know each other. "She described where everything was around the country and we just had a nice little chat up there, which I didn't know you could do," described Mrs. Sommer.
When they had just pulled their first parachute, a plane was landing around 10,000 feet underneath them, "it was almost on the ground by the time it went under us, but it was nothing I would've ever envisioned happening." said Mrs. Sommer.
Luckily, all five teachers landed safely at the same location where they took off. Mrs. Sommer described it as  being " like going down a slip and slide."
In the fall of 2019, these five Milford teachers, and any other staff that want to join are planning to relive their skydiving experience.
"The colors of the fall leaves have got to be phenomenal from up there," said Mrs. Sommer, who is looking forward to skydiving again.