The life of a dancer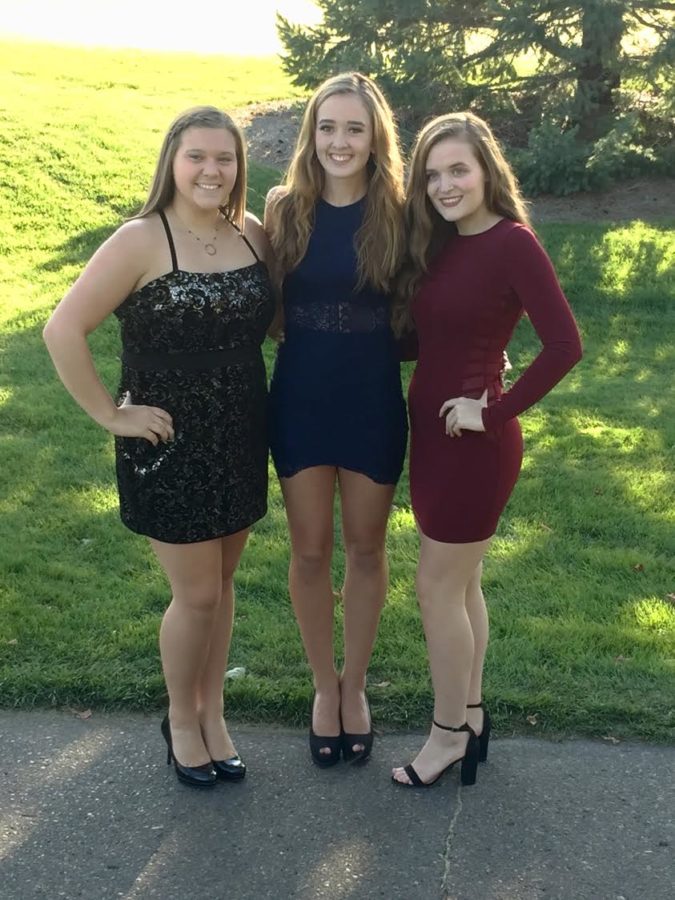 A group of seniors and other students across other grades all get together after school to do what they love — dance. Megan Miller, Katie Lakkides, Jadyn Sander, and Janna Duncan are a few dancers who get together almost every day after school. Three of the girls, Janna, Katie, and Megan are seniors. Megan and Janna attend Milford High School. Katie attends the International Academy. These dancers have all been dancing at Milford Dance Academy, a local studio in Milford that has been serving the community for 21 years, where they have had experiences and memories that they will all share for a lifetime.
     "I've danced for 14 years," says Miller, a senior of Milford High School. " What I like most about dance is being with my friends,"  Miller says. "Who inspires me the most is my friend Mackenzie Manley, she graduated in class of 2016," said Miller.
Manley is now a sophomore at the University Of Michigan where she is a member of the "Cadence Dance Company" and also the "Rhythm Tap Ensemble."
"When times were tough, dance is a place I could express myself,"  Miller says. "It's the best thing I've ever done, making memories that will last a life time," Miller explains. "While on stage, I feel excited and nervous all at the same time," Miller says. "My favorite genre is contemporary," she explains.
Some wonder if dance is a sport.
"Yes, dance is a sport," Miller says. She grows very close with the students that she dances with.  "After I graduate, I'll miss the people, and all the love and support they give me." Megan plans on dancing in the future and not letting it go.
Megan dances ten hours a week. Her most memorable moment was winning and becoming a National Title Winner.  Miller is very thankful to all her Dance Teachers and best friends for always supporting her with love that she will cherish for the rest of her life.
"Tap is my favorite genre," says Duncan who has been dancing for 14 years and is now a senior at Milford High School. Duncan dances 7.5 hours a week. What she loves most about dance is the experience. "My Grandpa inspires me to dance," Duncan expresses. "Dance has given me amazing friends and I plan on dancing in the future," Duncan added. "You meet a lot of people and it allows you to express yourself," she says. "After I graduate, I'll miss all the little girls and dance teachers."She finishes. "What I will remember most is my first National Competition in Las Vegas."
Katie Lakkides, who is a senior at the International Academy, has been dancing alongside these girls for 14 years.  "What I like most about dance is being able to be with friends and forget stressful things in life," Lakkides exclaims. "My teammates help me strive to be better and they are my constant motivators." Lakkides adds. "Dance has kept me balanced and made me become a stronger person; dancing on stage I get so caught up in the moment," Lakkides expresses. She believes dance is a sport. Katie dances about 13 hours a week.
"My dad inspires me to dance, he always had faith whether I failed or succeeded and was always there for me," says Jadyn Sander, who is currently a junior at Milford High School. Jadyn has been dancing for 14 years and dances 13 hours a week. "I like having a second place to call home and have a lot of friends to call family," Sander states. "Dance has become my safe place, where they accept me if I'm sad or upset," Sander says. "When I'm on stage I can erase the whole audience. It's just me and the stage," explained Sander. Jadyn's favorite genre is Lyrical and encourages others to dance because it is a great way to be able to express yourself. After Jadyn graduates in 2019, she will miss having her dance friends, sharing experiences and giving wisdom. "Janna, Katie, and Megan are my three best friends, when they graduate, it's going to be a shift. They are my main support system."
As you can see, all dancers have their favorite genres of dance.  It can be tap dancing to make music with your feet, or it can be lyrical where you are able to interpret the music through lyrics with movement and tell a story.  Dance has become very important over the years to certain individuals. These girls have all expressed and will continue to show how important dance has become for them.  They are very excited for this dance season and the opportunities that this year will bring for them. They will always have each other and the lifelong performances on stage.