Meet Your 2016 HVS Teacher of the Year: Mr. Swierkos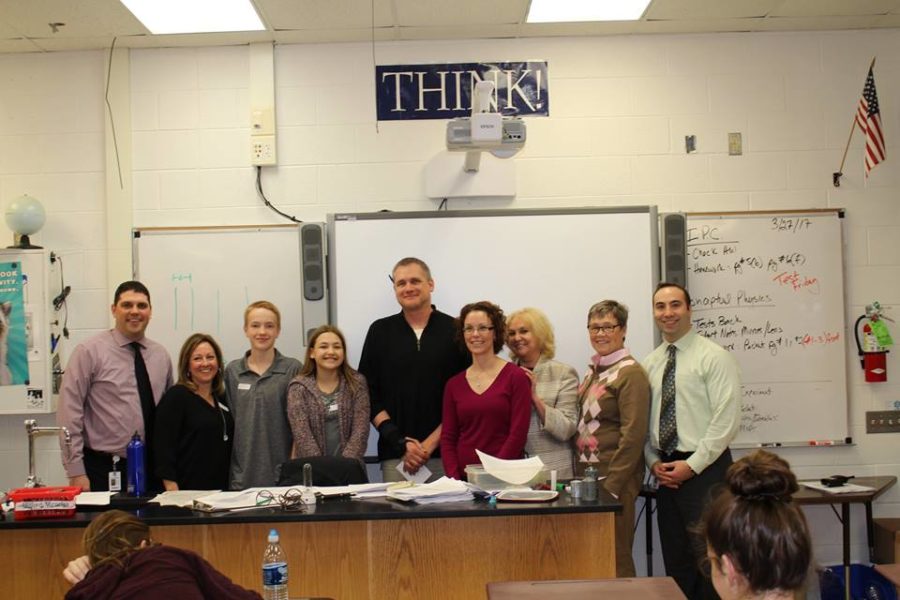 Every student has that one teacher that has changed his or her life. Spending so much time with one person who is teaching you as much as they can in nine months often leads to close connections. These teachers care about your knowledge and your future success. They care about who you are as a person. They care about your life as a whole. For many students at Milford High School, this teacher is Mr. Swierkos, who won the Huron Valley Schools High School teacher of the year for 2016
To be an effective teacher, you have to teach concepts, while not making it too difficult on students. "[Swierkos]  took a really difficult class and he taught it in an exciting way to make people more involved," said Senior Noah Poser, who had Swierkos for Physics. This is a quality that many teachers strive to have, yet it is hard to achieve.
When Swierkos, who is in his 26th year of teaching at Milford, was told he had won the award, he was shocked.
"I had no idea I was nominated and it was a big honor. We have a lot of phenomenal teachers, so it is very humbling to be chosen," Swierkos acknowledged.
When asked how much Milford has changed since he started out here, Swierkos stated, "In a lot of ways, Milford is still the same. I teach in a wing now that didn't even exist when I started teaching, but the kids are still the same nice, hard workers that they've always been."
Students appreciate Swierkos because they know he is working hard for them.
"He really cares about your success and he wants everyone to be successful in his class all the time, every single day,"  said Brian Gorny, who had Swierkos for Physics., This is yet another essential element to teaching that Swierkos handles with ease.
Sometimes you have to incorporate a little bit of fun into teaching. Students go all day constantly being taught new material, and they need some sort of escape from this. This could come in the form of fun projects or just a different way of teaching that helps teach a concept while entertaining the student. Gorny said of Swierkos' teaching style, "He uses fun demonstrations that really make you think while also helping you understand things a lot better."
Poser has a similar belief. "He was a great teacher and he took a class that shouldn't normally be very fun and he made it fun and entertaining," he said. This is what students want in a teacher. However, it isn't always what they get. While teachers may be effective without incorporating more entertaining activities into their lessons, it may cause students to be bored and not want to get as involved in the learning process.
Teachers should have great joy in knowing that they are helping students grow up and changing their future for the better. These teachers also just love to be around their students. Swierkos is one of those teachers that has this joy. "I like working with the kids and interacting with them everyday," he said.
This award takes hard work and determination to make students better and culminates in this success. That is why this award is well deserved for Swierkos. Poser believes this as well, stating, "I think he deserves the award very much because he actually helps you understand the material more than the average teacher will."
Swierkos is the kind of teacher that all students want. He cares about your learning, likes being around you, can make learning fun, and truly cares about your success and future. This is why he was your Huron Valley Schools High School Teacher of the Year.