Students get their morning boost at Brewing with Bruce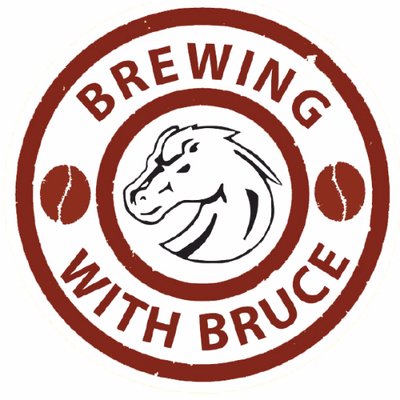 Starting this school year, the old driver ed classroom, located next to The School Store, has been transformed into a new, student-led coffeeshop: Brewing with Bruce.
As students walk into the room, they're immediately immersed in a positive, relaxed atmosphere. Sofa couches and high-top tables fill the room and provide a place for students to recharge before their busy day. Brewing with Bruce is open every morning to provide students with several drinks and snacks: fresh coffee, hot chocolate, tea, donuts, cinnamon rolls, Pop-Tarts, and Rice Krispies.
"I've never needed this so much in my life," exclaimed senior Mike Younger.
For students who often have trouble getting through their morning or staying awake all day, Brewing with Bruce provides a convenient morning boost. Frequent customer Andrew Kovanda makes sure to stop by on his way to first hour. "I'm waking up early and coming here in the morning anyways," explained Kovanda. "It's so much easier when I can get coffee without going out of the way."
Brewing with Bruce first began when the idea of having a coffee shop in the library was sparked by BMT students last year. Implementing the shop was a joint effort between Media Specialist Kelsey Breen, Special Education Teacher Jennifer Grubb, and Business Teacher Kaye Sommer. All the original planning and layout was designed around being in the library; however, plans quickly changed when Brewing with Bruce was proposed in the old driver ed room.
"I give the kids major kutos," said Sommer. When the location abruptly changed, the students had to be versatile and quickly come up with a new design.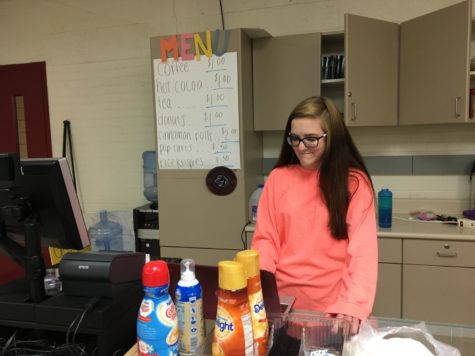 The coffeeshop wouldn't be possible without the help of Sommer's BMT II class. Senior Sam Appleyard quickly took on the leadership role of the coffee shop's manager. For the first two weeks of class, she and a small group of students worked every day to plan the store'slayout, prices, and marketing campaign.
The students quickly realized that there was more to opening a coffee shop than they expected. "I thought all we needed was just coffee and some water," admitted Appleyard. "But boy was I wrong." By the first Friday of October, Brewing with Bruce was open and brewing away.
When it comes to actually working the coffee shop in the morning, BMT II students take turns alternating shifts. Each worker is responsible for getting to the school a little before 6:30 a.m., finding administration to unlock the room, and getting some coffee brewing. As the coffeeshop continues, the BMT I classes will be helping out as well.
By working at a mock coffeeshop store, students are able to learn business ideals in a hands-on opportunity. By creating marketing plans, pricing out products, and serving clients, students are able to gain a better understanding of business.
Ultimately, Brewing with Bruce gives students experience about business before they get into the real world. For senior Stevenson Sakalian, it's almost the opposite; Sakalian is able to utilize his previous work knowledge to help Brewing with Bruce.
Sakalian is a barista at The Proving Grounds, a local coffee shop in Milford. Although only working for four months, Sakalian has gained an abundance of skills when it comes to brewing different coffee, making drinks, and serving customers.
"It's a cool transition to go from a professional business to a student-ran coffeeshop," admitted Sakalian.
In addition to helping students gain experience, Brewing with Bruce will be a way for BMT II students to pay for their MavCo trade shows; the more a student works at the coffeeshop, the cheaper his or her  trips will be. Trade shows are a way for the BMT II classes to travel across the country and go to mock business exhibitions where they sell Mavco products and compete in business competitions. 
While the coffeeshop is just getting started, it seems the biggest problem so far is awareness. "A lot of people didn't really know what was going on when it first opened," said Kovanda. "It took awhile for people to realize that there's a coffee shop available in our school."
When students look inside the door into the store, there's a few pieces of furniture, but the rest of the room is pretty plain. In order to spruce up the space and contribute to the positive environment, Brewing with Bruce plans on hanging up student art to not only add decorations but show appreciation for the art department.
As the year continues, Brewing with Bruce hopes to gain more customers and provide students with a convenient, cost-efficient drink or snack. In the future, the shop hopes to sell more coffee flavors and snacks, but the culture of the coffee shop is the most important.
"By the end of the year, hopefully, it just becomes a place where people can go and just feel comfortable and relaxed," hoped Appleyard. "The coffee and snacks are just the icing on top."