Sophomores visit Holocaust Memorial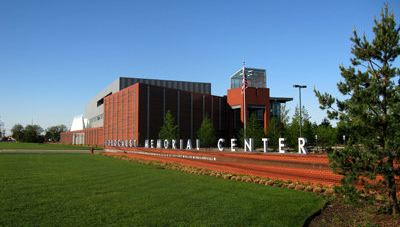 Hang on for a minute...we're trying to find some more stories you might like.
According to Time magazine, as of July 2016, only 100,000 Holocaust survivors were alive worldwide and that number continues to drop every day.
Sophomores at Milford High School were given the amazing opportunity to go on a 90-minute tour of the Farmington Hills Holocaust Memorial Museum. Afterward, students would hear Holocaust survivor, Martin Lowenberg, talk about his life before and during the Holocaust.
After a short bus ride to the museum, students were split into groups and each group was assigned a tour guide.
Following an introduction speech from the guide, students toured the museum, stopping to listen to their guide speak along the way.  The museum covered everything from origins of anti-Semitism, to the liberation of the Holocaust prisoners.
Part of the trip included students standing inside of a cattle car that was actually used to carry prisoners in the holocaust.
"I have to say when we saw that cattle car right when we walked in, it was all too much for me," said Milford high school student, Zach Russell, "that was an actual cattle car that transported people to their deaths."
Finally, all the students regrouped in a room at the end of the tour where they heard a presentation from Mr. Lowenberg.
Directly after the presentation students were allowed to ask Mr. Lowenberg questions, and then it was time to head back to school.
Many students were moved by their time at the museum, and gained a better understanding of the Holocaust. Milford High School student,
Jessica Bettley, learned a lot from her experience at the museum, "I realised that when there's hard times we really need to think rationally." said Bettley. "The way Hitler was able to manipulate and brainwash all those people is unbelievable."
For many students learning about the Holocaust was hard, but seeing photos and videos was an entirely different experience. This was true for Milford High School student Faith Weickel. "Before, I always thought of the Holocaust as a catastrophic event that took place in the past, but I never really thought about it in depth," said Weickel.
"At some moments while walking through the rooms, I saw graphic images of what actually took place in concentration camps and I had no words." Students weren't the only ones impacted by the trip. U.S history teacher Chris Eichbauer was also reflective of the experience..
"After I left, I went home and realized how thankful I am for what I have," said Eichbauer.