Always our number ONE
Milford communities grieves after student's sudden passing
"Cole had a great sense of humor and touched everyone's lives with his loving personality," said cousin, friend, and teammate, Gunnar Gustafson.
Our community sadly lost Cole Painter, a sophomore at MHS, on Saturday, Nov. 26. Cole's passing was completely unexpected and was due to a health crisis that was unknown at the time.
In the last few weeks, Milford students, staff  and community members have demonstrated their love for Cole.
"The way that this community came together and this building came together out of respect, makes me never ever want to leave this place," said Milford High School Principal Mr. McKenna. "We take care of each other."
Cole will be remembered as a kid that touched and brought joy to so many people in our community.
"Cole was a great friend who could always put a smile on your face and made you laugh," said Gustafson, who is a sophomore at Milford.
He was always pulsing with energy, full of witty side comments, and not just ready but itching to go play and do.
Cole will be greatly missed by not only his family and friends, but by everyone he impacted.
"I didn't know Cole personally, but you listen to his coaches and you listen to his friends and you know he was a very likable guy," said McKenna. "He was happy-go-lucky and that impacted people."
Cole was a competitor. Any game he played he wanted to kick your butt and trash talk you while doing it.
"Cole was such a great teammate because he was very competitive and ha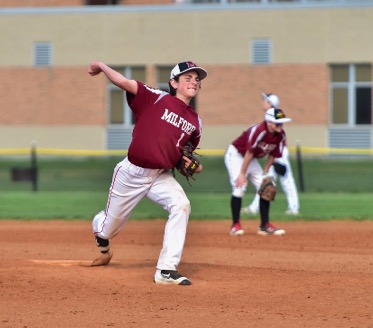 d a drive to win," said Gustafson. Cole was a three-sport athlete at Milford High School, playing baseball, basketball, and football.
He did not start the school year with any plans of playing football, but towards the end of the season, Cole joined the JV football team when they were in need of players.
He had never played organized football before. Because of his love for sports and his athletic ability, he proved to be an asset to the JV team.
Cole was also a star pitcher for the freshmen baseball team last year and will be dearly missed by those in the program.
He was in the beginning of his basketball season when he passed away. His basketball family is taking many steps to honor him (See story below).
Outside of Milford High School, Cole was competitive in everything he did. He always wanted to succeed at anything he tried.
In response to Cole's passing, many people are wondering how they can help the family.
"For right now we are kind of taking a step back," said McKenna. "We need to give the family some time and respect." The main concern is doing what  is best for the family.
In the meantime, students and staff have continued to come together to honor Cole in this time of crisis.
"I am so prideful in our students, this building, and this community and how we respond to such an unfortunate situation," said McKenna.