Dangers and deals come with Black Friday shopping
Imagine being shoved out of the way while you are standing in line for a store to open by a complete stranger.
People line the streets and rush to local stores and malls to take advantage of the biggest sales of the year on a well known day called Black Friday.
Black Friday started back in 1932 and was nothing more than a day for parents to shop and get sales at the stores. Over the years, it has turned into a chaotic event where adults and teens push and shove to buy the last remaining products.
Black Friday is the start of the sale season for Christmas shopping. This year, it starts on Nov. 25 early in the morning. Some stores are open from the night of Thanksgiving to the next day, while other stores open at 5 am or earlier.
"I normally go after most of the craziness is done, which is around 11 a.m.," explained Milford High School senior Ashley Bush.  
A new website call blackfriday.com keeps track of the number of deaths and injuries since 2006. So far, there have been seven deaths and 98 injuries. These deaths and injuries were mainly caused by stampedes and people collapsing due to lack of sleep and malnourishment.
A vast majority of people do go to shop the sales, but there are a majority that do not go due to the craziness.
¨Black Friday is something I don't participate in because it is too chaotic,¨ explained Nic Glazer a junior at Milford High School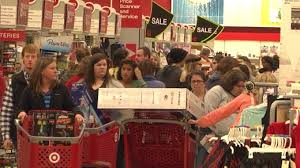 Overall, there are few stores that don't participate in Black Friday sales. Many clothing, hardware, and retail stores are involved. Stores like Target, Walmart, and Meijer participate as well.
¨I shop mostly at clothing stores like JCPenny, Kohls, and Forever 21,¨ explained junior Lillian Winnie.
Now that Black Friday has become a popular event, it has become even more dangerous.
"Black Friday shopping is a bunch of fun, but it can get crazy and out of control,¨ said Bush.
Black Friday can get out of hand with in the minute of the store opening. To make Black Friday shopping safe and easier here are five tips to keep in mind.
Research and look for what stores have the best deals.

Have a game plan for which stores you are going to shop at and how to get there.

Have all coupons printed and ready to go when you are checking out so you can scurry on to your next stop.
Start early in the morning to get the product before it sells out and avoid large groupings.

stick to a budget so you don't overspend. To learn more about tips visit

consumerreports.org

.
If you plan on participating in this year's Black Friday sale season, remember to always be aware and stay safe while shopping.