Freshmen class welcomed by Leadership students
On Aug. 27, while most of the faculty and students were home enjoying the last few fleeting moments of summer, the Milford Leadership Class was hard at work setting up and preparing for the incoming freshmen class of 2017. Leadership arrived at the school at 11 a.m.  and continued to work for the next six hours. This included setting up and arranging tables, handing out schedules, leading the freshmen around the school, and much more.
"Orientation benefits the leadership class as well as the incoming freshmen by starting school off the right way," stated Dave Gilbert, MHS Leadership teacher.
This event helps acquaint students not only with the school, but with the other students.  
"My favorite part of orientation was meeting new students who were in the same position I was, being new and all,"  said Milford Freshman, Alix Kaip. "The tour guides made me feel welcomed and I really liked that." 
Leadership students also enjoy helping the newcomers become more familiar with the school.
"Meeting the younger students and building a better program was definitely my favorite part of orientation," said Junior Isaac Phillips, who has been a part of the Leadership program for almost two years.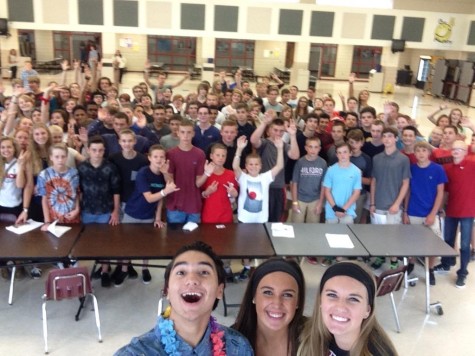 Other freshmen agreed that the tour guides proved to be a key point in the success of orientation.
 Michael Stevenson, an incoming freshmen, said that his favorite part of orientation was going on a tour and seeing the school.  He also said that he really liked his tour guides.
While it is safe to say that orientation was a success, there were also elements that became an issue. The picture-taking process became very long. As a result, the pep rally at the end had to be cut out.
"I liked orientation, however, I did not get to walk my classes because I was waiting in the picture line," said Stevenson.
Despite this, It is evident that MHS Leadership did a great job running orientation and acted as role models, showing the incoming freshmen what it really means to become a Maverick.