MHS Senior builds career making unique games and music
Most high school seniors start their first jobs at fast food restaurants, stores, or a morning newspaper routine. Alex Lanzetta, on the other hand, has already paved his way for success in his career: making his own games and music.
Lanzetta, or better known as his alias "Zanzlanz", is one of the few students at Milford High that earns his future college tuition by doing what he loves. He creates games and music, hosts them on websites such as Newgrounds and his own site, and gets hard-earned money from ads placed on his games and webpages.
Lanzetta said that programming and coding games has been a passion of his since before middle school.
"I was on a Mac, and was bored. I didn't have access to the internet, and I didn't feel like playing any video games, so I just started experimenting with coding on my own."
After he began fiddling with coding, he picked up a Flash Program book from the library, and saw how easy it was to code his own games. While he was learning the ropes of how to create his own Flash games, he created short animated videos of him and his friend doing goofy things, called The Alex and Lexis Show. He uploaded them to his own website made entirely for those videos, but it has since been taken down. Lanzetta has stated, "animation was something I thought I wanted to do, but ended up not doing it. It took up too much time, and I just really wasn't getting any better with the drawings."
Lanzetta felt that his animation wasn't going anywhere, so he set his sights on games and music.
In May of 2010, Lanzetta created his own YouTube channel, with the username Zanzlanz. 'Zanz' was the name that his parents used to call him as a young kid, so he stuck with it when he made his debut.
In the early years, he created his own electronic and dubstep music, using the program Fruity Loops Studio, or FL Studio for short. His style of music is wacky, sort of nonsensical, in a way. One of his songs' titles is "Readily Available Ketchup". It's not very serious, because "I start messing around with sounds, and then poof! It turns into a song!" These videos began to create his now growing fanbase.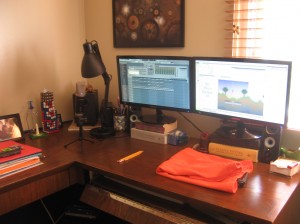 Lanzetta is already set with making his way into the vast community known as Indie game developers. With more than 2,000 subscribers, or fans, on YouTube, he is quickly making a name for himself as a very talented game programmer. Currently, Lanzetta receives around 400,000 unique views a month, and 6 million game plays a month.
After making so many small, simple games, Zanzlanz created his first full-fledged game: "Mine Blocks 1" in June of 2010. It was a 2D replica of the popular 3D cubic game "Minecraft". As "Mine Blocks 1" didn't give much lee-way for his own crazy imagination, he decided to create a sequel, complete with a storyline, called "Mine Blocks 2". The game was created entirely from scratch, and it took a very long time to even create an Alpha version. It was created January 7, 2012, and has yet to reach its Beta stage of completion.
Lanzetta has stated it takes a long time to code and program the game. In total, Lanzetta has accumulated more than 1,800 hours of programming both Mine Blocks 1 and 2. "It's only a few tens of thousands lines of code, that's all," he said sarcastically.
Even though Mine Blocks 2 is Lanzetta's main project, he occasionally creates smaller mini-games. One of his mini-games is "Broken Cloud". The object of the game is to guide your rocket as high as you can, collect as many coins as you can, to upgrade your rocket so that it can go even higher. "It's one of the most addictive games he's made," MHS Senior and fellow friend and supporter Kelly Hier said. "It's simple, but you can have fun with it for hours!"
Lanzetta has always liked coding, but his real motivation for creating games is so people can play them, and get some enjoyment out of them. Many have wondered how he can spend hours upon hours of typing what seems like scrambled letters and numbers; he said he sees "coding [as] a puzzle, and puzzles are always fun to solve!"
Lanzetta was receiving some demands from his fans to make merchandise, and so he did. He made his own custom shirts sporting his name and logo for those who want to show their support!
Hier has ordered her own shirt from his selection. She's been a fan for years, supporting and cheering Lanzetta on while he slowly makes his debut in the Indie world.
"I'm a big fan because it was made by a good friend, whose music, games and obvious random-ness is unique and enjoyable," she said.
In the end, all of the money that Lanzetta makes by his videos goes straight to his college funding, and to making his games and music even better. He definitely wants to make programming his life-long career in the future, but he says "I will always make games for others to play, and my supporters will always come first."
Visit http://zanzlanz.com/ for a full list of his games, music, and more!