Sia's "Music" fails to accurately represent autism community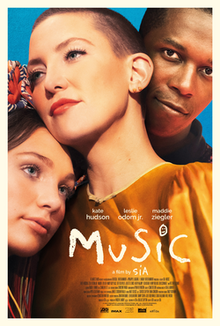 When fans of music megastar Sia heard she was directing a movie, it was hard for their excitement to be contained. A household name with undeniable talent, Sia's transition into the world of directing had enormous potential; however, when Music was released on Feb. 10, it was, to say the least, a complete and utter letdown.
The film, which has been in the works for over four years, stars "Dance Moms" alum Maddie Ziegler, who plays the role of Music, a biracial teenager on the autism spectrum. There is only one problem: Ziegler is not biracial, nor is she neurodivergent in any way. As a result, the film immediately presents itself as a mockery to cultures that are already misunderstood, with critics claiming that Sia's casting was ableist and racist. 
The release of Music shows Sia's devotion to Ziegler, leaving many questioning whether the relationship between the two is problematic. Ziegler first met Sia at age twelve when she was selected to star in Sia's "Chandelier" music video, which became extremely popular, racking up more than two billion views. Since then, Sia has bought Ziegler a car, included her in nearly every one of her creative projects, and was even declared her godmother. Sia frequently refers to Ziegler as her "muse" despite the 27-year age difference between the two. 
Though Ziegler has turned eighteen and is now a legal adult, the production of the film began when she was only fourteen. Sia revealed that when filming began, Ziegler burst into tears, stating, "I don't want anyone to think I'm making fun of them." Sia then calmed Ziegler, saying, "I promise I won't let that happen."
Unfortunately, Sia's promise was not kept, as Ziegler continues to face harsh criticism for her portrayal of autism in the movie. By reassuring Ziegler with enormous confidence, Sia coerced her into playing the role, despite her clearly displaying her discomfort. Sia's efforts to keep Ziegler in her film show her unhealthy attachment to an impressionable young teenager.
Sia admitted her devotion to Ziegler while defending her casting decisions: "It is ableism I guess as well, but it's actually nepotism because I can't do a project without her," she began. "I don't want to. I wouldn't make art if it didn't include her."
Sia further defended her decision to cast Ziegler when she explained, "Casting someone at [Music's] level of functioning was cruel, not kind, so I made the executive decision that we would do our best to lovingly represent the community." Sia's attempts, obviously, backfired; if she wanted to make a movie about autism, why would she design the role to be too stressful for one with autism to handle? As a result, the autism community is yet again inaccurately represented, potentially negatively altering viewers' perceptions of those on the spectrum.
In the opening scene of the film, Music performs an extravagant dance to a new song by Sia. Only seconds go by before Music appears to be stimming, a self-stimulatory behavior that is often performed by those with autism. Ziegler, being neurotypical, appears to make a complete mockery of the autism community as she attempts to mimic the coping mechanism through an interpretive dance. Ziegler is also pictured wearing makeup that is several shades darker than her typical pale skin tone, as well as headphones topped with black braids, causing accusations of blackface to run rampant before the movie even passes the five-minute mark.
Throughout the movie, Music's caregivers depict inhumane methods to calm her autistic meltdowns. In multiple scenes, Music is seen being held down on the floor, even once being held face-down in a prone restraint, which can cause suffocation and death. For those in the autism community in particular, being pinned down without the ability to move can cause extreme anxiety and may lead to post-traumatic stress disorder or other mental health conditions. 
Prone restraint is an extremely inefficient and dangerous way to calm an autistic meltdown. Instead, one should give space, remove extra stimuli, and use safe tools to ease stress, such as a weighted blanket. For someone who claims to have researched autism for years, Sia has displayed an appalling lack of knowledge of a topic that can be cleared up with a simple Google search.
Music is classified as a musical, so many songs and dance scenes take place as the film progresses. The set, however, changes from a typical small town to a world full of bright colors and flashing lights, both of which could cause distress and overstimulation for those in the autism community. "Everyone saying this is a great movie is clearly not listening to autistic people," began Megan Fowler, who left a review of the film. "Sure, it was visually appealing to neurotypicals, but those bright lights and extreme visual stimulation are very triggering to autistic people and can cause meltdowns from overstimulation and even seizures."
Rather than following the story of Music, the movie focuses more on Zu, Music's older sister, who has been left in charge of her. Therefore, the movie shows more of an appreciation for autistic caregivers rather than those who are autistic themselves. This narrative has been pushed for years as society continues to pity individuals on the spectrum rather than raising them up and encouraging acceptance. Instead of showing the enormous potential of those on the spectrum, Music appears to be yet another case of classic ignorance.
Though Music was clearly made with good intentions in mind, the film is tone-deaf toward the realities behind autism, with stereotypes and dehumanization running rampant throughout. In order to positively alter the public's view of autism, it's important the community is accurately represented in film and media in order to stimulate positive change for one of the most misunderstood groups in today's society.