Ticketmaster Glitch leaves fans with Sweet Nothing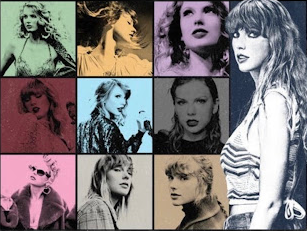 The sun rose on the morning of Nov. 15th, 2022, greeting 1.5 million giddy Taylor Swift fans waiting in anticipation for the moment they could type in the presale codes they received the night before.
As the clock struck 10 a.m., fans flooded the gates into the Ticketmaster queue. The lucky ones got a screen that showed a number from 1 to 1,999, while every other fan was given a 2,000+ screen.
Senior Sadie Davis was lucky enough to be put in line at 900 and only had a wait time of five minutes. Senior Emily Gorecki had the painful +2000 brighten her screen, immediately dimming her hopes of successfully purchasing pre-sale tickets. She inevitably had to wait seven hours just to earn the opportunity to wait a week and a half to fight through general admission sales to get her tickets.
"My experience with Ticketmaster was downright miserable," said Gorecki, who had the sight crash and was kicked out of the queue three different times. While this is what most buyers experienced, Davis and Junior Savannah Lane had a pretty easy time getting tickets.
Although Lane had luck with her purchase, she expresses that she is "frustrated on behalf of the fans who didn't get tickets."
Waiting for tickets wasn't the only problem. Once fans were let in, they found that the tickets had skyrocketed in price.
Most everyone let in right away was able to get tickets that were the original prices Swift had released, from $99-$499. With the dynamic price setup, the demand for the tickets increased and so did the prices; with about 1.5 million people bombarding Ticketmaster's website, tickets became overpriced quickly.
"Before dynamic pricing and resellers happened, I think tickets were decently priced," Gorecki said, But, Lane explained that "Tickets in the section I'm in got to be over $20,000 later in the day, which is absurd."
Not only were the dynamic prices a problem, but the fees were killers as well. "The taxes on StubHub were an extra $150 per ticket, and they were already outrageous," said Senior Lorelei Martin.
While many fans are only upset with Ticketmaster for the many problems that occurred, it poses the question: was Swift to blame for any of this?
While Swift made a public announcement over an Instagram story addressing the mishap with her tour, she never actually apologized. She places the blame on Ticketmaster, calling them untrustworthy and expressing how "it really pisses [her] off that a lot of [fans] feel as though they went through several bear attacks to get them."
When asked who is to blame for this whole fiasco, Davis responded "Ticketmaster is a monopoly and it is just their fault. Taylor is a queen and she can do no wrong, in my eyes." Martin agreed, explaining how Ticketmaster put this problem on themselves, "I blame it all on Ticketmaster; they knew how many codes were sent out [because] they sent them, and clearly, they sent too many if they sold out a tour in pre-sale."
Whether or not these problems occurred, Ticketmaster estimates Swift "would need to perform over 900 stadium shows (almost 20x the number of shows she is doing)…that's a stadium show every single night for the next 2.5 years" to make every fan happy.
On a positive note, the "Eras" tour broke numerous records. With the largest registration in history of over 3.5 million pre-registered Verified Fans. According to Ticketmaster, this resulted in "3.5 billion total system requests – 4x our previous peak." With over 2 million pre-sale tickets sold on Ticketmaster, The Eras Tour became the record holder for most tickets ever sold for an artist in a single day.
Between the waiting, the website trouble, the dynamic prices and the fees it leaves one wondering: is this even worth it?
Lane says, "Taylor Swift is my favorite artist, and I really wanted to see her in concert, so it was worth it to me." Davis agrees and expresses that it feels like a once-in-a-lifetime opportunity. "I am really excited to just be in the same room with Taylor Swift," Davis says,  "It's monumental."