Milford alumna lives dream of performing on stage
College application season brings a time of stress and hard decisions for many high school seniors as they race the clock to graduation. Although life after high school and the prospect of following dreams may seem daunting, there are many Milford Alumni who show that, not only is living their dream a possibility, but it can be reached through passion and hard work. One alumni who perfectly emulates this is 2019 graduate Sarah Nelson.
Nelson discovered her love for her college major, theater, when she was in second grade. She knew from that young age that she wanted to pursue this passion. As she moved into high school, she took necessary steps toward her future. She joined the theater company and the choir program as a freshman at MHS. "I think in the beginning, she had quite a bit of stage fright," said Megan Weeks, the Milford Theater Director, "She really had to work hard to get past that."
While Nelson achieved tremendous success,  she experienced setbacks and times of discouragement just as all high schoolers do. She describes her time as a junior in high school as being in a deep rut. Despite the difficult experiences, the time eventually came for Nelson to make a decision about her future. She sat down with former choir director, Maryann Lambrecht, who asked her if she could picture herself doing anything else with her life. "I immediately said 'no, I don't see myself doing anything else other than this.' And she was like, 'well, then you have to do it.'"
Later her senior year, Nelson's dreams were further secured when she finally got her first big part in the musical "Curtains" as Georgia Hendricks.
It was then that Nelson set her plan in motion. She began applying to her dream colleges and bettering herself as a performer. "I think honestly, just having a good work ethic and dipping my toes into a bunch of different things really helped," she said. Nelson found out later that year that she had been accepted into one of the best theater conservatories in the country, Cincinnati Conservatory of Music, or CCM. "Sarah worked very hard early on at finding the right music and pieces for her to present" said Weeks, "And when she made that decision that that's what she wanted, she was full steam ahead". Although she left Milford in the pursuit of bigger things, Nelson says, "I've looked back on it so fondly that we all got to do this special thing together; it's such a wonderful group of people at Milford."
CCM is a vastly different place than Milford High School. "Just being in little Milford, Michigan, you're surrounded by a very certain specific group of people and my views of the world and of life have changed, I think for the better." Additionally, Nelson began her college experience in the midst of COVID 19. Shows were canceled, auditions moved to an online format and the whole theater community had to adjust to a new version of performing. Due to this, she experienced another period of doubt in her junior year of college. "In high school, it is your passion and your hobby, but once you go to school for it, it's that transition of slowly realizing it becomes a job."
Nevertheless, she persevered and was hired for her first professional theater jobs last summer–playing The Baker's Wife in "Into the Woods" and Maureen in "Rent" at The Carnegie. Next on her busy schedule she will be playing Queenie in "Wild Party" and Ilse in "Spring Awakening" at CCM. After what has been a difficult time to thrive in her line of work, Nelson has shown that it is clearly possible to accomplish goals and overcome timely obstacles. She has learned to take advantage of opportunities even if it isn't the full extent of what you thought it would be. "I think it's just the little things and realizing that maybe it's not what you want, but it's what you need."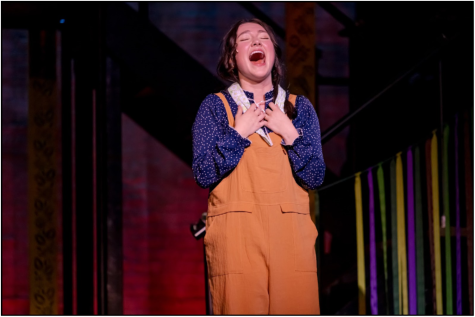 After she graduates in the spring, Nelson plans to move to NYC and immediately begin auditioning for jobs. "It seems daunting because we are in the middle of nowhere, and it just seemed so out of reach," said Nelson, "But I wanted to go to a top three musical theater school and I did."
Nelson is a prime example of a success story after high school and is one of the many beacons of hope for current students' futures. She says to students worrying about the future, "The only person you wake up and go to bed with is yourself. Every day, you are your own cheerleader."