Inspiration in Indiana: Milford Theatre Company attends International Thespian Festival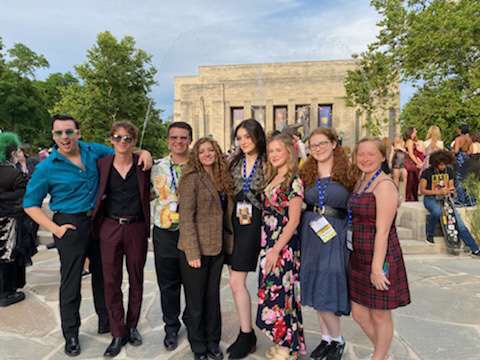 When the 2021-2022 school year wrapped up last June, many students could not wait to get a taste of the upcoming summer. After a long year of work and stress, it's no wonder that students were trading homework for the summer heat in an instant.
However, a select group of Milford students began their summer very differently: a trip to Indiana University for a rigorous six-day theater intensive that hosted eager thespians from June 19-25. Accompanied by Theater Director Megan Weeks and Vocal Music Director Brittany Miller, eight of Milford High School's devoted theater members embarked on the week-long extravaganza to further their pursuit of theater and music knowledge.
The International Thespian Festival (ITF) allows students interested in careers involving the visual arts to partake in workshops to build their resumes, gain necessary experience and earn scholarships for theatrical programs at a multitude of universities throughout the country. Offering workshops ranging anywhere from scenic design to playwriting, ITF provided students with valuable information that could not only be applied at the festival, but has also been brought back to our own community.
"My favorite workshop was the Unexpected Actor + Memorable Character workshop because it was out of the ordinary," Senior Peyton Wheeler said. "We would be doing these exercises to change the different levels of a character, and although it could be ridiculous, it made sense. Since then it has helped me break down a character's emotional expressions through their level of movement and breath, helping me realize the range of emotional possibilities each character can have."
Much like Wheeler, attendees' hearts were reignited with a desire to learn more about possible aspects of the arts, and without a doubt will continue to encourage improvement within each individual in either formerly practiced skills or a newfound passion.
Milford student's talent and dedication paid off when it came to the competition portion of ITF. Attendees who earned a superior rating–the highest possible–at the regional level of thespian festival in December of 2021 in Lansing, Michigan were allowed to submit their piece to the international judges. Two of Milford's students–Seniors Vivian Lakin and Aubrey Snavley–were part of the group that moved on to the International level. After auditioning once again, Lakin and Snavley were officially in the running for best duettists in the country.
At the closing ceremony, winners for all competition categories were announced and the duo won "Best Duet Song." "Since we had been working on that duet for quite some time, it felt terrific to know that our hard work had finally been recognized," said Snavley, "It reminded me why I do what I do and put so much time into theater."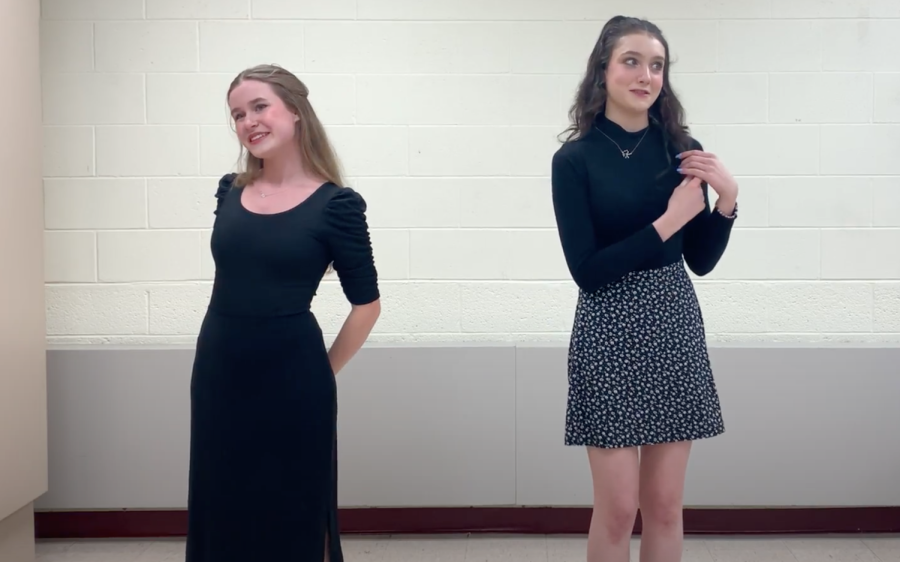 In addition to gaining experience and paving a path of accomplishments, ITF was an open door for students to build connections with other attendees. "It's really hard to find a setting where everybody is excited about the same thing," said Senior Ben Mondrush. "It was refreshing to be able to share passions with people from all across the country and all across the world. It was really nice to just meet a bunch of people who love the same thing as you do."
The trip reassured these students that you can always find people with a common interest. In a time where people so often disagree with each other and–especially in high school–might feel alone, this experience proved that students in any field of study can find others that are just like them.
Furthermore, ITF improved these students' lives in another way. Not only did the trip strengthen bonds between the group and provide a plethora of opportunities, but it also provided the MTC staff with new ideas that have been brought back from Indiana to be used in their upcoming productions.
"I think it showed the levels of commitment and work and professionalism that you see throughout the country," Weeks said. "And it wasn't just about them having more money. It was about the support and their work ethic as a troupe, and as a group that permeates from the lead down into whatever crew members you have and into the rest of the group." ITF reinforced the idea that theater is a community, and it takes a strong and cohesive team to make everything work effectively.
Similarly, school theaters rely on their communities outside school walls to fundraise for their productions. When it came down to marketing for Milford's shows this upcoming year, Weeks sheds some light on why she believes it is a crucial aspect to improve upon in order for MTC to continue prospering.
"That piece of partnering with businesses for fundraising, upping our ability to increase what we can do even more and more requires support and learning how to make those asks to sponsors, and being creative in how we do that fundraising. Reaching the interest of our community means that we can continue to put on great shows and draw in new audiences."
Going into the new year, these students have been reminded of the talent, drive and passion in themselves and their teachers. They have seen what it's like to pursue a career in the arts, among other related fields.
ITF took Milford students who were eager to learn and brought them back as strong leaders. It showed the staff what it'll take to continue engaging and entertaining audiences, and lastly, it took a group of people with similar tastes and turned them into a well-bonded family.
With all of that in mind, it is no wonder why ITF was a groundbreaking experience for all involved. Not only did it set people up for personal growth, but it also provided valuable lessons that have traveled back to Michigan and strengthened the department.
Prepare to be astounded, for it's lights up and curtains set for MTC this 2022-2023 school year.