Smooth Criminals
Huron Valley Marching Band Marches to Nationals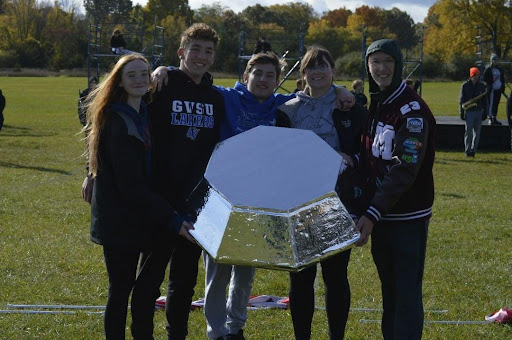 For years, Huron Valley has had a powerful band presence, but that doesn't mean it's stayed the same. With the pandemic changing daily life, the marching band also took major action to become stronger. Lakeland and Milford bands, which had been separate for decades, combined to become the Huron Valley Marching Band. With this change, Director Bob Green stepped up to take the mantle. Green, who has been in the district for 28 years, has taught both band classes along with directing the marching band. However, last year was the first time Green had worked at Milford and Lakeland simultaneously.
Looking to build off the first year's success, this year's marching band show, Smooth Criminal, is a heist story that involves the Color Guard (the flag bearers specializing in twirling and throwing their flags and other props) attempting to steal a four-foot diamond from the band. The diamond is on display in the center of the field for the entire show, and the Color Guard attempt to steal it and are swatted away by the band every time.
Recognizable songs like Bad Guy by Billie Eilish and Smooth Criminal by Michael Jackson are large, awe-inspiring numbers that are a delight to watch. Smooth Criminal will be performed at Grand National Championships in Indianapolis on Nov. 10. Huron Valley Marching Band members are excited to work together to put on a great performance.
"They seem to really enjoy being together regardless of what school they go to," Green said. "The programs here in our district have had a long history of very successful competing in Michigan and at the national level."
Green admits that it is not easy to run a successful marching band like Huron Valley's. "Practice alone during the season can be about 20 to 23 hours. There are some unique challenges with this program [like] when are we practicing at Milford and when are we practicing at Lakeland? Is the field ready? If you want to be successful, there's a lot of planning involved. I always tell people I live nine months ahead of schedule. That's just the way it is."
Success doesn't lie all on the director. The students play a very integral part in the band.  Senior Emily Fountain offered her thoughts on the show. "Visual-wise, there's a lot more going on," Fountain said. "You can understand the show a lot more."  Annabell Moening, a freshman, said, "[Smooth Criminal] is complex in how it's being presented."  Leadership roles in the band have taken form as well. Paige Phillip, a sophomore, said she "looks up to her section leaders." It is clear that the students feel optimistic about the band and the show.
"We all suffer together, whether it's -20 degrees, pouring rain, or snowing. We just work through horrible circumstances, and that just brings us together." Stewart admitted about the rehearsal process. When asked about what is fun about marching band, he said: "I love the feeling that music gives you. It just gives you this warm fuzzy feeling when you're making music with a bunch of people."
Green also commented on the make-up of the band. "We have kids who didn't do band in middle school, have never been in a band, or never even picked up an instrument before," Green said. "There's no first or second string or bench. Everyone is performing. Everyone is in. That's something really unique to the band and an important part of the band."
Senior Matthew Stewart attested to the strong band community. "Band is a very accepting place," Stewart said. "No matter your skill level, even if you've never played an instrument before. It's a great place to go and be a part of and you'll make a ton of friends. It's a big giant family." It's obvious that HVMB is going to roll into nationals with a pep in its step, and Director Green leading them through. Marching band offers a good family atmosphere that will steal your heart and a loving community you'll be amazed by.