And Never Been Kissed delights audiences with 1920s humor
Though it shares a name with the 1999 Drew Barrymore film, And Never Been Kissed takes audiences back nearly a century to follow teenager Flory Patterson as she experiences the trials of love and youth in the roaring 20s. On Feb. 25-26, the Milford Theatre Company (MTC) brought to life this humorous comedy. Nearly 16, Flory has yet to have her first kiss. With her best friend Millie Myers by her side, Flory attempts to garner the affections of local boys Charlie, Douglas, Gilmore and Phillip.
IA West Senior Amelia Beesley and Milford Senior Julia Kanak played Flory Patterson and Millie Myers respectively, two boy-crazy best friends who, with the help of a love potion, devised a series of hilarious antics throughout the three-act play. "My favorite part about Flory is definitely her dramatics," Beesley said. "There's a specific scene where I get to go kind of wild and although it's way out of my comfort zone, it's so much fun to do."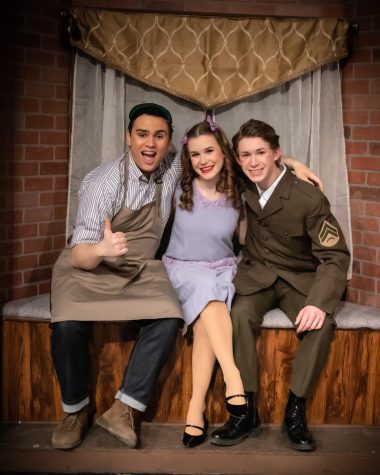 Junior Vivan Lakin played Mavy Patterson, the headstrong younger sister of Flory. "When the lights are going and the music's going and the people on stage are going and you have the audience — it's the best feeling," Lakin said. "I just like the adrenaline that goes with it."
The witty comedy caught the eye of theater director Megan Weeks back in 2013, when the Milford Theatre Company first performed the show. "It's smart and it's funny," Weeks said. "Even though it's set in 1929, the humor in it is very timeless. And it shows kind of how teenage love is teenage love. It doesn't change whether it's 2020 or 1929."
When it came to auditions, Weeks felt confident that she had the right group of actors to put on this performance. "We have in the senior group some kids with really nice comedic timing," Weeks said. "Not only did we have that in the senior class, but we just had good depth in our underclassmen, so much so that we were able to do a few understudies."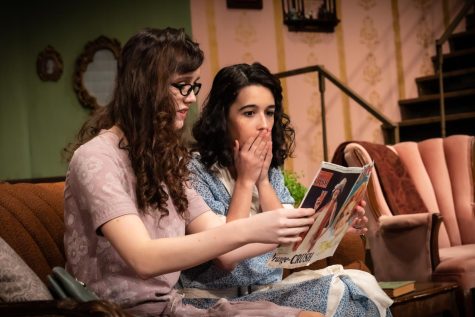 With the uncertainty of COVID-19, it was important to Weeks to have back up performers. The work of understudies is often a thankless job, but these performers were able to showcase their hard work in a special, understudy show on Thursday, Feb. 24.
MTC's fall musical Once Upon A Mattress marked the return of pre-COVID theater attendance, with large audiences over the three-show weekend. Without the spectacular dance numbers and songs that are common-place in musicals, plays can often be overlooked by audiences who may expect a slower-paced and less vibrant storyline. However, And Never Been Kissed easily enraptured the audience with its one-liners and vibrant characters. "I think what's nice about a play is you're getting an authenticity of character," Weeks said. "No one busts into song in real life, so plays offer you this real life snippet and allows you to connect with the characters on a deeper level, which makes it equally as enjoyable."
Junior Joe Meagher, who played one of Flory's love interests Phillip Peabody, attested to the unique attributes of any play or comedy. "The play allows for more interpretation and a little bit more freedom when it comes to the actors," Meagher said. "I think that's fun to watch from the audience's perspective because with this play, it's a comedy so you get to explore the humorous side of it."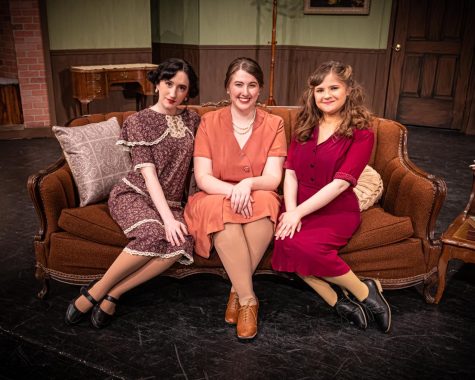 For the seniors, And Never Been Kissed saw the conclusion of four years of hard work and talent with MTC. As the curtain closes on Beesley's time on the Milford stage, she reflects fondly on memories during her theater journey. "Coming from the IA, it was really hard my freshman year socially–drifting farther from friends from middle school and trying to make friends at a whole new school," Beesley said. "But due to MTC, I've been able to make and keep some amazing friendships and I'm so grateful. I'm definitely going to miss all the joking around and fun we have."
With stellar performances from the MTC actors, And Never Been Kissed dazzled audiences with the ageless humor of teenage love.