Milford band student 'Acceptd' into D.C.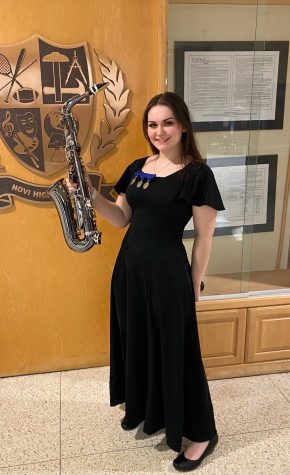 Doing something one is passionate about is one of the greatest joys of life. Senior Grace Miller's passion is performing mu-sic. Miller is living her dream after being accepted into the National Youth Wind Ensemble.
As a band member through-out middle and high school, she has shown a love of playing mu-sic for a long time and will continue to show the joy music can bring her as she travels to Washington D.C. with the 55-player band to perform at the Warner Theater in a concert setting.
Miller, an alto saxophone player, discovered this opportunity through a program called 'Acceptd,' in which she identified musical programs around the country that might fit her future plans. Thanks to Acceptd's national database, students from across the country will be per-forming with the National Youth Wind Ensemble.
This unique opportunity al-lows students to train with some amazing musicians, including the director of the marine band, Jason K. Fettig. "I think that's so cool; it's gonna be the biggest thing- he's a colonel!" Miller said of Fettig. She will also be learning from Kevin Sedatole, the director of bands from Michigan State University.
For her audition, Miller had to perform two contrasting pieces of her choice to show her versa-tile abilities. A wide range of abilities is preferred for this ensemble, so hopeful applicants should show that they can play conflicting pieces.
Selections from the show will likely include slow moving pieces, and faster, upbeat music that will bring the audience's en-ergy to a peak in the theater. For that reason, Miller and other participants played music with those themes to demonstrate their versatility.
She was also required to show two positive references to support her admission, Mr. Green, the band teacher for Mil-ford High School, and Ms. Blanchard, the Muir Middle School teacher.
Mr. Green showed his confidence in her as he said, "Grace is extremely passionate, committed, and focused on her musical growth. She practices and works with a drive and commitment to excellence at all times. She has worked tirelessly to achieve this honor, and it is absolutely de-served!"
This was not the first time Miller had tried out for an honors band. She participated in the University of Michigan Youth Wind Ensemble in the 2021-2022 sea-son. This experience was the first stepping stone to go into the National Youth Wind Ensemble.
The University of Michigan Youth Wind Ensemble had given her the tools she needed to move on to even better opportunities, such as this trip to Washington D.C.
After missing out on the opportunity to perform with the All-State Band for Michigan, Miller was astounded that she was accepted into the more selective National ensemble. "I stared at my phone in shock," she said. Miller's previous experiences helped her to prepare for the National Youth Ensemble.
Miller will be in Washington D.C. from June 14- 19 and will be taking master classes as well as working with the full band and guest conductors.
The first day will be a welcome ceremony, in which the band gets to know one another and gets acquainted with their accommodations. After that day, the real work begins.
Miller and the rest of the band will be working together to create a performance that could rival any adult-member-only band and will show off the skills they have learned from the guests that will come in throughout the five days to work with them. With these opportunities, Miller will come out an even stronger player and a proud ensemble member who completed this amazing experience.