New Beginnings: The Pops Concert
Milford's varsity choirs have been working hard all year, and the Pops Concert is the culmination of everything they've accomplished. Held on March 18 and 19, the concert is approximately a 90-minute performance of various songs, this year including: Edge of Seventeen, These Boots are Made for Walkin', Stand by Me, and Footloose. Center Stage and Choraleers both performed songs separately and together, and presented it in one spectacular showcase. Overall, I'd give the production five stars because of the energetic atmosphere and the impressive performances on all sides.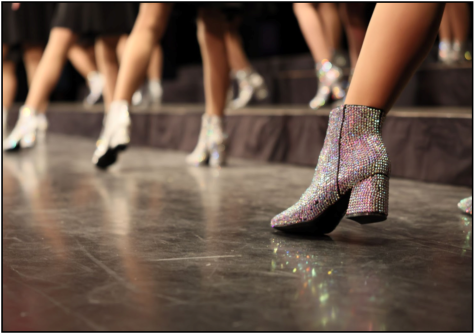 One of the highlights of this year's concert was the combined choirs rendition of A Musical. The flashy act included a lot of moving parts and energetic dances. "[It] takes a lot of work to pull off, but it's definitely worth it just because I think it's so interesting for the audience to watch," said Senior Christen Broughton. Over the past few months the choirs have been rehearsing nonstop for this concert—learning complex choreography and new songs.
My personal favorite number was Center Stage's version of Little Shop of Horrors. It was a lively presentation of the easily recognizable song.  Junior Alexis Cornett choreographed the almost nine minute long performance with masterful detail. Synchronized movements, freezing in place, and even falling backwards into a crowd kept the piece visually interesting to the audience—and with solos from almost every member the Center Stage could show off their impressive singing skills.
The rendition of I Put a Spell on You was also very amusing because of all the different Halloween costumes worn by the Center Stage members, and at the end when some members got dragged off stage. Sonia Rivera Enrique performed a very impressive solo dance as well, that was captivating and also a unique performance compared to the rest of the show.
Choraleer Emma Allen pointed out how "close-knit" the two show choirs are, and how the Choraleers and Center Stage Choirs have formed their "own little family within Milford." She said that her favorite thing about the group is their ability to "have fun doing what we love while also having a strong sense of community."
This strong social bond is evident in the elaborate game of "spoons" that the choir members have been playing for the last few weeks —in which someone has to tag someone else by tapping them with a spoon. "I think everyone's been taking it very seriously," said Broughton, "There have been betrayals, traps, and…it's just been crazy."
Broughton just joined Choraleers recently for her last semester of high school. She had to manage jumping directly into choreography and rehearsal, "It was a little overwhelming at first, but overall it's a very fun experience. I'm really excited to work alongside these wonderful people, they've made me feel welcome despite my limited experience."
This year's concert highlighted the skill of many of the members with solos and duets. Center Stage's Vivian Lakin and Joe Meagher performed a charming duet of Sixteen Going on Seventeen matched with a partner dance. Not only did Julia Kanak have a comedic duet with Tim Dawe, but she also had a great solo of her own: With You. Jillian Armstrong and Abigail Schwendenmann had a stirring duet of Let Me be Your Star, and later on Jillian performed I Need More by herself. Rachel Martin, Shea Giese, Lauren Gates, Savannah Lane, Abbie Hess, Matthew Stewart, Ben Mondrush, Joe Meagher, Xander Martin, Ally Wilmot, Vivian Lakin and Peyton Wheeler all also performed some wonderful and noteworthy solos and duets.
One of the most exceptional solos of the night belongs to Center Stage's Bryn Graskewicz with Moral of the Story. The Pops Concert marks the end of high school choir for Graskewicz, "I'm sad I'm leaving next year, but I'm ready for what's ahead and I'm very excited about my final Pops Concert!" Graskewicz encourages new students to join the show choir saying that her favorite thing about the class is learning new songs and that it's overall a very enriching experience.
In addition to learning new songs and dances, Choraleers and Center Stage also put a lot of emphasis on costuming. Some of the most intriguing clothes this year include sequined dresses, bow ties, top hats, and aprons. One of the most costume-oriented numbers is These Boots are Made for Walkin' because the Choraleers inevitably had to wear boots. Allen explained that, "each Choraleer had to bedazzle their own boots. It took forever, but I think the sparkly boots are really eye-catching and everyone did a great job."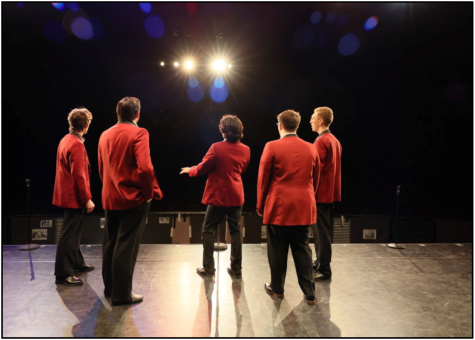 Ask any of the choir members and they'll tell you what a great experience they've had working on this concert. Junior Abbie Hess is a part of Center Stage, she says she "can't wait to share the concert with other people." Hess encourages anyone even slightly interested in show choir to just go for it, "My advice is simply to try it with an open mind. Whether you're a girl or a guy, I guarantee that you'll have fun singing and dancing and
you'll form a new family in the process!