Fear Street trilogy thrills audiences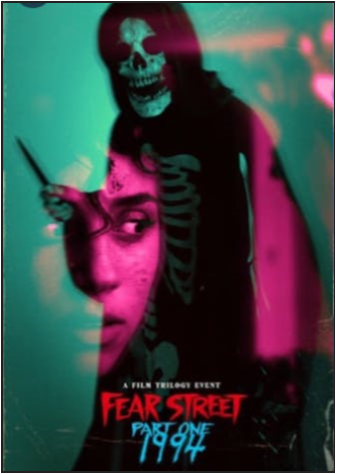 On June 28, 2021, the first installment of the Fear Street movie trilogy was released on Netflix. The next two installments came out within the next month. The Fear Street Trilogy is a horror film series directed by Leigh Janiak based on R. L. Stine's book series.
Fear Street Part 1: 1994 is about a group of teenagers led by Deena Johnson (Kiana Madeira) who come into contact with the curse that's been plaguing their town of Shadyside, Ohio, for three centuries, starting with the hanging of accused witch Sarah Fier (Elizabeth Scopel). The film's major conflict begins when character Samantha Fraser (Olivia Scott Welch) bleeds on the bones of supposed witch Sarah Fier, bringing Shadyside's infamous killers back from the dead to kill her.
In Fear Street Part 2: 1978 34-year-old C. Berman (Gillian Jacobs) takes us back in time to tell of her encounter with Sarah Fier and the Shadyside killers when Ziggy Berman (Sadie Sink) bleeds on the bones of Sarah Fier at camp Nightwing. Camp counselor Tommy Slater (McCabe Slye) is taken under control of the curse, making him seek to kill all other campers and counselors at the camp. Ziggy's sister, Cindy Berman (Emily Rudd) falls upon a series of underground tunnels where she begins to uncover the truth of the witch's curse.
Finally, Fear Street Part 3: 1666 is set in the perspective of accused witch Sarah Fier herself. Deena Johnson is thrown back in time quite literally when she is put into the perspective of Sarah Fier. In this part of the trilogy we get to see more of the deeper meaning of the series. In the first movie, our core romantic relationship is between Deena Johnson and Samantha Fraser, so it is only fitting that Sarah Fier's love interest, Hannah Miller, is played by Olivia Scott Welch. Sarah Fier is caught in romantic relations with Hannah Miller, which is not accepted in their village. So, when Sarah is accused of being a witch, it's easy for the town to believe.
The director did an amazing job portraying the story to evoke fear and a feeling of relatability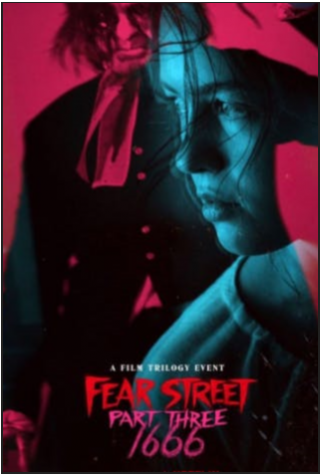 in their audience. Teens who are a part of the LGBTQ+ community see this story and can imagine themselves in the shoes of characters like Deena, Samantha, Hannah, and Sarah, relating to the way even today's society is prejudiced towards queer people. The story is incredibly well written and touches on subjects not commonly touched on within the horror genre, like homophobia, and makes it stand out. The acting was amazing. Every actor did their job and elicited each emotion perfectly, which is incredibly impressive considering the generally young ages of the actors. One actor who did a particularly amazing job in this film trilogy was 19-year-old actress Sadie Sink. In her years she has played many minor roles, but none as memorable as her role as Max Mayfield in Netflix's Stranger Things. In this trilogy, Sink plays two roles; Ziggy Berman in Fear Street: 1978 and Constance in Fear Street: 1666.
The only negative thing I could possibly say about this film is the fact that it's a slasher movie. That alone could drive away a lot of audiences. Personally, I love the horror genre; I came for the gore, but I stayed for the deeper messages and symbolism for homophobia.
I would give this trilogy a 4.5/5 stars. I felt like I was engaged and on the edge of my seat the entire time. Overall, this series was a great watch and I would recommend it to anyone within the appropriate age range who likes slashers or can at least withstand gore to stay for the deeper meaning.