Milford's vocal music program performs POPS 2021: Our Greatest Hits
"Art isn't easy" so the opening number of this year's POPS performance said. It's true. The 43 performers and countless crew members of the MHS vocal music program spent hours each night choreographing and rehearsing for their annual POPS show. But on May 20, the singers of Center Stage and Choraleers took the stage with their awe-inspiring performances.
After the cancellation of last year's POPS performance due to COVID-19, the singers were ecstatic to perform once again even with some lingering changes. Many of the vocal performances earlier in the year had been solely virtual events, but a limited audience was able to attend POPS live. "We have to wear masks and some of the dances are socially distanced," sophomore Vivian Lakin said. "But it's so nice to have an audience again." Facial expressions are imperative to a successful performance, but the POPS performers enraptured the audience with only their eyes visible.
Senior and stage manager Alexa Cheaney explained another COVID-wrought change to limit audience capacity. "We are live streaming the POPS performances in addition to the live audience," Cheaney said.
The months of rehearsals both inside and outside of school fostered a close-knit environment within the choirs. "The people are the best part," Lakin said. "I think it's just fun to be around everyone and be backstage."
"Our Greatest Hits" was this year's POPS theme, with songs from the stage and screen as well as tributes to the tops hits from different decades. German teacher Mr. Kynast served as emcee, filling the gaps for costume changes with his natural humor and charisma. 
POPS opened with a performance of "Putting It Together" from both choirs. This powerful tune reminisced about the art of making art, a perfect song for these singers.
In Act 1, Center Stage had strong numbers in "Singin' in the Rain" and "Bohemian Rhapsody." "Singin' in the Rain" was choreographed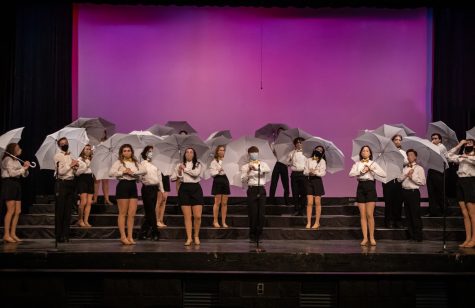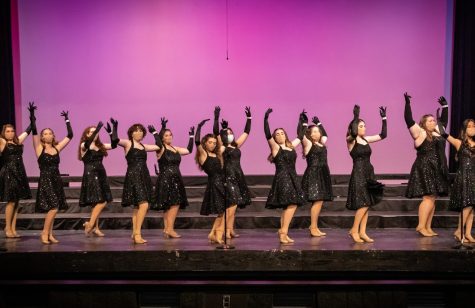 by guest choreographer Andy Haines, with meticulous tap steps and umbrella choreography. "Bohemian Rhapsody" was a fiery ode to Queen with fantastic costuming and even an electric guitar solo.
Choraleers's "Shine" and "Diamonds are a Girl's Best Friend" were a perfect combination of compelling vocals and fantastic dancing. "'Shine' is my favorite number," Sophomore Peyton Wheeler said. "It's so jazzy and it's so much fun with the top hats we get to wear."
Act 2 opened with an all girl's tap performance with "42nd Street." Choreographed by former Milford student Anna Lehrer, "42nd Street" took hours of rehearsals to master the intricate tap steps.
In a flurry of sparkles and suitcases, Center Stage performed "Jet Set." The bubbly song reminded the audience of the thrills of travel, so missed this past year.
The 2021 POPS show concluded with a performance of "Raise You Up" with both choirs on stage for this showstopper of a finale.
After 15 years with Milford's vocal music program, POPS 2021 was the last performance for choir teacher Mrs. Lambrecht, who retired at the end of this school year. Leading her students to victory at the local and state level, Mrs. Lambrecht is leaving behind a legacy of success and talent. A special tribute to Mrs. Lambrecht was included at the end of the performance with heart-touching pictures from her years at Milford and the emotion-filled voices of her last students. She truly has been the heart of the program.
Art may not be easy, but at Milford, it's certainly magnificent.