The best and worst outfits of the Golden Globes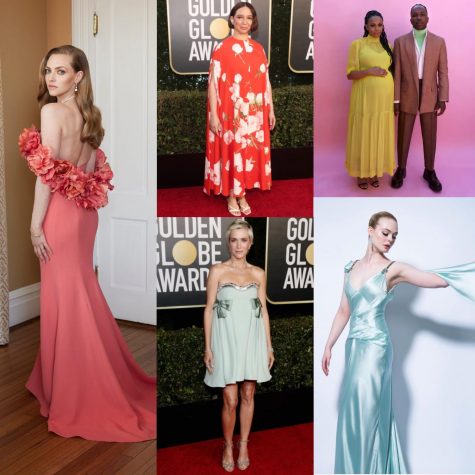 With COVID-19 continuing  into 2021, this time has been anything but normal. Despite the abnormalities, it's comforting to see events we love and enjoy carrying on. The 78th Golden Globes took place Sunday Feb. 8th and it wasn't your normal award show. The show was held in Los Angeles and New York City, where attendees watched from home or attended a small red carpet and show. Many stars posted their Golden Globe looks on social media to show off their style. There was such a wide variety of looks this year from neon dresses to beautiful satin gowns. Here's my ranking of the best and worst outfits from the 78th Golden Globes. 
Best: 
Let's start with my favorite look of the night, Amanda Seyfried. Seyfried did not attend the red carpet, but instead posted her outfit on social media. She wore a custom Oscar de la Renta dress with large flower appliques. I really liked the coral/peach color of this dress because it matched her complexion and hair well. The open back with the flowers circling around the back is also unique. This dress was in a way plain, but the flowers really added to it and made it elegant. I love anything floral, so it's no question that this dress was at the top of my list. 
Next up on the best list is Leslie Odom Jr. Again, he posted his Valentino couture look on social media with his wife Nicolette Robinson. I didn't see many people talking about his outfit, but I liked how unique it was compared to a typical black suit. I appreciated the brown jacket and pants paired with a basic white undershirt and neon green turtleneck for a pop of color. This color combination stood out to me because it's not something I see a lot. Although green and brown is a super trendy color combination right now, the use of neon green instead of typical sage or forest green topped this look off. 
Finally, on the best list is Elle Fanning. Fanning also posted her blue satin Gucci dress to social media. I really liked this dress because the silhouette reminded me of a Greek goddess. The dress features beaded straps and a long shawl connected to the back, which gives off the goddess vibe. I'm a big fan of satin fabric, so I was happy to see this dress. The icy blue fabric went beautifully with Fanning's red hair and fair skin. Lots of people were fans of Fanning's dress, and I can see why. 
Worst:
 First on the worst list is Maya Rudolph. I put her look on the worst list because I didn't care for her the pattern or silhouette of the dress. As said earlier, I love floral, but only when it's done right. Big flowers like this are too distracting.. I'm also not a fan of how the dress was sewn into so many sections so that the flowers look cut off and all over the place. The silhouette is also not my favorite. A white belt to match the shoes (which I do like) or some sort of waistline would have elevated this outfit. 
Also on the worst list is Kristen Wiig. Wiig wore a pale green Prada dress with big bow accents. To start off, the sweetheart neckline with sequins is not my favorite. It looks a bit awkward and doesn't match well with the big bows on the side. The bows are also in an unflattering spot, and the dress as a whole just doesn't make sense to me. If the dress lost the bows and had pleats and/or beading to match with the neckline, this dress would look a lot more aesthetically pleasing. 
   Despite the differences with the Golden Globes this year, stars still managed to show off their style. It's a common theme this year that art can still bring people together in hard times. Fashion is an art form where you can express yourself and feel confident. I liked seeing that people are still enjoying fashion for what it's for in such a difficult time.