The fall musical is now a summer event— meet Zombie Prom
In November of 2019, Milford Theatre Company members were preparing for what they love most of all— performing. Cast members were at the CPA for up to seven hours a day after school, rehearsing, drilling, cleaning up dances, and trying their best to keep their voices in top shape. In the world of theatre, the hours are long, but the performances are rewarding, and on the third weekend of November, they reaped the benefits of these rewards through singing and dancing for an audience, telling a story in the way only musical theatre can. Every year, Milford Theatre Company's fall musical is an event that attracts nearly 2,000 total attendees.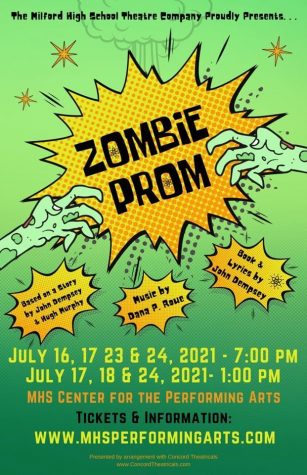 This year, things look different… a lot different.
In March, the 2020-turned-2021 musical was finally revealed: enter Zombie Prom. In the nuclear fifties at Enrico Fermi High School, good girl Toffee (Senior Ansley Kopp) meets bad boy Jonny (Senior Hunter McCauley), who spells his name without the usual "H", and they fall for each other. Toffee's parents and Enrico Fermi High's intense principal, Miss Strict (Senior Jenna Natwick), force her to break things off, and Jonny is so distraught, he drives into a nuclear power plant. Suddenly, he's back from the dead— and he's determined to graduate, with Toffee by his side at the senior prom.
The directing staff of the Milford Theatre Company chose to announce the show in a way they had never tried before— they had a bracket, where they revealed the winner from a pair of shows each week, much like a sports bracket, until, finally, the true show was revealed. Zombie Prom had its off-Broadway run in 1996, but never made it to Broadway. As a result, it's not a well-known show, and many students had no idea what to expect when they first learned the details. Freshman Shea Giese, who was cast as an underclassman, said, "I was a little skeptical, just because it's such an obscure show that I and many other people I talked to had never heard of, but as soon as I listened to the music and read a little bit about it, I immediately knew how much fun it was going to be to be a part of it." Others, like McCauley, had loved the show for a while after seeing a school perform it at Michigan Thespian Festival a few years back: "I was extremely excited. Ever since I saw the show my freshman year at Thespian, I have imagined how fun it would be to put on." Theatre director Megan Weeks has wanted to do this show for a very long time. "[Zombie Prom] is a show I have loved for many, many years. It had amazing music and I love smart, funny shows," she said. "It needs just the right group vocally and acting-wise, so it has sat on the backburner for a while. As I've watched this senior class grow, I knew this could be the group to pull it off. I am very excited to finally put it on the MHS stage."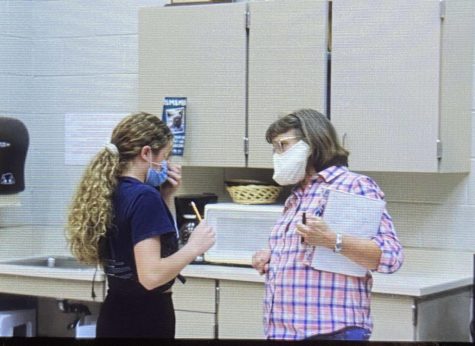 Prior to auditions, vocal director Maryann Lambrecht got to do something she doesn't normally get to do: she hosted workshops in the choir room with Weeks to aid auditionees in getting to know the songs and the characters. "We were able to see who could do it, and I think we got a much higher level of quality in the audition process. All of the directors felt like the quality was really high," Lambrecht said. Sophomore Ben Mondrush, cast as an underclassman and the understudy for the role of scandal reporter Eddie Flagrante, felt similarly. "Compared to auditions last year, this year was a lot easier because of the workshops leading up to auditions," he said. Auditions were originally to be held in person— then in-person classes were shut down, just mere days before the singing and dancing audition dates. Thus, the directing staff had to come up with a solution on-the-fly: virtual auditions. Auditionees joined a Zoom call with directors and performed the given excerpts from the musical in five-minute individual slots.
Dancing was still a problem, though, and it was solved by holding auditions at Suzanne's Main Street Dance. Suzanne Jonna, who choreographs every Milford Theatre Company musical, made a video performing the required audition dance combination, and students arrived in several small groups, with each student getting their own individual dance room in which to audition. It happened like clockwork. "I thought dance auditions were done really well with the separate rooms and separate times," said Natwick. "It was safe, and with the video of the dance combination pre-released, we were able to prepare what we were working on."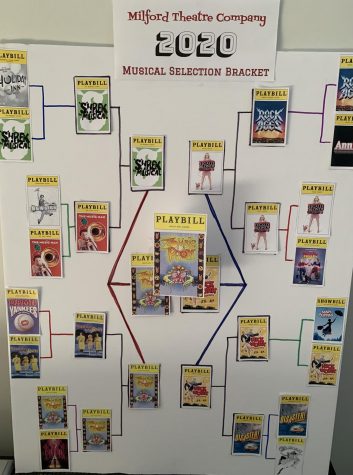 In the age of COVID-19, the schedule looks incredibly different. Usually, students are given the summer to prepare audition materials on their own, and then they audition within the first week of school. Instead, students auditioned in November, when the show would normally take place. As for 2021, the directing staff made a difficult choice: shows will now take place over the course of two weekends in July. "By moving the show to July 2021 (and it should have been in November 2020), we are hoping for more lifted restrictions.  We will, of course, be masked and distanced throughout the early rehearsal process, and that will be fine as we are all getting used to it," said Weeks. "We are still planning for a reduced capacity for seating, so we added a second weekend. If seating capacity is decent, however, we may remove that option, as it does add a lot of stress to the production."
Though incredibly different, some things about the way this year's auditions went were things students would like to keep. "In a perfect world, we wouldn't have to deal with [COVID-19]-related issues, but I did really enjoy the pre-audition workshops because that made everyone a lot more comfortable with the audition materials," Mondrush said. "I think we will all continue to be more cautious of our health and cleanliness practices in the future, but I hope to bring back the fully live two-day audition," stated Weeks. "I also hope to pack 650 people in our theatre again so we can all feel the energy and enjoy the power of live theatre." McCauley felt the same way: "I hope in the future they will be going back to in-person voice auditions, [because] there's a personal level [that comes with] being in the room compared to over the Google Meet that you just don't get."
Overall, students and staff alike are incredibly excited for the show. "My favorite song is 'Trio (Case Closed)' because it incorporates what the show is about. It's got a weird, wacky style, and it weaves each character's personality, the dynamics between them, and the conflict in the show together so well," said Natwick. The directing staff is also incredibly enthusiastic: "In particular, Jonny and Strict really get to the high reaches of what the voice can do," Lambrecht said excitedly, and Weeks remarked, "I'm excited to try a summer show, but I hope to never have to do it again. I love the fall musical and how it kicks off our year, but I am excited to do one last big hurrah with my 2021 seniors who have been robbed of so much." The named roles in Zombie Prom, along with some ensemble members, have already begun rehearsing, and the frequency of rehearsals will only increase from here on out. Though the show is roughly five months away, with seven show dates spread across Jul.16 – 18 and 23 – 24, every cast member grows more excited for the performances with each day that passes. One thing's for certain: it's a musical that many members of Milford Theatre Company will never forget.