Winter skincare tips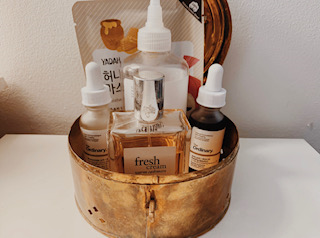 As the holiday season approaches, many students begin to think about Thanksgiving festivities and enjoying the last of the fall weather before the snow starts falling. December will be here sooner than many think, and the winter cold will begin to have its effect. Walking outside in the icy air can feel quite harsh on the body at times, especially for the skin. Skincare is something that is important to many, and even those that don't share a great interest for the topic have at least heard of the many serums, moisturizers, and oils that exist out there. Getting ready in the morning during the winter months includes taking more time to scrape the snow and ice off of cars, but it can also include taking more time to pamper your skin after coming inside from the bitter cold. 
When the cold months come around there are many changes that occur to everyday routines. Whether that be making more soup, starting your fireplaces, taking your fuzzy pajamas out of your storage bins, or starting to watch Christmas movies on the first of November, there are many things that are exciting about the wintertime. However, your skin isn't jumping for joy when the weather falls below 45 degrees. With all of the various skin types and concerns out there, there is never a one-size-fits-all routine that can truly suit every single person. The things that winter does to skin are pretty much universal. Cold air tightens the skin's pores and reduces blood circulation. This reduces the natural lipid layer of the skin which  leads to drying out, and for individuals who already struggle with dry skin, this can lead to flaking. Overall, the snowy season does not make our skin very happy, but there are ways to counteract these effects. 
Thankfully, Shari Marchbein, M.D., who is a New York City dermatologist, partnered with Vogue to share her knowledge about combatting dry skin in the winter months.  Her first tip: invest in a humidifier, because dry air can lead to dry skin. Although this is not an absolute must, if applicable, it could be very useful. "A cool air humidifier increases the moisture level in the air, helping [the] skin's barrier stay hydrated," says Marchbein, M.D. The second recommendation is to incorporate more healthy mono-saturated fats into your diet such as avocados, walnuts, and olive oil. The first two recommendations don't exactly include skincare, but they are good habits to adopt around the winter months. It is also essential to drink plenty of water, and people have been saying this for years but it truly does have such big effects on the way your skin looks. "Without adequate water intake, skin appears duller, and wrinkles and pores more prominent. Proper hydration levels help the skin to become plump and improves its elasticity meaning it's less likely to crack and have irritations and blemishes," says Dr. Steven Deliduka, board certified dermatologist with Forefront Dermatology. 
Now, when it comes to actual skincare, one should engage in these next habits year-round, but in the winter months, they are especially important. Exfoliate your skin more often. Use a gentle scrub so that the dry skin that accumulates on your face throughout the day can be removed. This will leave you with a new base. For those with more sensitive skin, it is better to just incorporate a wet washcloth to scrub your face wash off. Find a good antioxidant serum. "Serums that include Vitamin C are essential to prevent the skin from being attacked by free radicals which causes sun spots, the breakdown of collagen, and premature fine lines", says Marchbein, M.D. Applying an SPF should also be a step on your skincare list, even though we see less of the sun during the winter.  UVA rays penetrate into the skin's dermis prematurely aging the skin causing it to wrinkle and develop brown age spots. Switch to a heavy face cream. When it gets colder, it is important to change your moisturizer to something thicker that is going to give your skin the most hydration. A face cream instead of a lotion usually succeeds in making sure the skin keeps a hydrated glow all year round. Avoid harsh cleansers. Try to stay away from cleansers that are high in fragrance and additives. This can strip the skin of its healthy oils, and lead to an even worse case of dry skin in the winter. Establish a nighttime skin routine that works for you. Taking care of your skin right before bed is also important for healthy skin all year, but this is especially true in the winter. In your room sleeping is when you'll be the warmest during the winter months, and your serums, moisturizers, and oils will have the most time to sink in during this time. 
Skincare is a routine that will be different for everyone. Despite your own personal skin concerns, there are still ways that everyone can collectively find a remedy to their skin's winter blues.