Theatre Students audition for 'Matilda' Musical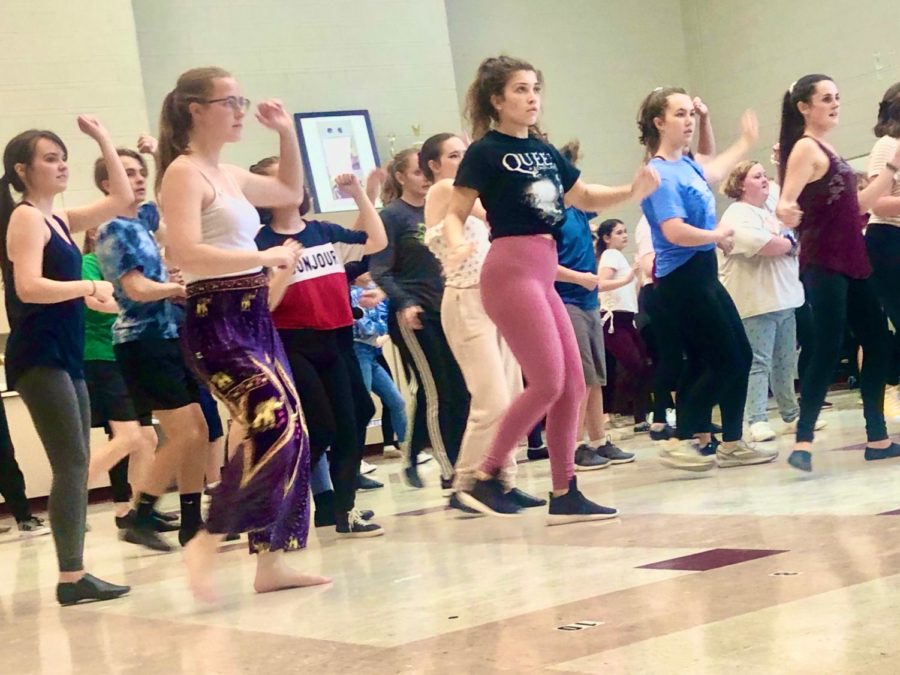 If you pay even a little bit of attention as you walk down the halls, then you've seen the Matilda auditions flyer. There are tons of people every day who breeze past the flyer, because theatre isn't for them. Yet there needs to be more focus on the kids who don't see it as "theatre". The kids who help make it an art, who are performers, and who truly make art come alive through their characters.
Attending Matilda auditions is the only true way one can see first hand what theatre is beyond the name and stereotype. If one walked down the hallway, the first thing they would notices is that there is always truly enthusiastic energy that pouring from the choir hallway. The confidence and determination accompanied by a frenzy of nerves laces throughout that space often. But who makes this all possible? Out of everyone involved, Mrs. Weeks is always an essential component of each and every production. She has been the theatre director for Milford High School for 16 years. During auditions, she often gazed out at the sea of kids like they were the future. The theatre program as a whole truly does resemble a family, and when discussing  her group's dedication, Weeks was proud of the program. "A production requires so much teamwork and banding together," she said. "If it doesn't work as a collective unit, then it doesn't work. There's no such thing as a one-man show." Weeks has been the director of every single production for 16 years, which undoubtedly means she has committed thousands of hours into this program.
There is true curiosity  to what truly makes it worth it, specifically to someone who has spent so much of her life immersed in this rigorous process. "I would say that it provides a life experience that cannot be paralleled anywhere else, it's unlike anything else. Also the bond we build with the kids is so unique. I mean, we spend so much time together in such a vulnerable way, asking them to create characters and show feelings they've never shown before. They are always so willing to take risks. And it's our job to give them that
safe space where they feel free to do this." said Weeks.
This year's lead of the production is Brianna Martin, who earned the role of Matilda. She is a 17-year-old and a senior who has been in every single Milford production since she was a freshman, and theatre has been her world since she was 5. Her first play was Annie and she fell in love with it after that. So what's the story behind her infatuation with theatre? "A lot of people think when you're acting you're told what to do, but it's really your own creative integrity," she said.You get to create the essence of the character yourself, and make it into something of your own." Getting the lead role in the first musical of her senior year was wildly unexpected, and she admitted that she'll always feel some sort of nerves. Yet, her description of overcoming them was more profound. "Auditioning is always nerve wracking, but it's all about knowing how to harness the energy that you have inside. Then you turn it into a beautiful creative process. That's the art of performance."
Hunter McCauley, who received the role of Matilda's father, also is preparing for a major role in the production. The 16-year-old junior has also been involved in every production give or take one or two since he was a freshman. "Performing never really gets old, the thrill never dies," he said. "Every time I'm given a character I fill the shoes my way, and I create something that's never been done that exact way ever before. It's a new experience every time." The production occurs on November 22. Come see all the hard work unfold!