The recent controversial spiral of Kanye West
Kanye West has been making waves for over a decade and while it would start with his musical prowess, it has escalated to a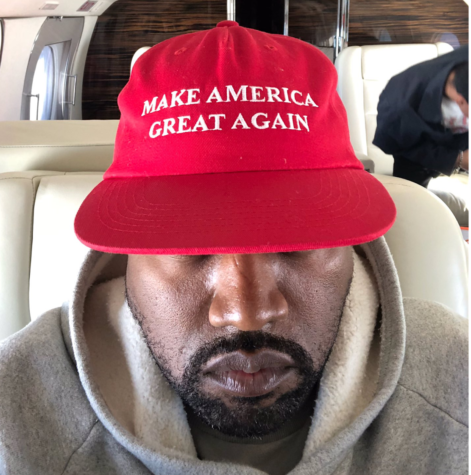 point where the things he is saying are bigger than his music.
A simple comparison of the points of Kanye's career can be examined to see the change. Early in Kanye's career, he made songs like Jesus Walks & Gold Digger on hit albums, The College Dropout & Late Registration.
What many people don't know is that in 2005 Kanye West was at a benefit concert in support of Hurricane Katrina relief and he would stray away from the script to state, "George Bush doesn't care about black people."
The immediate reaction from the studio was a shock as people couldn't believe what he had just said. At the time this was a hotly contested subject, but today it is seen to be more comical in contrast to the serious light it shed.
Jump forward to 2018 and there is no Kanye West music being talked about to the extent of his recent political statements. While Kanye is more active musically, what he is releasing is underwhelming and it struggles to stand out in a oversaturated genre.
While Kanye has done and said many problematic things throughout his career, his recent spiral seems to have all started in Nov. 2016. During this time, Kanye was touring the U.S. on a stage hanging from the ceiling, and more frequently, giving rants that took up large portions of his shows and frustrated fans.
Rants ranged from Kanye airing out his issues with Jay-Z & Beyoncé on stage to the most talked about rant where Kanye states "if I would have voted, I would have voted on Trump."
This is something that is extremely worrisome from the perspective of someone who supports or is a fan of Kanye and it's evident in the 'boos' that erupted in the crowd from this. Kanye has been an influential figure in the black community and hip-hop since he began his career.
Donald Trump and his statements have been extremely negatively received by the black community and hip-hop. To see someone who has been a symbol and a role model go directly against what most fans stand for is worrisome.
Days after this rant, Kanye would be hospitalized for exhaustion and cancelled the remainder of his tour. Many had assumed all of the things that occurred in this tour resulted from these medical issues. Kanye was later scrutinized for meeting with Donald Trump in New York on Dec. 13, 2016
Kanye lacked any larger scale controversies in 2017 but in 2018 things ramped up again. In the summer of 2018, Kanye would state that he thought slavery was a choice. "When you hear about slavery for 400 years … For 400 years? That sounds like a choice… You were there for 400 years and it's all of y'all. It's like we're mentally imprisoned."
While it can be clarified and interpreted to a deeper meaning on the bearings and parameters of mental slavery, it isn't ok. With his influence and power, Kanye needs to understand how his words will be taken and portrayed to the public.
On Sept. 29, 2018, Kanye was scheduled to be the musical guest on Saturday Night Live. He would be seen earlier in the week (9/27) wearing a Colin Kaepernick sweatshirt and a Make America Great Again hat, two conflicting messages many people interpreted as not only disturbing but disrespectful.
Kanye would derail at the end of the show, taking the time allocated for credits, to make a pro-Trump speech, making those around him on stage visibly uncomfortable. That same night he was to release Yandhi, which never occurred.
It wasn't until Oct. 1 that Kanye announced he had delayed it until Nov. 23. Then on Nov. 12 Kanye announced his album was to be delayed again and a new release date would be given once the album is finished.
Kanye would continue to defend himself on Twitter and would attend a formal meeting at the White House with President Trump. Having seen a few clips from this meeting I can only describe it as uncomfortable; Kanye doesn't seem to be in a good state of mind saying that wearing the MAGA hat makes him feel like "Superman."
Fellow rapper T.I formerly stood by Kanye's side when all of the Donald Trump controversy begun. He released Ye vs. the People with Kanye which was more like a conversation than a song, humanizing Kanye.
This meeting for T.I was a breaking point as he took to Instagram and wrote a lengthy caption as a reaction to this writing, "This is the most repulsive, disgraceful, embarrassing act of desperation & auctioning off of one's soul to gain power I've ever seen." The fact that T.I has left Kanye's side after initially supporting him is very telling.
On Oct. 30, 2018 Kanye would tweet something surprising stating "My eyes are now wide open and now realize I've been used to spread messages I don't believe in. I am distancing myself from politics and completely focusing on being creative !!!"
While this is seemingly positive and was well received, Kanye made a six-figure donation to Democrat Amara Enyia, who is running for Mayor of Chicago only 2 days later.
Is the donation not a political statement? People shouldn't treat this differently since the candidate is a Democrat. While personally, I would rather see Kanye support Amara Enyia over Donald Trump, he claimed to be distancing himself from the political spectrum, and while this isn't the biggest thing it seems too political too soon.
Kanye's reckless behavior in the past few years and even this direct contradiction which occurred recently makes me question him and whether his word means anything and whether I can trust him to keep his word.
For Kanye to earn back my trust, he'll have to show more than support for a Democrat in his own city.