Music program takes on Solo and Ensemble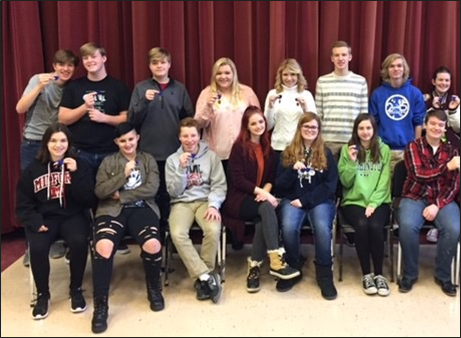 The Milford High School music program was beyond busy the weekend of January 19th. Both the band and choir program had a competition called Solo and Ensemble.
This event was held at Brighton for the band and Detroit Country Day for the choir. Students who participated went at a designated time either by themselves or an ensemble, which is two or more people. Tommy Manning, a junior who performed a solo on bass clarinet, explained the purpose of the event.
"It gives people an opportunity to prove themselves outside of the large ensemble and it can be a ton of fun if you get some friends together and perform in an ensemble," he said.
Students perform their music and then are rated by a professional who specialized in their instrument or vocal type from a 1-5 with a 1 representing a superior performance.
The atmosphere in the building, according to Manning, "feels almost like a marching band competition, but individualized. It's very competitive and you can feel that."
In the band Solo and Ensemble, you get graded on everything from the beauty of your tone to the technique of your breathing and fluency.
Choir, on the other hand, gets graded on similar  topics such as breath support, diction in their voices and overall professionalism.
The atmosphere for choir differs slightly. "It doesn't at all feel competitive,"  said Mack Ulrey, a junior, ¨It's just you performing your song the best you can. Until of course you get your score; then you either are proud of your score, or want to improve."
Both band and choir had amazing results, with band earning a blue medal in 21 events. A blue medal signifies a
Division 1 rating, qualifying for States. Choir had a strong number of events earn a Superior rating.
Results don't come without practice and hard work though.
"We did a lot of after school rehearsals with Mrs. Lambrecht, about 12 hours worth." Ulrey said of her trio.
Anthony Davis, a junior, participated in both Solo and Ensembles with a duet and solo in band and a solo in choir.  Anthony received a 2 in his duet and a 1 in his solo for band, and a 1 for choir. "It just feels amazing to be surrounded by people who are there for the same reasons that you are. To be the best musician you can be." He started working on his choir solo before the school year even began.
Throughout the long two days of competing, the support between all of the musicians is very apparent. McDiarmid was pleased as she helped out with the band on Saturday.
"It is really great to see all the support and camaraderie among our students – when groups see each other in between events, they wish each other luck, help calm each other down, and really congratulate and help each group celebrate when they find the outcome of their event!" she exclaimed.
The event is hard work as shown by the amount of time
people spent on their pieces of music and it offers up new challenges that they may not face in a large ensemble, such as the band and choir classes. Ulrey said. "I get nervous performing by myself, so it definitely helped with working on that.
It's more one on one than focusing on the big group. There are some things that aren't as big as an issue when you're with your big choir because you can blend and match."
The next step for all the wonderful musicians is to continue improving and if they earned a 1, move onto States which is held on Saturday, March 17th, or, Saturday, April 21st.
"There is a good deal of pride and a great deal of relief when the day is over," McDiarmid said. "Although our students are so awesome and forward-thinking that they're generally already starting to think about the next performance they have to tackle."