The return of a legend; Kid Cudi
Hang on for a minute...we're trying to find some more stories you might like.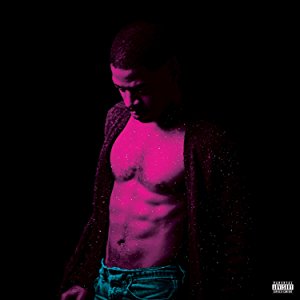 Kid Cudi Passion, Pain, & Demon Slayin´ album review
A

Through his music, Kid Cudi reached a level of emotion few can capture but many can relate to. For some, it's less about the music and more about the relationship they have built through the years with Cudi. Cudi's mission statement is to, as he puts it, "help kids not feel alone and stop kids from committing suicide," on the Arsenio Hall Talk Show. Fans and celebrities alike owe their lives to Cudi. Pete Davidson, a current SNL cast member, said on The Breakfast Club Podcast, "I truly believe if Man on The Moon (Cudi's first studio album) didn't come out, I wouldn't be here."
He's an idol to millions. Kanye West, who originally discovered Cudi, recently called him the most influential musician today during a live show. His previous album Speedin' Bullet 2 Heaven was not well received, but his hardcore fans kept with him through transitions into different genres and own mental battles. Cudi himself checked into rehab for depression and suicidal urges, but as of today, he has made it through his struggles. In his statement he said he was sorry. But he had nothing apologize for. He's getting help after he's helped so many. He's survived and as Cudi returns, he comes with a new album Passion Pain & Demon Slayin'. Cudi is truly underrated, but he's back and here to show us what he's truly made of.
Here's my review of most of the songs from Cudi's powerful sixth studio album:
ACT 1: Tuned
Frequency:
Frequency was the first song to be released by Cudi on Soundcloud after his 2015 Speedin' Bullet 2 Heaven. Many who were disappointed by his previous album were hoping for his return to rap/hip-hop and he didn't let them down. He went for a more traditional sound while still making his own this like he always does. It's been around a year since its initial release, so it's a little underwhelming for me now. But, at the time, it had me extremely excited. The beat comes from Kid Cudi, Plain Pat, and Mike Dean. Plain Pat has worked with Cudi since his first mixtape, A Kid Named Cudi. The lyrics introduce you into the album asking everyone to follow him into the frequency. It also talks about the lavish life of a celebrity but the difference is Cudi uses drugs to numb himself. It's a reoccurring theme in many of his songs and even on this album.
Releaser:
When I first listened to this album this song absolutely blew my mind. It was like nothing I've ever heard. The track is extremely eerie, taking you a trip inside his mind. The song talks to drugs as if it were a person. It's a love/hate relationship and he says, "You knew you'd find me." When Cudi speaks in French, it's magnificent. It sends chills down my spine. His voice gets weaker, more vulnerable through the song. It's shaky as he says to God, "your glory is blinding." Kacy Hill's get vocals give another layer, eerily speaking of breaking down. The addiction talks back as if it has control over him saying, "No longer can you deny me." But Cudi doesn't look back. The song finishes with him repeating his words to God.
By Design (Ft. Andre 3000):
Andre Benjamin of Outkast is working with Cudi for the first time and it couldn't be better. After saying he was a big fan of Speedin' Bullet 2 Heaven, it's no surprise he showed up on this album… twice. They both rap about their unique style in this repetitive game of music. In Cudi's words, they're roses that don't belong. The background vocals of Cudi repeat, "tap into the frequency line" and as Cudi describes it to his Twitter follower, "We have reached a frequency only the chosen can hear. The more open the mind and heart, the more powerful the experience." Andre's epic hook describe their own uniqueness in amazing ways. It's obvious that the message to the listeners is to not worry too much. What's happened and the choices you've made are all part of a bigger picture. The song has a bouncy sound as it was produced by both Pharrell Williams and Plain Pat. It's extremely up-beat and you can't help but move along.
ACT 2: Prophecy
ILLusions:
Coming in as the first track in Act 2, Kid Cudi comes down a little bit from the positive and takes us back into his dark thoughts. But- like the rest of the album, he's still optimistic. The illusions refer to drug use to help cope, once again, but this time it seems like he's literally leaving. He's taking an out-of-body experience. He's flying away from the demons in his head. He reassures himself that he's got it and is going to be just fine- with the background voices in the song sounding like voices in a head. This song and the album as a whole really show how strong he's become. Cudi is ready to fight back.
Rose Golden (Ft. Willow Smith):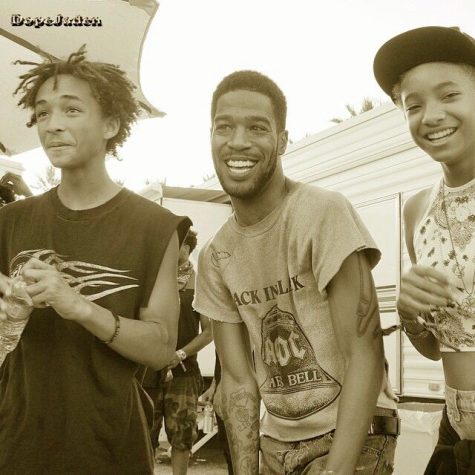 This song is not only one of my favorites on the album, but it is also one of my favorite songs of all time. When I spoke of power in ILLusions, it can't compare to this one. Cudi and Will Smith's daughter and Cudi fan, Willow Smith, sing along with Cudi on the hook. She brings the song to the next level. Mike Dean and Plain Pat collab once again on this revolutionary beat. The orchestra creeps up in the backgrounds like an underdog rising. When the song opens, it has the voice of a man counting and then through a haze of strings Cudi hums then the drop comes. Much like his music video for 2010's Mr. Rager, it feels like it's supposed to represent a therapist sending us into a dream (A positive one at that). It's his focused mind. Cudi gives the kids hope. We're all the chosen and the future is in our hands because God has a plan. He wonders how he's made it to the place he is all in one piece. The term Rose Golden represents an individualistic like nature of one's self. I can't say enough good things and listeners truly have to hear it to believe it.
Baptized in Fire (Ft. Travis Scott):
Baptize in Fire was the l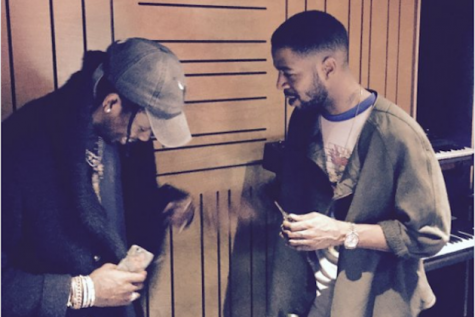 ast single to come once the final release date for the album was announced. For a lot of people, the collab track was the most anticipated. Travis himself said he cried when he first met Cudi because he's always looked up to him. Cudi first collabed with Travis on Through The Late Night on one of the best albums of the year, Travis Scott's Birds in The Trap Sing McKnight. Compared to that, this one's less of a party anthem that Travis is good for, but it's still amazing. Travis said it's his favorite collab yet. Cudi's verses talk of the life of a rapper with luxuries. Travis' hook is extremely catchy with references to Cudi's persona of The Man on The Moon. He asks Cudi to figuratively come home, basically asking him to come back to the rap game after his alternative previous album. It's an intense and powerful track with great performances from both.
Flight at First Sight/Advanced (Ft. Pharrell Williams):
Pharr
ell deserves no introduction as he has been making and changing music for as long as he's been in the game. He's worked with the likes of Jay-Z all the way to Daft Punk from producing to singing. This particular track gives familiar sounds from Pharrell with a beat giving an extreme groove. Its lyrics are a little bit hollow but very catchy. It's a dance song at its core made just to get people moving. It's fun. Close to halfway, the song takes a turn from Flight at First Sight to Advanced, and this is where I like the song the most. It breaks down and Pharrell's lyrics, while limited, are really cool as he's sampled to hype up the songs a little bit more.
Does It:
Closing Act III, Does It is a message for the hater. It's a hard hitter and powerful. He's creating his own kingdom and his own sound. He's the one who "Does It". In the hook he explains his hard work. He doesn't only do music. He's worked on TV shows such as Comedy Bang Bang and has worked on movies such as Need For Speed, but even then he doesn't feel appreciated and he's very clearly underrated as the media ignores him. He still stays unique and doesn't want to end up to be a clone of what's been done.
ACT 3: Niveaux de l'Amours (Levels of love)
Distant Fantasies:
Act III begins with love songs. I really like these lyrics from Cudi and specifically Distant Fantasies expresses great storytelling through lyrics. The song is about a breakup where they both still love each other and Cudi says everyone knows she's fronting for the new guy. She still daydreams of Cudi while in a new relationship. The girl and Cudi are in denial as they keep lying, saying they're through and hate each other, but neither can deny the connection between them. The beat, which is produced by Cudi, is also really cool with a whistle in the background reminding me of an old UFO from a Sci-Fi movie, giving the song a sort of dark undertone giving strength to Cudi's cockiness as he tells the girl that she can't escape him.
Wounds:
Act III isn't only about loving someone else, it's also about loving oneself. Wounds is about feeling weak. Cudi says to heal, one really has to look inside himself, much like By Design lyrically. With him growing stronger, he's learning to adapt and to sew his own wounds. But still he questions why life isn't better when he's done everything right. He realizes he can no longer can lie to himself and he digs deep to learn to forgive.
Mature Nature:
Mature Nature gives us a more psychedelic taste on this album, similar to Frequency. The chill sound is easy to get into. The orchestra in the background reminds me much of Rose Golden and it is pretty impressive to know Cudi produced such a far-out track. Lyrically, the song is repetitive but that doesn't weaken the song. The song sort of focuses on the bass and the pace of it all. Through the bridge and the hook there's, a short verse from Cudi and it is probably my favorite part. It puts one in the experience of living in the moment. It makes me think of dancing without any worry or distractions.
Kitchen:
Kitchen is one of my favorite tracks on the entire album with lyrics and a beat from Dot-Da Genius, who previously worked with Kid Cudi on WZRD, and Plain Pat reminiscent of R&B of the past. It still feels extremely fresh. The vibes and the way Cudi sings everything is really charming. It is easily my favorite track on Act III and it closes it off. It is a beautiful way to end it, and the mix between Cudi's iconic hums and the strings of an orchestra, it all just sort of takes you away for a moment. It's the struggle to find someone to lay low with, but the tone makes everything sound more hopeful.
Act 4: It's Bright and Heaven Is Warm
The Guide (Ft. Andre 3000):
Lyrically, The Guide is about a woman who knows what she wants and gets it. She's in control. The meaning is nothing special, but the lyrics stay fresh and smart from both Andre and Cudi. Andre has always been a great writer and this song is no exception. The overall sound is extremely unique. Cudi uses different voices throughout, some that take time to get used to. Produced again by Dot Da Genius, it all sort of has an interesting, yet gloomy sound with heavy synths and drums that bump. Kid Cudi offers his usual hums and even Andre chimes in at times giving the song great depth. The song doesn't seem like it would be catchy, but the more one listens to it, the better it gets.
The Commander:
With a sample from one of Man On The Moon's best songs Heart of a Lion, The Commander was destined for greatness since the opening. Produced by Cudi, the song opens with a  powerful inner battle of no's and yes' as they ring out while listeners chant along. Once again, it's powerful. It makes the listener feel so strong as if he or she can take on anything. This song was added to the tracklist after he went to rehab and I wouldn't be surprised if he recorded it last. It sounds the most optimistic and from the lyrics about being in control, Cudi sounds more at peace than ever. The song serves to pass the message on, we are all the commander of our destiny.
Surfin´ (Ft. Pharrell Williams):
Surfin' is the most fun song on the album and is one of Cudi's most amusing songs of all time. Pharrell produces a track with his signature drum and heavy beats that could make anyone want to dance along. The song tells us that Cudi is on his own wave, and will continue to do his own thing. He goes on to reference his art to the likes of directors such as Steven Spielberg and Stanley Kubrick. During the summer, Pharrell interviewed Kid Cudi on his podcast OtherTone, and Cudi really opened up on it. I'm curious to know if the songs were recorded before or after the interview because their chemistry really translated well from the interview onto the music. The song premiered at Cudi's performance at Trillectro. A little while later it was officially released. And since its release a two-minute outro was added with magnificent hums and background vocals from Pharrell. The song is a feel good one, and an effective wayto close the album. Cudi's confidence peaks.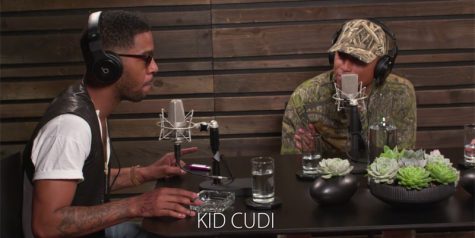 To conclude, Cudi's Passion, Pain, & Demon Slayin' is his best album since the infamous Man on The Moon 2. It has me extremely excited for his next work as usual. It's always a mystery to see where his music will go next and where it will take us. He's an artist and an inspiration. Underrated is an understatement. He's a legend and everyone should know it. PPDS gets an A from  me.